What is the future of meat?
About this event
Diplosphere discusses
MEAT THE FUTURE?
Will we still be eating meat in 2050?
Does New Zealand have a future in a post-meat world?
What are the environmental impacts of our meat industry?
Or could New Zealand become the world's largest exporter of meat?
Speakers:
Sam McIvor - CEO, Beef + Lamb New Zealand
Dr Harry Clark, Climate Change Commissioner
Catherine Beard, CEO, ExportNZ & ManufacturingNZ
Angela Clifford, CEO, Eat New Zealand
Dr Nicholas Golledge, Climate change scientist, Professor of Glaciology, Victoria University
Shama Sukul Lee, Founder & CEO Sunfed
Malcom Diack, CEO, Otago Locusts Farm
Chair: Amos Palfreyman, Sprout Agritech, FoodHQ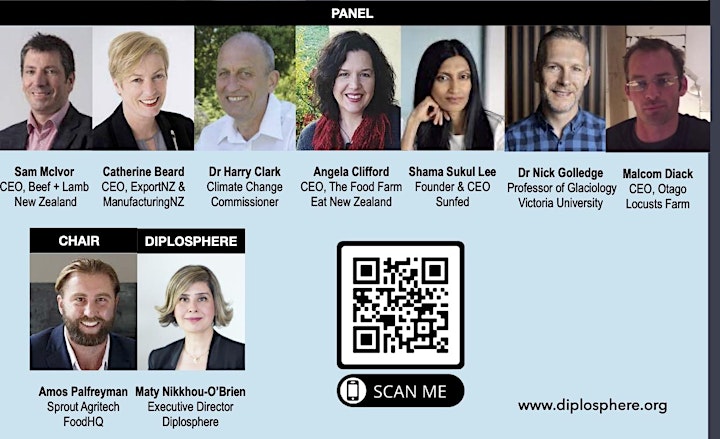 Proceedings:
5.00pm-5.30pm - Registration, networking drinks
5.30pm-6.30pm - Panel discussion
6.30pm - End
Dress code: Business