Description
Kapiti Food Fair invites you to meet 'Mangawhai's Siren of the Seas' – Nicky Sinden AKA 'The Fishing Chick'
The Kapiti Food Fair is delighted to announce the Celebrity Guest for 2019, Nicky Sinden – 'The Fishing Chick' and host of 'TradeZone Addicted to Fishing', New Zealand's premiere fishing lifestyle show for people of all walks of life. She was the first female fishing show host in Australasia and remains the only one. Nicky knew she was stepping into a male-dominated arena and has more than made her mark and gained respect.
When her TV show started Nicky captured attention for playing in a boy's world. She's unapologetically groomed with locks in place and manicured nails but when that line goes tight, she fights hard. She loves being a female fisher and is pursuing her dream.
On Friday 29 November the

Kapiti Food Fair will be hosting this special event so you can meet Nicky in person.
Tickets include: Arrival drink, fish n chips, Paekakariki Pops treat and show.
Be impressed & inspired as Nicky waxes on about everything fishing, including a demo or two.
Everyone is welcome for a fun night out for the whole family and for anyone who loves recreational or professional fishing.
Eventbrite ticketing fees will be passed on to the ticket buyer at the time of booking on credit card. Attendees can receive refunds up to 30 days before the event. 180 tickets available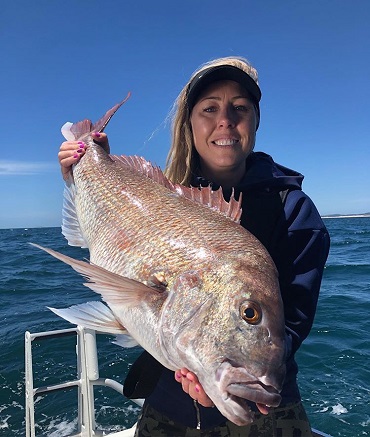 ---
THE STATS
First and Only Female fishing show host in Australasia
The Addicted to Fishing Show launched 2013 | 6 Seasons | 78 Episodes | 30,000 average weekly viewers
Tune in to Nicky's TV show on Prime each Saturday at 5pm - TradeZone Addicted to Fishing
Fished in 16 countries | 1 IGFA World Record
125,000 Facebook Followers >>
23,000 Instagram Followers >>
---
ABOUT NICKY SINDEN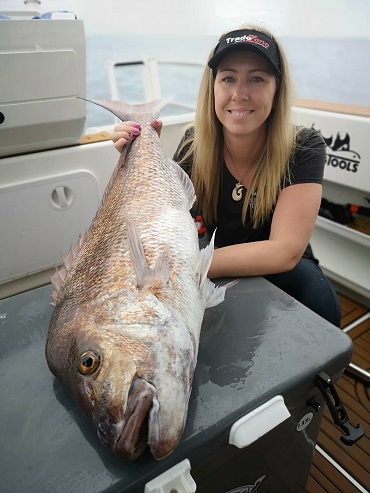 Nicky's been addicted to fishing since she was a sprat herself – and now she's the host of the only female-hosted fishing show in Australasia – Addicted to Fishing. The show reels in an audience every week on PRIME with Nicky's fishing adventures taking local kiwis out on the water to celebrate everything fishing.
Nicky needed to get out of Auckland's urban atrophy, so she did, finding community in Mangawhai and a boat ramp to world-class fishing. Hen and Chicks, Mokohinau Islands plus a few secret spots are where she battles the ocean's giants. Her record so far is 3.5 hours on the reel. Without a break.
She has other impressive numbers too.
Like three hundred and sixty-one. Nicky landed a 361kgs Broadbill on 22 March 2017 at The Garden Patch, off Whangaroa, an effort that earned her the prestigious The Old Man and the Sea Award. The first broadbill on her new boat, 'Game On'. This fish also claimed three world records: The Women's All-Tackle World Record, The Women's 60kg-Tackle World Record, and The Women's New Zealand Record.
Like 2. She was 2 years old when Uncle Don taught her how to fish for Blue Maomao on Motiti, the sacred island off the coast of Papamoa, "because if you can catch Blue Maomao you can catch anything," he'd assure.
Not much has changed for Nicky. She travels a little further for some of her adventures but is still the wide-eyed mischief getting into life's hidden joys. Like the time Niuean locals convinced her to eat the bait because "that's what everyone does," or so she was told at the time. She's married to a man who never shuts the bathroom cupboards and whom she adores. They watch thrillers and Breaking Bad reruns together in rare moments of rest.
One thing has changed: she can catch anything now. And has the grit to beat all the boys. Thanks to Uncle Don.
Her motto is

"Paint your nails, gut a fish, give anything a go."