Sales Have Ended
Registrations are closed
Registration for the workshop has closed. To check if there are still vacancies, please contact the organiser directly.
Sales Have Ended
Registrations are closed
Registration for the workshop has closed. To check if there are still vacancies, please contact the organiser directly.
Learn as you do training opportunity to be competent in undertaking the internationally recognised Mental Wellbeing Impact Assessment
About this event
Just as the Health Impact Assessment is recognised as a valuable tool in policy development, resource management and urban policy, so increasingly is Mental Wellbeing Impact Assessment Tool. The opportunity to become competent in its use in a tool that now being utilised in New Zealand.
The social and economic impacts of the current pandemic crisis has brought into sharp focus the perceived "tension" between protecting the public health and economic recovery and whether one is more important than the other. Applying wellbeing principles to psycho-social and economic recovery plans demands that plans and initiatives are framed not in an "either or" but in a "both and" policy position while recognising there are competing interests.
Become more familiar with wellbeing principles and how to undertake a systematic assessment of the impact of policy and programmes on mental wellbeing. Public policy, the economy, community resilience and assets, the legal and justice systems, urban planning, the environment and human rights all impact on our wellbeing. Self determination, social agency, mobilisation collective impact, participation and connection, safe and inclusive communities are key determinants for thriving people and economies. Placing wellbeing at the heart of what we do contributes to a more thriving, inclusive and equitable society.
Wellbeing: A dynamic state, in which the individual is able to develop their potential, work productively and creatively, build strong and positive relationships with others, and contribute to their community. It is enhanced when an individual is able to fulfil their personal and social goals and achieve a sense of purpose in society.
Well individuals contribute to well whānau, communities, schools and workplaces, economies and society.  
Wellbeing strategies recognises the importance of culture, diversity, equity, social justice and personal dignity. It forms the basis on which individuals, whānau, hapū and iwi and communities are able to thrive.
Public, social and economic policy, urban planning, the law, environment and human rights all impact on wellbeing. Social agency, participation and connection are key determinants for thriving Assessing the impact of public policy and programmes on wellbeing contributes to a more thriving, inclusive and equitable society.
Mental Wellbeing Impact Assessment Tool
Developed in the United Kingdom, the Mental Wellbeing Impact Assessment (MWIA) is rooted in the Health Impact Assessment methodology with a specific focus on mental wellbeing.
The MWIA provides a structured, evidence based analysis of how policies, proposals and programmes might influence the wellbeing of whānau, hapū, iwi or communities, particularly in this time of economic and psycho-social recovery . With wellbeing and mental health being two government priorities, MWIA provides an ideal methodology for supporting system reform to reorient to a wellbeing focus.
The MWIA process is participative and has been found to have the following benefits:
Engaging a range of stakeholders, including communities, to increase mental wellbeing awareness and understanding and the development a shared language
Identifying potential positive and negative impacts of a policy or programmes on mental wellbeing
Creating a set of evidence-based recommendations and an action plan to enhance the positive impact and minimise negative impact of policies and programmes.
Developing specific indicators (measures) of mental wellbeing.
MWIA has a key role to play in:
Integrating the promotion of positive mental wellbeing in policy, services and programmes
Enabling a wide range of policy agencies and services to understand and improve their impact on mental wellbeing and preventing adverse impacts.
Developing measures of mental wellbeing to measure outcomes
Community engagement
Commissioning for well-being
An independent first level review of evidence to assess the effectiveness of the MWIA process concluded that there is strong evidence that the tool makes a difference to the way public policy and initiatives are implemented.
Examples of how the MWIA can be applied
Public and social policy: Applying a wellbeing lens to new or the review of public and social policy and central and local government programmes
Community advocacy: Using MWIA to inform political or social advocacy and submission processes
Major infrastructure projects: Identifying the wellbeing implications of major projects for whānau, hapū, iwi or communities.
Climate change & Disaster recovery planning: Support strategies for coastal or drought prone communities likely to be impacted by climate change or reoccurring extreme weather events
Urban Planning and design: Incorporating wellbeing principles in new housing and suburb development
Mental Wellbeing in Workplace: Assessment of the impact of workplace policies and the development of workplace wellbeing programmes.
Internationally, the MWIA tool is used by government departments, local government, planning authorities, health and social service sectors, NGOs and advocacy organisations.
Mental Wellbeing Impact Assessment Tool Training
Become competent in undertaking a mental wellbeing impact assessment. Register for the Mental Wellbeing Impact Assessment Tool six-day training program.
​Workshop 1: (2 days)
Defining mental wellbeing

Social, economic and cultural determinants of wellbeing

MWIA framework and its applications

Examples of how MWIA can be applied

Screening of a MWIA

Establishing the MWIA question: what impact do you want to assess and who do you want to influence?

Identification of participants' MWIA projects

Mentoring and buddy scheme for projects
Workshop 2: (1 day)
Scoping of a MWIA

Appraisal process - gathering and assessing the evidence

Identification of potential positive and negative impacts

Finalising participants' project
Workshop 3: (1 day)
Identification of indicators and recommendations

Writing the MWIA report

Participants' projects progress updates and peer review
Workshop 4: (1 day)
Evaluating Impact

Participants' projects progress updates and peer review
Workshop 5: (1 day)
Using the MWIA report to influence change

Mental Health in All Policy Framework (MHiAP)
Course review and summary of learnings

Participants' presentations on their Mental Wellbeing Impact Assessment reports
Mental Wellbeing Impact Assessment Projects
Participants will be supported to undertake a Mental Wellbeing impact Assessment on a work related project. The training program is spread over five months, giving sufficient time for participants to progress their MWIA. There will be the opportunity on each training day for review by the group and feedback from the course facilitator. On the last day participants will present on their MWIA.
Course Dates - 2021
Workshop 1: Thursday 18 & Friday 19 March
Workshop 2:  Thursday 15 April
Workshop 3: Thursday 13 May
Workshop 4: Thursday 10 June
Workshop 5: Thursday 8 July
Q & A Webinar
An introductory overview of the Mental Wellbeing Impact Assessment tool and its use. A Q&A session will follow about the upcoming training courses in Auckland and Wellington The 1 hour online webinar via Zoom will be offered twice. Click on date for online registration
Wednesday 27 January 1:30 - 2:30pm
Thursday 28 January 9:30 - 10:30am
__________________________________________________
Feedback from previous participants
"The Mental Wellbeing Impact Assessment tool is a wonderful resource to support mental wellbeing. It provides a structure to consider the mental wellbeing needs of people and places concerned. Barry is incredibly articulate.  His narrative approach allows for rich conversation and supports his facilitation skills around mental wellbeing." Play Systems Innovator
"A really helpful tool to consider the holistic wellbeing impacts of policies, interventions and programmes.  The tool helps to ground in a clear framework what can sometimes be considered 'intangible'.  Barry is a passionate and knowledgeable facilitator with wide ranging experience, ensuring content is evidence-based as well as interesting." Systems Innovator
"The opportunity to undertake an MWIA as part of the course, the encouragement and feedback by the other participants along with Barry's mentoring were real strengths in this course." Health Promoter
"The MWIA tool helped me to think more systematically about the broader determinants of mental wellbeing and to have a more critical eye about the mental wellbeing implications in policy development. A must attend course for anyone involved in policy work at central or local government" Policy Manager
"A timely course as my workplace begins to re-orient its focus to wellbeing approach. Appreciated not only Barry's in-depth knowledge of mental wellbeing but also his ability to apply it to a wide range of social and economic policy areas. We need more of this type of training in government departments." Workplace Wellbeing Advisor
"As a newcomer to working in local government, this training has given me the best insights about my work and the potential for the communities I work with to improve their wellbeing." Community Development Worker
Course Facilitator: Barry Taylor
Barry has proven leadership over 30 years at local, national and international levels in using community initiatives and strength-based approaches to improve individual and community wellbeing and the prevention of suicide. He has extensive experience in the development, implementation and evaluation of programmes at the local and national level, especially creating collaborative partnerships to promote wellbeing.
Barry has lectured on wellbeing both nationally and internationally and been appointed to numerous government advisory committees on mental wellbeing and suicide prevention.
As a Health Sociologist and Public Health practitioner, Barry has a long-term interest in the social and cultural determinants of wellbeing and how social policy, housing, public transport and urban planning impacts on wellbeing outcomes for individuals, whānau and communities. He has examined the impact of discrimination, internalised stigma, social exclusion or inclusion on wellbeing along with the role of human rights. His current area of interest is the impact of climate change on wellbeing.
He embraces a holistic understanding of wellbeing and has an interest in the role spirituality and ecology contributes to a person's wellbeing. His last project, before returning to New Zealand, was the re-orienting of a local health district's mental health promotion program to a wellbeing framework, established the South Western Sydney Wellbeing Collaboration, and championed a multicultural adaption of The Five Ways to Wellbeing to meet the diverse cultural demographics of the health district. He worked with 7 local government authorities to assist them develop Community Plans based on wellbeing outcomes. This work has since been showcased around Australia as an example of best practice in promoting community wellbeing. In 2016 he was awarded the NSW Mental Health Commissioner's Community Champion Award in recognition of his outstanding contribution to mental wellbeing and suicide prevention.
After a number of years overseas, Barry is living back in New Zealand and is passionate about building the knowledge base, competence and capability within our country to promote well whānau, hapū, iwi, communities and for the incorporation of wellbeing principles in public policy, urban planning and health and social service delivery.
______________________________________________________________________________________
WORKSHOP PLACES ARE LIMITED. REGISTER EARLY TO AVOID DISAPPOINTMENT
Minimum Number of Participants:  10       Maximum Number of Participants:  20
Places in each workshop are limited. If the workshop is full please register your name on the waitlist. 
Payment:  Payment is by either Visa or Mastercard.  
Organisations can request to pay by invoice. At the payment method part of the registration process click on Change and select  Pay By Invoice
Terms for Payment By Invoice
Payment by Invoice is only for NGOs, Government Departments, DHBs, PHOs, Schools and tertiary organisations, businesses.
By selecting Pay By Invoice the organisation agrees to the following conditions:
1.  Your place in the workshop is not confirmed until payment has been received. Payment of the invoice must be made within seven days of registering to avoid having your registration cancelled.
2.  PLEASE IGNORE the invoice from Eventbrite. A Tax Invoice from TaylorMade Training and Consulting will be sent to you separately which will contain bank details for payment.  
3.  By registering for the workshop, you agree to the cancellation and policy. (refer below).  Organisations who cancel within seven days of the workshop and have not paid the invoice for the outstanding registration fee is stilll obligated to pay the outstanding debt.
Catering:This workshop is fully catered. Please indicate in the registration process if you have any particular dietary requirements.  If you register after the registration closing date, while every effort will be made, your dietarty requirements may not be able to be catered.
Scholarships: There is a limited number of partial and full scholarships for those wishing to attend the workshop. Full scholarships are available for mental health consumers, carers and volunteers. Partial scholarships of either 25% or 50%  off the registration fee are available for full time tertiary students in health, social service and disability related courses. Further information and how to apply for a scholarlship is available on the TaylorMade website.
Cancellation and Refund Policy: Workshops can fill quickly. If you are no longer able to attend the workshop please cancel your registration as soon as possible. The following refund policy is strictly adhered to.
Cancellation up to thirty days prior to the commencement of the first workshop:  Full Refund less $100 + GST admin fee
Cancellation within thirty days prior to the commencement of the first workshop: No refund but registration can be transferred to another person. To transfer your registration log on to your registration and update the name and contact details to the new person attending.
No show on the first day of workshop:   No refund 
Cancellation of Workshop by TaylorMade: TaylorMade Training and Consulting (TMTC) reserve the right to cancel the workshop if there are not the minimum number of registrations. If cancelled, participants will be offered a refund either by way of a credit to attend another TMTC workshop (within 12 months of the cancelled workshop) or full refund of their registration fee.  Refunds will made by electronic transfer into a bank account specified by the participant. TMTC accept no responsibility for any other costs incurred by participant as a result of a workshop cancellation. 
Disclaimer
The information provided in the workshop handout notes and at the workshops are the views of the trainer, and do not necessarily reflect the views of TaylorMade Training and Consulting. The information and professional advice delivered in the workshop and the associated printed material is provided solely on the basis that before relying on this material, participants should obtain appropriate advice relevant to their particular circumstance to evaluate its accuracy, currency, completeness and relevance for their purposes. TaylorMade Training and Consulting will not be liable for any damages of any kind to any person or entity arising from the use of this information. Your attendance at this workshop reflects your acceptance of this statement.
Organiser Contact Details
Barry Taylor Principal Consultant
TaylorMade Training and Consulting
Email:      registration@tmtc.co.nz
Office:      04 905 6145 Mobile:    022 104 5060
Website: www.tmtc.co.nz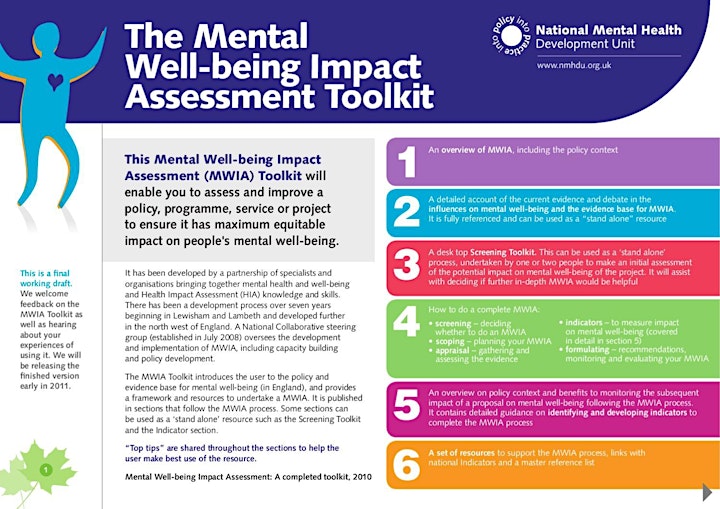 Organiser of Mental Wellbeing Impact Assessment Tool Training - Auckland
 Principal consultant, Barry Taylor brings over 30 years' experience in mental wellbeing, resiliency and suicide prevention/postvention at the local, national and international levels. An internationally sought-after speaker at conferences, community meetings and training workshops. Provides training and consultancy services to promote wellbeing and to facilitate effective suicide prevention and postvention based on evidence-based practice and evaluation.  Recipient of the 2016 NSW Mental Health Commissioner's Community Champion Award for outstanding contribution to mental wellbeing and suicide prevention.