Sales Have Ended
Ticket sales have ended
Thank you! You will receive instructions to get the Zoom call set up 48 hours before the call and 2 hours before. If you have any issues, please let me know at tash@tashpieterse.com. Best, Tash Pieterse
Event Information
Refund Policy
Contact the organiser to request a refund.
Eventbrite's fee is nonrefundable.
Sales Have Ended
Ticket sales have ended
Thank you! You will receive instructions to get the Zoom call set up 48 hours before the call and 2 hours before. If you have any issues, please let me know at tash@tashpieterse.com. Best, Tash Pieterse
About this Event
As requested, another Mindful Monday for April to help you move and flow through this time of uncertainty. The last online session was AMAZING and I can't wait to facilitate another!
In this session we are going to focus on realigning our vision and goals during times of uncertainty and create inner momentum!
We all love having goals to work towards, but during this time I know many have stopped them all together or felt like there's no point while the world is in lockdown. You don't need to feel this way!
I am not here to encourage endless doing or striving during this time, but instead to offer a space for you to:
reflect on your 2020 goals and what they look (and feel) like in the current situation
reflect on how your life feels and looks like right now (your vision)
reset new goals that inspire, motivate and empower you to move through this time
reset a vision that is bigger than the fear and uncertainty that you might be feeling right now.
Things are uncertain and unknown right now - absolutely, however, we don't need to let the fear of that uncertainty and unknown shake us down and keep us hiding. We can choose to see this differently and choose to find the opportunity amongst the change.
This session will create the space for you to turn in and ask yourself what's important over the coming months and where you would like to focus your energy. You may not be able to do everything you use to, but maybe that's a good thing too!
The last two Mindful Monday sessions were incredible!! You can find out what attendees have said from both sessions below.
This is time and space dedicated to YOU so you can become more mindful of how things are and have been, and use that awareness to focus on who you want to be, how you want to show up and where you want to go.
I can't wait to see you there!
What to have with you:
Journal/notebook + pen
Warm cuppa
An open mind
Respect for yourself and others
Good jokes and humour
Please share this with anyone who you think my be interested or benefit from this. Spaces will be limited to give time for discussion and sharing.
If you have any questions, please email me at tash@tashpieterse.com.
What the amazing humans from the last two sessions have said:
"It was amazing!! I feel so good and am so excited to have a better month! You've given me so much to consider in my life. Thank you so much! I will be there every month and have already told a few friends they must come with!!" - Jessie
"Oh my goodness that was so helpful, thank you so much!! Uncovered a couple of fears that I didn't even realise were such a big deal, but after rewording them I feel soooo much better about it!! 💕" - Loren
"Thank you so much for organising this event! What a FABULOUS way to start the week and month ahead. Everything you said this morning around boundaries really resonated with me." - Erica
"I'm feeling really grounded and in control after walking out of the room. What a gift you've given so many beautiful ladies this morning x" - Molly
"I'm so glad I came along, thanks Tash! I took away some really good points and will be buying myself a journal this week! See you again at the next Mindful Monday :)" - Paige
"I honestly loved the session and it felt so good and such a lovely group!! It was so great, you're onto something here! I can't wait for next month!" - Kathleen
"Thank you again for this morning. I went very bravely into my Monday which meant I was able to courageously communicate my needs regarding a difficult decision that has to be made at work. Thanks for giving me the space to set that intention!" - Anna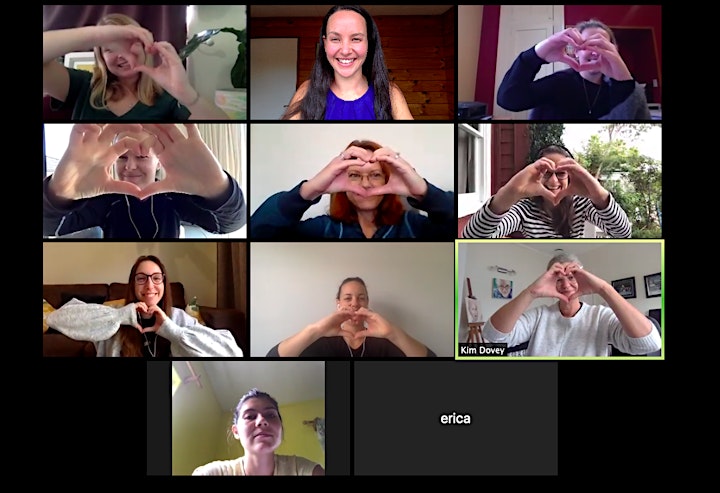 Date and Time
Location
Refund Policy
Contact the organiser to request a refund.
Eventbrite's fee is nonrefundable.