MONEY MORNINGS - Wake Up and Smell the Money Honey!
Description

Own your Money in your
Mind, Bank and Business
We're back, this time with 3 dynamic speakers to help you escalate your financial growth!
Do you shy away from your bank account?
Do you feel icky or sleazy when it comes to sales?
Does your bank balance reflect the amount of work you put into your business?
Would you like to know how to bring more money into your life and business?
How do you make sure you have enough tucked away for your future?
Most women would rather have a root canal than talk about money with a professional.
Intense and often complicated feelings surround our dealings with money.
Shame, guilt, anger, inadequacy, grief and confusion can cloud decision-making, threaten relationships and intensify dysfunctional business practices.
At some point, we all come to realise that we've been trying to change something about our habits or behaviors for a long time and haven't done it.
The overwhelming odds are that you're not going to make the desired changes by yourself.
We all need help at one time or another. No matter what our progression in life.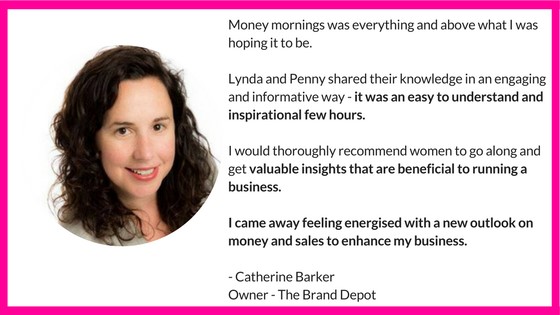 Join us at the Money Morning workshop and discover the secrets to enjoying dealing with money in your life and business.
You'll discover the best tactics for putting your life and business together to create abundant wealth in both.
What you'll learn at the workshop:
How to throw your budget out the window and create a money plan that is true to your heart – and that you will want to follow!

The reason why most men earn more than we do and how to claw that back.

Getting into the nitty gritty of where your money's coming from in your business.

How to sell and still be you.

Remove emotions from financial decisions.

The real power to planning. Imagine it. Define it.

Meet and network with other inspiring female entrepreneurs.

Today is the best day to start your planning your financial growth.
INVESTMENT: $299 - includes a light networking lunch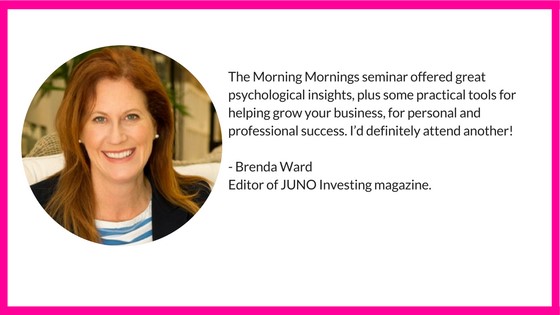 EARLY BIRD SPECIAL:
Book before the 10 November and get $100 off ticket price!