Local community market in Lake Tekapo in the heart of the Mackenzie Country.
About this Event
Supporting our local businesses. Providing a platform for our community to showcase their craft.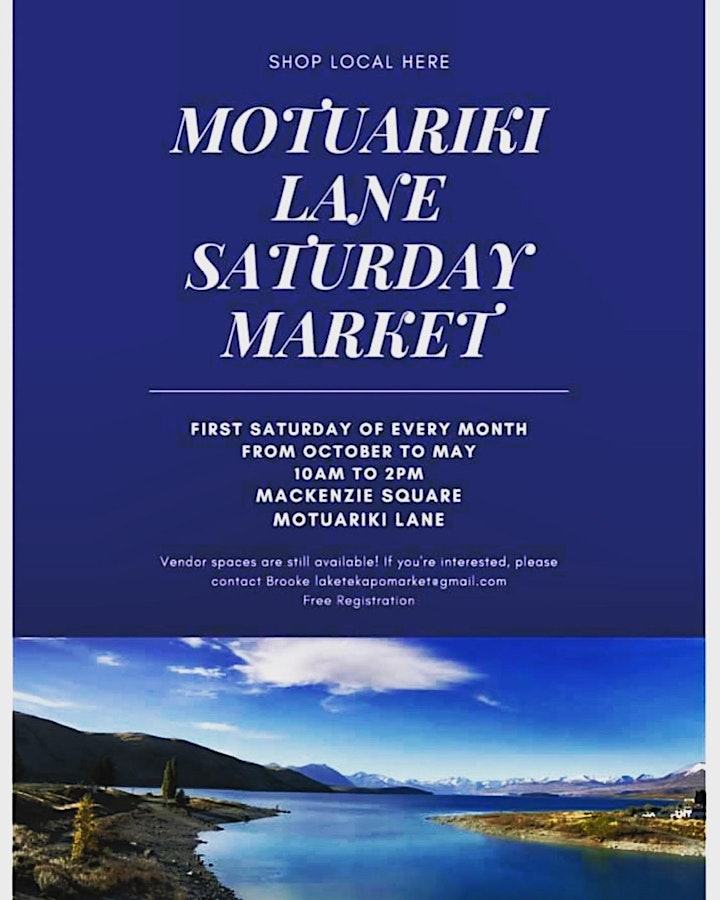 Thank you for your interest in our Saturday Market in Lake Tekapo. We hold our market once a month on the first Saturday from 10am to 2pm at 9 Motuariki Lane . We have a wide variety of stalls. It also offers a wonderful platform for anyone wanting to show of hobbies or craft. Perfect place for a fundraiser for your sport or community group. Motuariki Lane is a perfect location for your stall as we are close to the village center and just of the main highway, so we get a lot of foot traffic. We have a wonderful community here in Lake Tekapo and our market is a great way to gather ideas, inspiration and share some local love.
Rules and Regulations:
• Vendors and Stall holders must be responsible for their own rubbish and set up of their stall.
• Must provide their own table or set up including a gazebo or umbrella.
• Must make sure that they are set up and good to go by 9.45 am
• Food stalls can only be for a fundraiser
• Commercial food outlets need council consent
• No power or water
Please note:
As we are offering registration for free in return we kindly ask that you will commit to coming to our market. A lot of hard work, blood sweet and tears go into making this happen. By filling in and submitting this form we take it as your confirmation and your word that you will try to be there. We do understand that sometimes life happens.