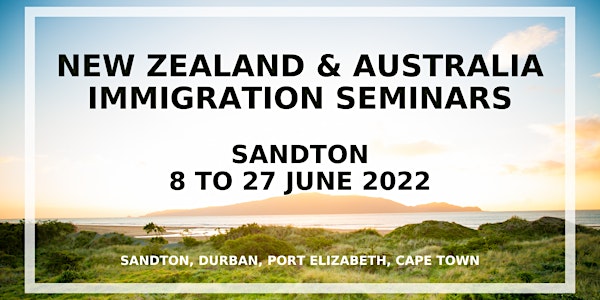 Moving to New Zealand or Australia - FREE Immigration Seminars in Sandton
Registration is open for our free immigration seminars
About this event
Our series of events in South Africa is coming up this June!
Come and meet us in Sandton, Durban, Port Elizabeth, or Cape Town, and find out how we can help you MOVE TO AUSTRALIA OR NEW ZEALAND!
At our free seminars, we cover the topics that matter most to a potential migrant, these include:
Visa pathways and categories;
Information on the lifestyle, economy, healthcare and education systems;
Job opportunities by industry and occupation;
How our migration experts can guide you through the migration and visa process
If you express your interest in our seminars and we believe that you have good prospects, we will send you a registration link to confirm your attendance!