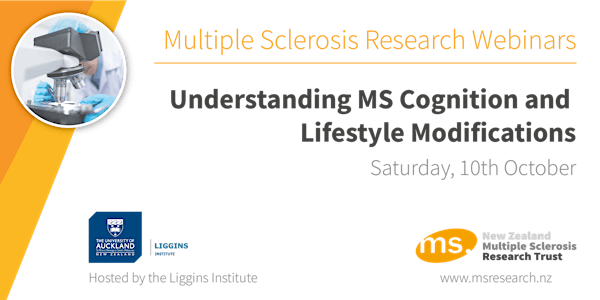 MS Research Webinar - Impacts of Cognition & Lifestyle Modifications for MS
Webinar Series 3: Exploring the relationship between brain insulation and cognition & how lifestyle modifications can improve MS outcomes
About this event
Our closest neighbours, Australia, are world renowned for investing in and spearheading life changing research into MS. Webinar 3 will look at two exciting pieces of research coming out of Australia.
It is well accepted that modifiable lifestyle factors are aspects of life that can influence MS disease progression and disability, for example diet, exercise, gut health and supplementation to name just a few. Our friends at MS Research Australia have recently launched two exciting new resources on Modifiable Lifestyle Factors and MS that have been carefully researched. Two tools are available, one for the MS community and a second for health professionals, provides recommendations based on the latest evidence for practical evidence-based lifestyle modifications.
MS Research Australia's Head of Research Dr Julia Morahan will discuss how they have been working with clinicians, researchers and allied health professionals to review and access the latest evidence and develop these new guides. Dr Morahan will present an overview of the recommendations and their work.
Our second speaker Dr Carlie Cullen is a Postdoctoral Research Fellow at the Menzies Institute of Medical Research. Dr Cullen's work is centred around exploring the relationship between brain insulation and cognition. While often overshadowed by other symptoms, over half of people with MS report thinking and memory problems as symptoms. Cognitive symptoms are caused by damage to the myelin protective coating surrounding nerve fibres of the brain and spinal cord. Her initial work showed that by learning a task that related to working memory, reference memory, procedural memory and spatial navigation, the laboratory models increased the number of new myelin producing cells in the brain. Dr Cullen is currently investigating whether the learning task can assist in promoting lesion repair in laboratory models of MS.
Join us for the third webinar in our series. Registration is free but tickets are limited so don't delay.
Making MS Research more accessible
The NZ MS Research Trust is delighted to present our new webinar series: online and nationally available. We know that research makes a real difference to the outcomes for people with MS, and the Trust is committed to not only funding the research, but also updating our community on the latest developments. While the current climate makes the much-anticipated MS Research Day impossible, our new webinar series brings this research direct to your home.
Our Webinar Series, kindly hosted by the Liggins Institute, University of Auckland, will present a selection of the latest research in the field of MS both here and overseas.
Grab a coffee & head to your couch…. In response to requests to run our webinar series nationally, and also to ensure we are reaching as many of the people in our MS community, we have moved our Research Day online and spread out over September and October to make for easier bite sized viewing. Access is open to all, via a webinar registration link. Simply click on the link below to pre-register and we will send you the Zoom details. And if you miss the session, a recording will be available to watch later.
Questions for the speakers
As we are expecting a large turn out to this event we encourage you to pre-submit your questions. A pre-event survey will be sent out 10 days prior to the event and questions to be submitted by 5pm, Wednesday 7th October. The access information for the online event will accompany this survey.
And don't miss out on our other events:
Webinar Series 1: Saturday 12th September - COVID-19 and Genetic Impacts on MS - Watch the recording here
Webinar Series 2: Saturday 26th September – An International Perspective: voices from around the world speak about the latest advances in aHSCT treatment for MS – Register here
The MS Research Trust: Why we are here
The goal of the MS Research Trust is to stimulate, co-ordinate and support New Zealand-based research into the cause, prevention, treatment, alleviation and cure of Multiple Sclerosis, and to disseminate research findings. We were established in 2015 with donations from MSNZ and the MS Auckland Region Trust, and we continue to seek donations to support the research being undertaken. The Trust:
• Collaborates with partners to fund research that helps people with MS;
• Informs people about research findings;
• Uses fact-based research findings to improve the lives of people with MS.
NZMSRT is funded by donations and bequests. If you would like to support the work of the trust please donate here https://givealittle.co.nz/org/nzmsrt/
If you'd prefer to donate directly, please go here for our bank account details.
Find out more here: www.msresearch.nz
Or contact us here: administrator@nzmsrt.nz