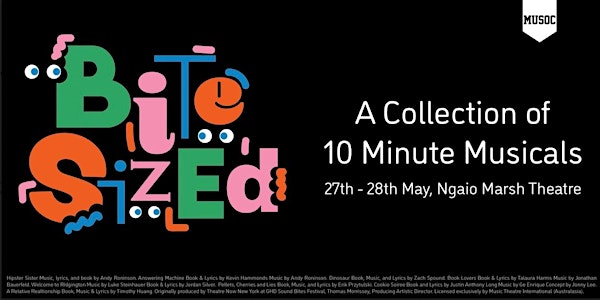 MUSOC's Bite Sized: A Collection of 10 Minute Musicals
Location
Ngaio Marsh Theatre
90 Ilam Rd
Ilam
Christchurch, 8041
New Zealand
MUSOC is incredibly excited to present Bite Sized: A Collection of Ten Minute Musicals.
About this event
Featuring eight handpicked short-form musicals taken straight from Theatre Now's SOUND BITES program, Bite Sized is a celebration of all kinds of stories that we tell in musical theatre. The musicals we have selected to be a part of Bite Sized are all a little bit off-beat and surprising - we guarantee you'll never have seen anything quite like them before! This production features the following eight musicals, which together cover a wide range of genres - from fluffy romantic comedy to gritty family drama:
A Relative Relationship
Two step-sibling's time in detention reveals that they have more in common than they first thought.
Book Lovers
An introverted librarian gets advice from literature's most famous lovers to learn about romance.
Cookie Soiree
A trio of girl scouts are about to get their cookie badge, when disaster suddenly strikes!
Dinosaur
A disheartened millennial learns to put down and tinder and connect in the real world (disclaimer: this musical does not feature any actual dinosaurs)
Pellets, Cherries, and Lies
Pacman's addiction to power pellets threatens to tear his family apart.
The Answering Machine
Messages left on an answering machine tell the story of a college romance.
The Hipster Sister
Sisterly bonds are tested in this realistic account of how we must balance the demands of work, life, and family.
Welcome to Ridgington
In an obscure commune in North America, a family sits down to observe their annual "Cleansing Day", a religious tradition where they air their grievances which have been festering all year.
Direction: Hanna Harvey and Daniel Brown
Musical Direction: Katrina Poharama
Technical Direction: Ben Greenway
Production Management: Rhiannon Mason
We highly encourage attendees to wear face coverings in the venue . Drinks and nibbles will be available for purchase for evening performances from The Foundry Bar.
For more information or group bookings, please contact Rhiannon Mason at production_manager@musoc.org.nz
Another epic event as part of UCSA Arts Fest 2022.
A Relative Relationship
Book, Music, & Lyrics by Timothy Huang
Book Lovers
Book & Lyrics by Talaura Harms
Music by Jonathan Bauerfeld
Cookie Soiree
Book & Lyrics by Justin Anthony Long
Music by Ge Enrique
Concept by Jonny Lee
Dinosaur
Book, Music, & Lyrics by Zach Spound
Pellets, Cherries, and Lies
Book, Music, & Lyrics by Erik Przytulski
The Answering Machine
Book & Lyrics by Kevin Hammonds
Music by Andy Roninson
The Hipster Sister
Book, Music, & Lyrics by Andy Roninson
Welcome to Ridgington
Music by Luke Steinhauer
Book & Lyrics by Jordan Silver
Originally produced by Theatre Now New York at the SOUND BITES Festival, Thomas Morrissey, Producing Artistic Director
Licensed exclusively by Music Theatre International (Australasia).