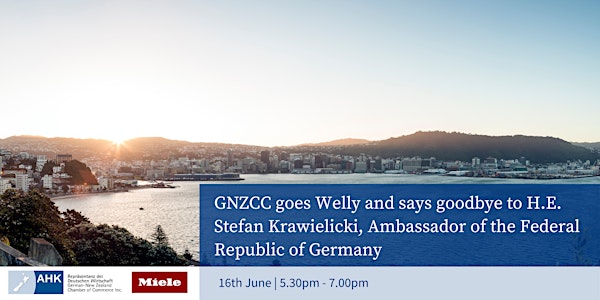 Networking & Farewell to Ambassador of the Federal Republic of Germany
Location
Miele Showroom
183 Featherston Street
Wellington, Wellington 6011
New Zealand
GNZCC goes Welly and says goodbye to H.E. Stefan Krawielicki, Ambassador of the Federal Republic of Germany.
About this event
It was long time in the making, and we can now officially say we have opened our Wellington Branch headed by our former Communications & Events Manager Julia Hahn. 
The new chamber location has been opened with the aim of providing better support to our members, and to help bridge the gap between industry and government through on-site representation in New Zealand's capital.
Germany is one of New Zealand's top 10 trade partners, and with serious negotiations underway on the Free Trade Agreement with the EU, Germany will continue to grow in importance in the development of new market opportunities for New Zealand businesses, and in accessing technology and high quality products 'Made in Germany'.
We thought that was worth a celebration, so we have chosen a fabulous Venue of one of our long-standing members MIELE to get together and celebrate.
It will also be a  chance to say goodbye and thank you to H.E. Stefan Krawielicki, Ambassador of the Federal Republic of Germany who has taken the roll during a particularly turbulent time with the pandemic requiring the evacuation efforts of over 10,000 Germans and of course two long years of closed boarders.  


Cancellation Policy: Cancellations must be received 7 clear working days prior to the event. Substitutions are permitted if you can no longer attend.
Media Policy: Events organised by the GNZCC may be photographed or filmed for use in the GNZCC newsletters, website and other publications for promoting the work of the GNZCC. The database of the attendees may be shared with the principal sponsor. If you do not wish your picture taken, or your details to be shared, please let us know.
Privacy Policy: The provision of your data takes place via a web application on the internet. Therefore the confidentiality, the integrity (inviolability), the authenticity and the availability of personal data cannot be guaranteed.