New Zealand Student Paramedic Conference 2019 #NZ
About this Event
Welcome to the New Zealand Student Paramedic Conference 2019!
www.facebook.com/nzspc19 ~ #nzspc19 ~ @nzspc19
Overview:
"So you want to be a medic".
NZSPC19 is targeted at those entering into or currently engaged in the prehospital medical industry. Whether you are a Student Paramedic, Ambulance Volunteer, Full-time staff or other pre-hospital practitioner we have something for you!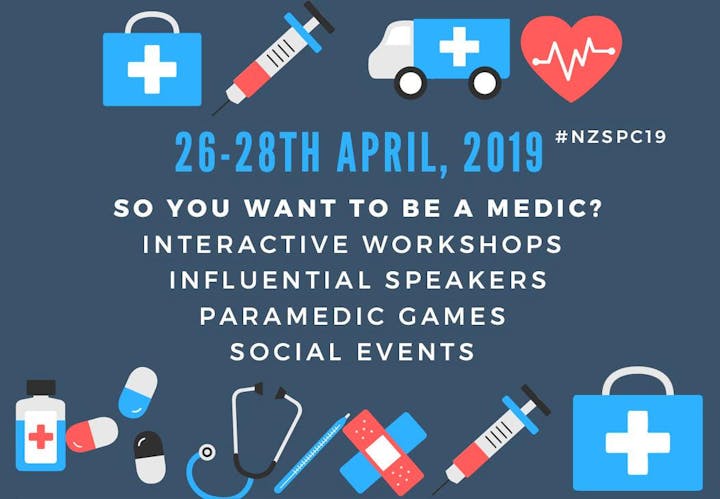 The Programme:
Will commence at 3pm on the 26th of April and run for two full days over the 27th and 28th of April.
We are excited to be bringing you a wide range of speakers to challenge and stimulate your thinking. These include presentations exploring:
~ Work/life balance
~ Leadership in the face of adversity
~ Cognitive Bias
~ Resuscitation decision making
See below for full conference timetable
Key Speakers:
We are looking forward to bringing you fantastic speakers that will challenge and inspire you. In particular we are proud to bring you the following:
~ Dr Dan Pronk: Ex Army Special Forces and Medical Director for TacMed Australia and the South Australian Prison Health Service
~ Dr Tony Smith: Medical director of St John New Zealand and an Intensive Care Specialist at Auckland Hospital
~ Natalie Anderson: Registered Nurse at Auckland Adult Emergency Department, and a Professional Teaching Fellow and PhD Candidate at the University of Auckland
~ Dr Natalie May: Prehospital and Retrieval Medicine Specialist with Sydney HEMS with a background in Emergency Medicine and Paediatric Emergency Medicine
Workshops:
This year we are excited to be bringing you a range of optional workshops to add boost and add value to your practice.
These workshops can be booked as an optional extra to the conference and will run on the morning of the 26th, prior to the official opening. Note that you can only attend one workshop per timeslot
9am - 11am: Suturing and Advanced Wound Care ~or~ Pre-Hospital Ultrasound
11:30am - 1:30pm: Airway Master Class ~or~ Strapping and Joint Stabilisation