NEW ZEALAND'S INTERNATIONAL YOGA FESTIVAL 2017

Friday, 24 February 2017 at 5:00 pm

-

Sunday, 26 February 2017 at 6:00 pm (NZDT)
Event Details

6th Annual International Yoga Festival in New Zealand
Join us! From the 24th – 26th February 2017 at Kawai Purapura
We invite you to come and join us in the celebration of the "

Revolution of the Heart

"
Are you looking for the opportunity to tap into your authentic self and to connect with your inner being, like-minded individuals, and the surrounding Divine in a profound way? Do you seek to transcend past your Ego, and find new gratitude and love within Your Heart? Do you want to create the change forever, clear your current space to invite new perspectives inwards, and manifest your passion and true calling in life?
There is incredible power when we come together with shared intention. At the 2017 International Yoga Festival we are gathering together for transformation, for a "Revolution of the Heart",where we are making space for evolution by connecting to the source in a deep way. This is possible when we become Yoga. Yoga teachers from around the world have been selected for their ability to create space where we can experience Yoga as an evolutionary way of life, as ecstatic aliveness, as radical freedom beyond the boundaries of our conditioning.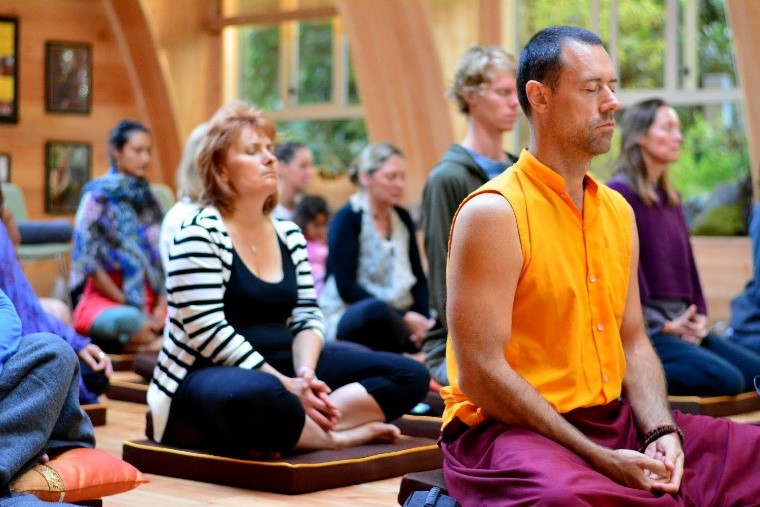 New Zealand's 6th Annual International Yoga Festival is set in Kawai Purapura, located in the heart of the beautiful and transquil 19-acre native bush where you will have access to a magical three dayt weekend of yoga and wellness for all ages. 
This festival presents an opportunity to transcend our sense of separate self and evolve together into deeper 
inspiration and creativity, a pure field of potentiality where we reclaim our Divinity and open up to new perspectives. The moment we transcend, we are touched by something profound. This moment can change us forever!
Make space for Evolution
Connect to the Source in a deep way
Surrender to Grace
Find your Heart.

The visitors of our International Yoga Festival can select from 100 inspiring, touching, transcedental workshops and activities from world-class Local and International teachers inviting you personally into sharing their secrets of how to reform our current conditioning so that we can unleash, surrender, and embrace the power of our Hearts. This will provide us with the freedom to intrinsically manifest our ideal life to become a reality, remove the boundaries, be completely in the present moment, and blossom with an estactic aliveness. These workshops and classes cover the full range of yogic practices, from silent and mindful meditations right through to dance-yoga, aerial-yoga and paddleboard yoga. 
Further Information
The Festival starts on Friday at 4.30 pm. Come and be part of our yoga family and celebrate the "Revolution of the Heart" with us at theOpening ceremony, this will be followed by live music. Saturday and Sunday will continue with lots of workshops and kirtan concerts, and Sunday around 6.00 pm will conclude with the Closing ceremony.  
Extra Festival information:
Accomodation

 

is an additional ticket for camping or marae-style (a shared bedroom hall) 

Market Village 

W

e have are featuring stalls at the festival with a diverse range of products ranging from soaps to jewellery to crystals to yoga gear, and much more. There will also be a number of information stalls from numerous different natural healing companies.

Fresh Vegetarian Food 

is catered by our in-house chef, featuring vegetarian, vegan and gluten-free options. No off-site food is allowed but there are plentiful options of food stalls open throughout the day.

 

Festival Updates 

are continually being made, including presenter and workshop information. Visit the 

festival 

website

 and 

Facebook

 

page

 for the most accurate information.

Refunds

 

will not be issued for ticket sales. We recommend reselling or regifting the ticket if you can no longer attend.

When & Where

Kawai Purapura Retreat Centre
14 Mills Lane
Auckland, 0632
New Zealand

Friday, 24 February 2017 at 5:00 pm

-

Sunday, 26 February 2017 at 6:00 pm (NZDT)
Add to my calendar
Organiser
Kawai Purapura Retreat Centre has grown steadily over the past five years, becoming one of New Zealand's most popular destinations for retreats, conferences and seminars in natural health, environmental awareness and personal development.
Our name:
Kawai Purapura's name signifies the nexus point between the past and the future. Kawai is the memory, ancestry, and tracing of the lineage from the past. Purapura is the seed of the future.
Our Vision:
Our vision is to create a healing space wherein people can find their own potential for being well. This vision will develop into focused healing programmes that not only serve those who lack privilege, but contribute to natural health taking a significant place in overall health care delivery.
The Retreat:
The call to retreat is the call to spirit, authenticity, and joy. It is the call to step away from the many forms of busyness in our everyday lives, to find sanctuary, time for deep reflection and to nourish the body, mind and spirit. It is the call to be in community with others who are also on a path of self-discovery. Every moment spent in meditation, yoga, and sacred community are moments that bring insight and clarity to our lives. Retreats infuse your being with inspiration on the path, which makes anything seem possible.
At Kawai Purapura we have designed a range of yoga retreats from healing and rejuvenation, to deep transformation. We bring together outstanding mentors, guides, way-showers and inspirational facilitators from around the world.
Our Philosophy:
The underlying philosophy that guides development of our retreat centre is one of harmonious living with the land. We believe the omniscient consciousness is to be found within the human heart where all is synthesised into oneness. We aim to manifest ideals of natural health and healing, spirituality, sustainable lifestyle and social responsibility.
Residental community:
At Kawai Purapura we have a residential community that offers the opportunity to live and work in harmony with each other and the environment. The residents contribute greatly to the overall vision for the land.
Workshop venues:
We offer 5 different workshop spaces varying in size, character and charm. The spaces provide an ideal environment for retreat participants to pursue self-exploration, growth and re-discover personal peace and wellbeing. Our smallest space seats 1-30 (Prema Lounge) and our largest up to 150. In the warmer summer months we also have 2 additional outdoor tents to hire.
Free WiFi is available to retreat participants with laptops in designated areas (our WiFi covers most of the indoor areas in Kawai Purapura retreat centre).
For more information about hiring a venue for your next workshop or seminar please contact retreat@kawaipurapura.co.nz.