No health without a healthy planet: KAUPAPA Think globally, Act locally
Sales Have Ended
Registrations are closed
Thank you for registering for this webishop.
Event Information
Refund policy
Refunds up to 7 days before event
Eventbrite's fee is nonrefundable.
Sales Have Ended
Registrations are closed
Thank you for registering for this webishop.
Explore "How must health promoters create sustainable communities to ensure quality of life for everyone?" with our global experts.
About this event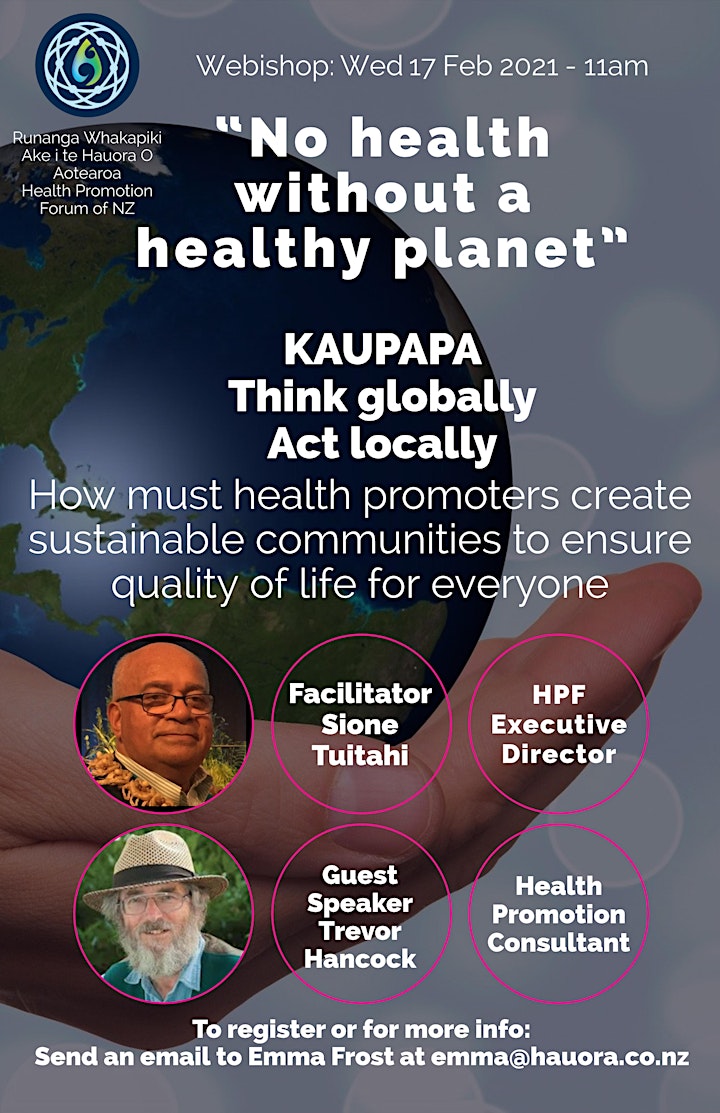 Background summary
Although the Ottawa Charter for Health Promotion recognised stable ecosystems and sustainable resources as prerequisites for health as long ago as 1986, it is only in the past few years that health promotion has started to pay serious attention to the ecological determinants of health and the concept of planetary health. But when the Secretary General of the UN says "the state of the planet is broken. Humanity is waging war on nature. This is suicidal", and the Director General of the WHO says we must "Protect and preserve the source of human health: Nature", it is time to pay attention.
In this presentation I will provide a brief update on the Anthropocene (global ecological change and the social and economic trends driving those changes) and their health implications. I will then look at what we have to do to become healthy, just and sustainable societies and communities, providing a good quality of life and good health for all within the limits of the one small planet that is our home.
This means a 65 - 80% reduction in the ecological footprint of high income countries, something that is not receiving serious consideration, in fact is not even being talked about. It will require profound transformations in society, economics, law and especially the core values and world views that drive our present suicidal path.
But while there is a need for global and national action – and I recognise that Aotearoa New Zealand is showing leadership in several areas - we also need to recall the sage advice to "Think globally, act locally". So I will close by focusing on the creation of healthy and sustainable communities, and the role of health promotion, especially in starting the conversation on becoming a One Planet Community and society.
Speakers
Dr. Trevor Hancock is a public health physician and health promotion consultant. He 'retired' in 2018 from his role as Professor and Senior Scholar at the School of Public Health and Social Policy at the University of Victoria. His main areas of interest are population health promotion, healthy cities and communities, public health, healthy public policy, environment and health, healthy and 'green' hospitals, health policy and planning, and health futurism.
His recent focus has been the combination of his two main areas – the relationship between human health and the natural environment and the healthy community approach. Since retiring he has established a new NGO in Victoria – Conversations for a One Planet Region – that works to engage the people and governments of the Greater Victoria Region is conversations about what is involved in becoming a region with an ecological footprint of One Planet while maintaining a good quality of life and good health for all.
Trevor is one of the founders of the (now global) Healthy Cities and Communities movement and co-authored the original background paper for the European Regional Office of the World Health Organization in 1986. Over the past 30 years he has worked as a consultant for local communities, municipal, provincial and national governments, health care organizations, NGOs and the World Health Organization. He is a frequent keynote speaker at national and international conferences as well as small community group engagements and since the end of 2014 has written a regular weekly column on population and public health for Victoria's Times Colonist.
He has a long-standing interest in the relationship between health and the natural and built environment. For four years Trevor led a Canadian Public Health Association workgroup that resulted in a comprehensive Discussion Paper on the ecological determinants health (May 2015). He has been a member of the Canadian Council on the Social Determinants of Health, a member of the Board of the Child and Nature Alliance of Canada from 2010 to 2015, and was on the Advisory Council of the Arts and Health Network Canada. Trevor co-founded both the Canadian Association of Physicians for the Environment & the Canadian Coalition for Green Health Care, and in the 1980's Trevor was the first leader of the Green Party in both Canada and Ontario.
In 2015 Trevor was awarded Honourary Fellowship in the UK's Faculty of Public Health for his contributions to public health, and in 2017 he was awarded the Defries Medal, the Canadian Public Health Association's highest award, presented for outstanding contributions in the broad field of public health, as well as a Lifetime Contribution Award from Health Promotion Canada.
Outside work life, he is an enthusiastic Morris dancer and enjoys creating new dances and parody songs, as well as performing as the Green Man in the annual Mummers Play and at the annual Jack in the Green Festival in Hastings, UK. He has also been a semi-professional outdoor photographer and his photography has been shown in a number of juried art shows in southern Ontario and BC.
The Executive Director of the Health Promotion Forum, Sione is a member of the Global Executive Board of the International Union for Health Promotion and Education (IUIHPE). Trevor and Sione are members of the newly established IUHPE Global Working Group on Waiora Planetary Health and Human Wellbeing, which champions the Rotorua Legacy Statements of the World Conference on Health Promotion 2019 in New Zealand. Sione will facilitate the session.
GENERAL INFORMATION
Participants are encouraged to participate in the exercises and material that will be disseminated before the webishop
Contact Emma Frost for further information on emma@hauora.co.nz or 09 300 3734 or visit our website www.hauora.co.nz.
Date and time
Location
Refund policy
Refunds up to 7 days before event
Eventbrite's fee is nonrefundable.
Organiser of No health without a healthy planet: KAUPAPA Think globally, Act locally