Description
From beating breast cancer to choosing foods that preserve muscle and prevent inflammation, join the Liggins Institute for a fascinating evening focused on staying healthy in middle age.

You'll hear from Dr Jo Perry who is developing a new cancer drug that could improve the effectiveness of radiotherapy. Find out why Dr Perry expects this drug to work for both breast AND endometrial cancer, and why blocking the action of growth hormones is critical to its success.

You'll also hear from Professor of Nutrition David Cameron-Smith about how to avoid the unhealthy traps of middle age. Our nutritional needs change as we age, and Professor Cameron-Smith will explain how the right diet and exercise can help you prevent or manage disease, maintain muscle strength and avoid unhealthy weight gain.

Plus, help is on hand if you're one of the many people who suffer from food intolerance. Research Fellow Dr Amber Milan will explain how we identify the culprits in our food that cause tummy troubles (often not the components you expect), and the environmental factors that cause food intolerances to fluctuate over time.

You are warmly invited to join us from 6pm for drinks and nibbles in the atrium. The lecture will begin at 6.30pm.

6 pm - Drinks and nibbles
6.30 pm - Lecture
8 pm - Event closes
Lecture Theatre 011, Building 505, Grafton Campus | Free

About the speakers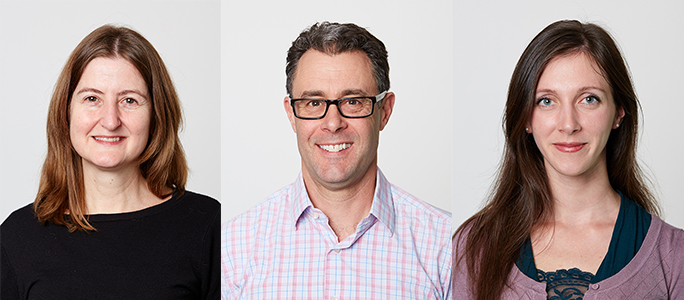 Dr Jo Perry is a Senior Research Fellow at the University of Auckland's Liggins Institute. She's interested in cancer cell biology and the involvement of hormones and growth factors in the progression of cancer, particularly breast cancer. Jo completed her PhD at the Institute of Cancer Research in London and was awarded a National Health and Medical Research Council (NHMRC) Peter Doherty Postdoctoral Fellowship to work at the Murdoch Children's Research Institute in Melbourne. Jo joined the Liggins Institute in 2005 where she and her research group investigate the interactions of human growth hormone with cancer therapies.

Professor David Cameron-Smith is Chair of Nutrition at the University of Auckland's Liggins Institute and an international authority on nutrition and health. David graduated with a PhD in nutritional biochemistry from Deakin University, and did his post doctoral training at Royal Prince Alfred Hospital in Sydney. He is passionate about food for health and unlocking the science behind it. David's research focuses on understanding the biological process of digestion, making and losing muscle and how these change across the life course.

Dr Amber Milan is a Research Fellow at the Liggins Institute. She's interested in the biochemical processes that are triggered as we digest food, in particular how these processes change we age. Amber studied Biopharmaceutical Sciences at The University of Ottawa before completing a BSc (Honours) in Nutrition at Acadia University in Nova Scotia, Canada. She completed her PhD at the Liggins Institute under the supervision of Nutrition Professors David Cameron-Smith and Sally Poppitt.


Unable to attend but want to support the Liggins Institute's research? Why not make a donation.