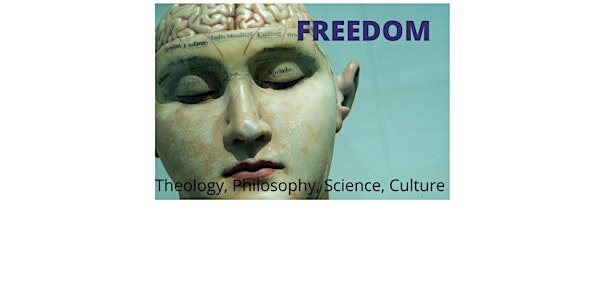 NZCIS Freedom Conference: Theology, Philosophy, Science, Culture
Location
The MacLaurin Chapel
18 Princes Street
Auckland, Auckland 1010
New Zealand
Refund policy
Contact the organiser to request a refund.
Eventbrite's fee is nonrefundable.
Freedom and free will are long contested and discussed in both theology and science.
About this event
Freedom and free will are long contested and discussed in both theology and science. This conference will feature New Zealand theologians, as well as a few speakers by zoom from the UK and Australia. The conference will feature a variety of academic approaches, which should be accessible to everyone who is interested.
Lunch, morning and afternoon tea will be provided. An optional dinner will be held on the Friday night.
Students are particularly encouraged to attend some or all of the conference.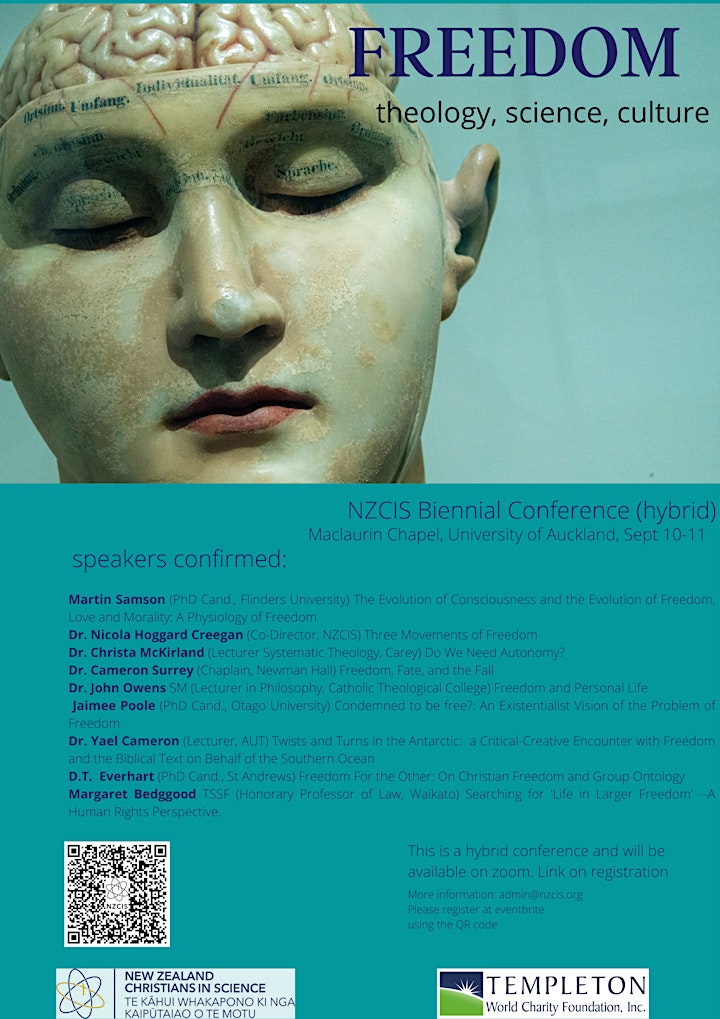 SCHEDULE: Maclaurin Chapel and on zoom
FRIDAY 11th February
9.30 am Welcome
10.00 am John Owens
11.00 am MT
11.30 am Christa McKirland
12.30 LUNCH
1.30 pm Andy Everhart
2.30 pm Jaimee Poole
3.30 pm Afternoon tea
4.30 pm Martin Samson

BREAK & DINNER
SATURDAY 12th February
9.00 am Gray Manicom
10.0 am John McClure
11.00 am MT
11.30 am Yael Klangwisan
12.30 LUNCH
1.00 pm Margaret Bedggood
2.00 pm Nicola Hoggard
3.00 pm Conference Closes
SPEAKERS
Margaret Bedggood TSSF (Honorary Professor of Law, Waikato) Searching for 'Life In Larger Freedom': A Human Rights Perspective
Dr. Yael Cameron (Lecturer, AUT) Twists and Turns in the Antarctic: a Critical-Creative Encounter with Freedom and the Biblical Text on Behalf of the Southern Ocean
D.T. Everhart (PhD Cand., St Andrews) Freedom For the Other: On Christian Freedom and Group Ontology
Dr. Cameron Surrey (Chaplain, Newman Hall) Freedom, Fate, and the Fall
Dr. Nicola Hoggard Creegan (Co-Director, NZCIS) Three Movements of Freedom
Gray Manicom, (PhD Cand., in Mathematics, UoA) Would you listen to a talk on mathematics if you were free to do otherwise?
Prof. John McClure (Psychology, VUW) So We Don't Have Free Will: The Argument from (Social) Psychology
Dr. Christa McKirland (Lecturer Systematic Theology, Carey) Do We Need Autonomy?
Dr. John Owens SM (Lecturer in Philosophy, Catholic Theological College) Freedom and Personal Life
Jaimee Poole (PhD Cand., Otago University) Condemned to be Free: An Existentialist Vision of the Problem of Freedom
Martin Samson (PhD Cand., Flinders University) The Evolution of Consciousness and the Evolution of Freedom, Love and Morality A Physiology of Freedom