Networking event with NZSTA's MNWC Regional Chair Latham Martin Lesley Patterson, Director, Review and Improvement, Te Tai Tini from ERO
About this event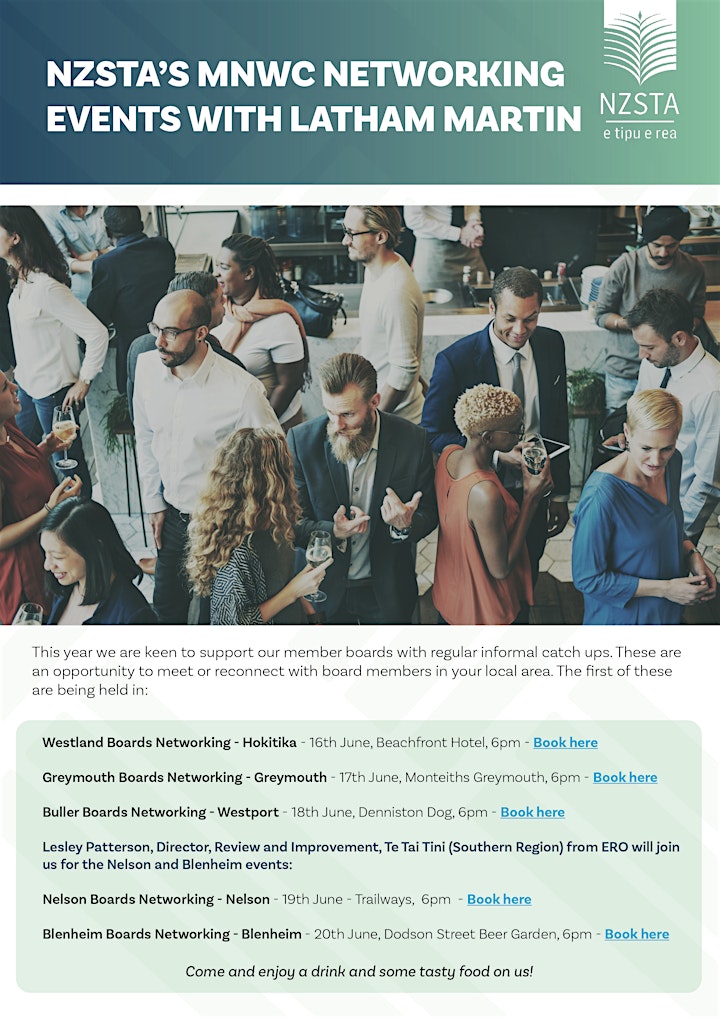 ERO has begun a new approach to school evaluations. We are no longer conducting one-off education reviews leading to a return time. Instead, ERO evaluators work with schools to design bespoke evaluations aligned to their priorities, and work alongside schools to support continuous improvement through evaluation. I have spoken to many principals across the region about the new approach, and value the opportunity to share the approach, and what this means for presiding members and trustees. Where possible, I will also bring an ERO evaluator who can speak about their experience introducing and working with the new Schools – Evaluation for Improvement Approach and how it supports all of us to achieve our collective aim of equity and excellence for all learners.
ERO began the approach in term one 2021, and we have more schools meeting with evaluation partners in term two and term three to discuss how they work together under this new model. Some of you may already be familiar with the new approach, while some of you will be scheduled later this year, or early next year. We have been fine tuning, and we are interested in finding out how this has been going for those of your working with the approach to date.
Lesley bio:
Te Tai Tini evaluators, evaluation leaders, and administrators work with close to 990 schools and 1270 early learning services across the region. Much of my role is as regional director working with the team and engaging with the sector to achieve our shared goal of equity and excellence for all learners across the 0 – 18 learning pathway, and to ensure ERO evaluation insights catalyse educational improvement.
About our region's name: Te Tai Tini covers from Rakiura – Stewart Island, across to Te Whare Kauri – Chatham Islands, the whole of Te Wai Pounamu across to aspects of the lower parts of Te Ika-a-Maui. With this in mind, our roopu Māori and Pasifika wanted to acknowledge the journey that our tupuna made many years ago as they discovered Aotearoa. Our roopu also acknowledge the many oceans that surround our rohe, for Te Raukawa Moana – Cook Straight that separates the North and South Islands, Te Moana-Nui-A-Kiwa – the Pacific Ocean that covers the east coast of both the North and South Islands, then on the west coast of both islands Te Tai-o-Rehua – Tasman Sea, and of course Te Ara-a-Kiwa – Foveaux Strait that separates the South Island and Stewart Island. This also acknowledges the many places of significance which our evaluators call home, within and beyond our shores. The tide continues to flow onto the shores of the places we call home. This is the makeup of our whānau. This makes up our name, Te Tai Tini. This name was gifted to our whānau by Alan Tutbury, Karen McClutchie, Maraea Turketo, Rod Webster, and Tagiilima Feleti