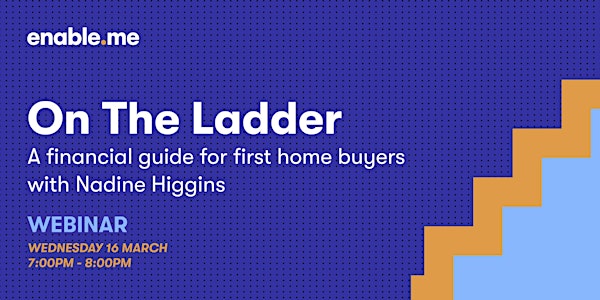 On The Ladder: A financial guide for first home buyers - Webinar
On The Ladder: A financial guide for first home buyers
About this event
House prices are crazy-expensive, interest rates are rising, and bank lending is getting tougher – it's enough to make even the hardiest aspiring first home buyer throw in the towel.
There's little doubt it's harder than ever – but there are options to explore that will help you get you that much-needed leg up onto the ladder.
Join enable.me's Nadine Higgins, to learn:
Exactly how much smashed avo you need to give up!
What you need to know about KiwiSaver
Understanding the help available
The Bank of Mum & Dad
Can Kmart really kill your home ownership dreams?
Money habits you need to master
Examples of alternative ways to get a foot on the ladder
Buying a home versus investing
The banks making it tougher to borrow have has only made mastering your money even MORE important – so don't miss this event.
Nadine will be presenting online on Wednesday 16th March at 7:00pm.
---------------------------------------------------------------------------
About Nadine Higgins:
Nadine Higgins is a financial coach with enable.me – financial strategy and coaching, and a former financial journalist and TV news presenter.
Nadine made her name as the host of TVNZ's morning business news show, where she made finance stories accessible through her ability to explain complex issues in a way that's easy to understand.
As both a journalist and as a financial coach, Nadine has always been driven by a desire to equip people with knowledge, so they can be empowered to make informed financial decisions.
---------------------------------------------------------------------------
*This webinar is for informational purposes only and does not constitute personalised financial advice.