Location
Ericsson Globe
12177 Stockholm
Sweden
Sales Have Ended
Ticket sales have ended
Sorry, sales are over. Come and visit us at the info desk at the Ericsson Globe to purchase more filming tickets!
Description
This platform will close for all filming classes (except Les Mills GRIT Cardio and Plyo) on Thursday Oct 22nd at 9am.
Tickets will be available for purchase at the Globe (Friday-Sunday) and at Arlanda Airport on Friday.
Love Les Mills group fitness classes?
Then don't miss this exclusive opportunity to experience the latest releases filmed live at ONE LIVE Stockholm!
---------------------------------------------------------------
This platform is only for participants who have already purchased a ONE LIVE ticket and want to add extra Masterclasses to their filming package (exception for LES MILLS GRIT Cardio and LES MILLS GRIT Plyo)
If you haven't bought your ONE LIVE Stockholm ticket yet, click here and get your filming classes at the same time!
Please have your ONE LIVE Stockholm order number in hand to get started.

---------------------------------------------------------------

Who said you need to be an instructor to attend the filming of the coolest new releases? Come as a group, be part of the filming of your favourite program and, while you're there, give some other classes a go too! Work out with our Program Directors and support your local trainers coming in from all over the world.
FAQs:
I have not purchased anything yet, can I purchase a ticket here?
This platform is only for add-on classes. You need to have booked ONE LIVE first. Simply click here to start planning your weekend. If you are only booking for LES MILLS GRIT Cardio and/or LES MILLS GRIT Plyo, you are not required to hold a ONE LIVE ticket.

Is this event only for instructors?
No, all classes during the weekend are open to everyone.

Will I be filmed?
That's up to you! Stand in the first few rows and you could be. Our camera crew will focus mainly on the presenters and take a few shots of you guys.
Please note that the production crew may ask some participants in the first few rows to relocate. Some images may also be used for marketing purposes.

Why do I only see some programs on the Eventbrite platform?
Some programs are sold out so only programs with space still available will be displayed here.

I heard there is a discount on flights to Stockholm?
Yes, we have partnered with the Star Alliance network for this event. Many airlines like SAS, LUFTHANSA, SWISS and TAP in Europe will fly you to the event with a discount. Click here for all the details.

Do I need my instructor ID number to purchase a ticket?
No

Where do I find my order number?
If yu are looking for your ONE LIVE order number, just grab it from the receipt you received after you made your booking.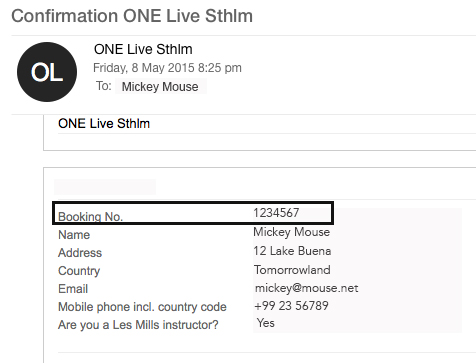 Please note: RPM™ is sold out