Open Data Leadership Series: Joel Gurin (Google Hangout)

Friday, 26 February 2016 from 9:00 am to 10:00 am (NZDT)
Event Details
THE OPEN GOVERNMENT INFORMATION & DATA PROGRAMME PRESENTS:
Open data: a conversation
with Joel Gurin
#opendataleadership    #opendatanz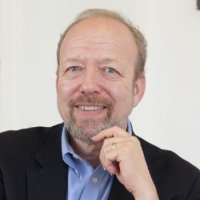 Joel is a leading international expert on open data, and author of Open Data Now - a book that has helped define the emerging field of open data.
Open Data is the world's greatest free resource - freely accessible public data that can drive entrepreneurship, business growth, scientific innovation, and programmes for the public good. 
It is one of the most revolutionary developments since the Information Age began.
Join this online conversation between Joel Gurin and moderator Pallas Hupe Cotter via Google Hangout as Joel shares his passion for open data, talks about the benefits and impacts open data can bring, and discusses his strategy for success in the coming era of massive data.
Joel is a Senior Consultant on Open Data to the World Bank. He is President and Founder of the Center for Open Data Enterprise, a Washington-based nonprofit that works to maximize the value of open data as a public resource. Before launching the Center in January 2015, he wrote the book Open Data Now, written to help a general audience understand open data and the opportunities it presents. Joel also led the launch team for the GovLab's Open Data 500 project and the Open Data Roundtables.
Open Data is open for business - and the opportunities are as big and boundless as the internet itself. 
Click here to enter the GOOGLE HANGOUT: 
https://www.youtube.com/watch?v=jjlidNOfypE
Based in Wellington? Join the Live Stream at BizDojo. We'll follow the hangout with a 30-40 minute discussion about open data with Rochelle Stewart-Allen and Paul Stone from the Open Government Data Programme. Click here to register.
Brought to you by:
Have questions about Open Data Leadership Series: Joel Gurin (Google Hangout)?
Contact Stats NZ
Organiser
Stats NZ, through the Open Data Programme, is leading the work to accelerate the release and reuse of open government data so that New Zealand is maximising the value of data that government holds on behalf of New Zealanders. Open data supports innovation, can lead to positive social and cultural outcomes, and can increase transparency and democratic participation.