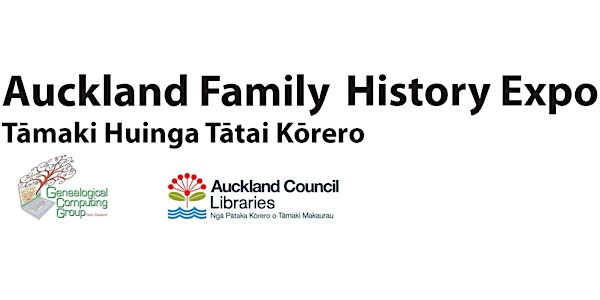 Opening Event: Auckland Family History Expo
Location
Fickling Convention Centre
546 Mount Albert Road
Auckland, Auckland 1042
New Zealand
The Auckland Family History Expo committee invites you to the Opening Event of the 2021 Auckland Family History Expo
About this event
Auckland Libraries
and the
Genealogical Computing Group
proudly present a weekend-long event covering a wide range of topics on researching genealogy and family history
Join us on Friday 13 August to Sunday 15 August 2021
at the Fickling Convention Centre , 546 Mt Albert Rd, Three Kings
Opening Reception for
2021 Auckland Family History Expo
Tickets: $22 per person to cover costs
5pm: Refreshments and canapes, mix and mingle
6pm: The Fromelles Genealogy Project:
From WW1 Unknown Grave to 21st Century Named Grave with Michelle Leonard
In May 2008, 250 WWI soldiers were uncovered in a mass grave in France and this led to a ground-breaking project to uncover their identities via DNA testing, anthropological data and genealogical research. This presentation will tell the story of the Fromelles Project with a specific focus on how genealogical detective work helped to identify and provide named graves for many of these soldiers. It will also tell the stories of some of the fallen and give a brief explanation of how to research WW1 soldiers and trace DNA appropriate relatives.
An opportunity to ask Michelle questions after her talk.
7pm: Family History Fridays LIVE!
with Jason Reeve (Ancestry AU & NZ - platinum sponsor), and Talking Family History's Michelle Patient and Fiona Brooker
8pm: Q&A session and interactive discussion.
--------------------------------------------------------
Join us for a weekend of FREE Family History Fun!
Saturday 14 August 9am-6pm and Sunday 15 August 9am-5pm
No booking required - all welcome
Doors open to the public 8.30am
Take advantage of our free seminars, from beginner to advanced, computer-based tutorials, ask-an-expert sessions and research assistance on Saturday 14 August and Sunday 15 August.
Due to COVID-19, our international guest speakers will be joining us virtually via Zoom. Awesome local speakers are joining us in person.
Three free streams of seminars - no booking required
Each seminar room will be emptied out after each presentation, no reserving seats
Computer-based tutorials - bookings available on the day from the information desk
Raffles from our sponsors and exhibitors: Sold at Information Desk and by roaming volunteers. Prizes: Subscriptions to genealogy websites, DNA kits, membership subscriptions . . . just to name a few. Eftpos available. Prizes collected at Information Desk.
International speakers
Note non-travel bubble speakers will appear via the internet
Dr Julia Laite (UK and Newfoundland)
Dr Leah Larkin (US)
Michelle Leonard (Scotland)
Emma and Graham Maxwell (Scotland)
Cassie Gilmartin (Australia)
Jason Reeve, AncestryAU - platinum sponsor (Australia)
Mark Bayley, TheGenealogist (UK)
Michael Higgins, FamilySearch (Pacific and New Zealand)
Myko Clelland, Findmypast (UK)
Local speakers
Bradley Greer, FamilyTree Maker representative
Elena Fowler, MyHeritage and Legacy FamilyTree representative
Fiona Brooker, Memories in Time and Talking Family History
Leilani Schmidt, Pacific Island researcher
Jan Gow, Hooked on Genealogy
Liam Appleton, Research Central, Auckland Libraries
Marie Hickey, Research Central, Auckland Libraries
Mary Shadbolt, Chairperson of the New Zealand Society of Genealogists
Michelle Patient, aka "the patientgenie" and Talking Family History
Exhibitors
• Alexander Turnbull/National Library of New Zealand/Papers Past • Ancestry • ArchivesNZ • Auckland Libraries • Beehive Books / Hooked on Genealogy • FamilySearch • FamilyTree DNA • FamNet • FIBIS (Families of British India Society) • Guild of One Name Studies • Memories In Time • Mentis and Family Tree Maker • MyHeritage • National Army Museum (Kippenberger Research Library) • New Zealand Society of Genealogists Inc. and English, Māori, Irish, Pacific Island and Scottish interest groups • NZDF Personnel Archives & Medals • Wales – New Zealand Family History Society •
Sponsors
Thank you to our sponsors. The Auckland Family History Expo would not be possible without the financial support of our fabulous sponsors:
Alexander Turnbull/National Library, AncestryAU, Auckland Council Libraries, FamilySearch, FamilyTree Maker, Genealogical Computing Group Genealogical Computing Group (a special interest group of NZ Society of Genealogists), MyHeritage, New Zealand Society of Genealogists, Puketāpapa Local Board – Auckland Council
Ancestry is a Platinum Sponsor of the Auckland Family History Expo and also the Christchurch Family History Expo that is being held on Saturday 22 and Sunday 23 August in Tūranga Library, Christchurch
For further information including the programme, please visit here:
www.aucklandlibraries.govt.nz/AFHExpo