Description
CoLo invites you to join us for a panel discussion with some of Melbourne's most creative and innovative entrepreneurs. Hear stories, learnings and advice about where the most creative ideas came from. We're excited to be joined by George Hedon, Brad Krasukopf, Christine Donaldson, Taylor Tran, Conrad Tracey & Erik Zydervelt.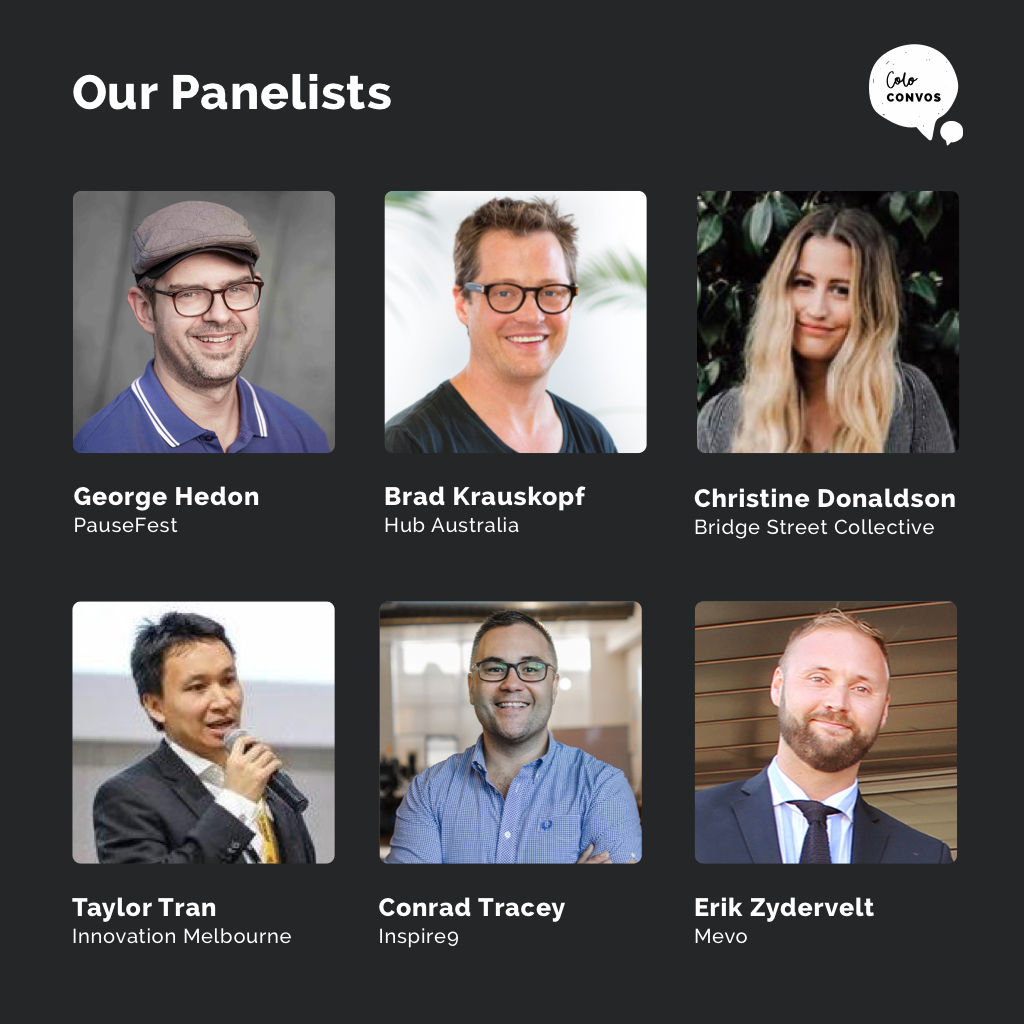 George Hedon - PauseFest
George Hedon is the founder and creative director of Australasia's premier creative, tech and business festival Pause. His expertise in design, advertising, media, music, curation and events lead him to create award-winning campaigns and experiences.
Under his creative leadership, Pause festival has attracted major brands, startups, agencies, corporates, government departments and hosted over 500 international and local speakers supporting the growth of Australian born businesses and enterprises. George's interests are in empowering creators and creating meaningful experiences.
George is also a regular speaker at meetups and global industry events such as SXSW, Sector 3.0, Pause, General Assembly, Melbourne International Film Festival, Billy Blue College, RMIT University, Swinburne University of Technology.
Christine Donaldson - Bridge Street Collective
The Bridge Street Collective is an award-winning co-working space in Central Nelson. Established in 2011, the Collective was the first of its kind in Nelson—and remains the only co-working space in the city. Winner of the 2012 Emerging Business Award.

Born and raised in Calgary, Canada, Christine was accustomed to a buzzing City, eccentric ideas and thinking, and having 'nothing is impossible' mentality. She moved to Tijuana, Mexico when at the age of 19 to build houses for the homeless and to help women and children in Tijuana's red light district. This drastically changed her world views. She learned to stand up for what you believe, & fight for others expecting nothing in return.
Chrisitine has implemented this into her worth ethic. Taking on the Community Manager role in March 2016 and since then, she's doubled the memberships, ran multiple free workshops, sponsored 3 new business owners whose businesses have taken off, and she's only getting started. Some people have told her they saw no value in paying for a membership when they could work from home and save money. Her outlook is very much the opposite.
The Collective is ready to expand further into the City and Christine has the amazing job of leading the charge!
Taylor Tran - Innovation Melbourne
Taylor Tran is an author, strategist and tech and community founder with 20 years global experience in technology and services. He is also a thought-leader and speaker within the coworking industry. Taylor teaches at RMIT University and Mentors startups with the Founder Institute of Silicon Valley and several start-ups, including blockchain, robots, environmental, big data and services start-ups.
Taylor is passionate about building entrepreneurship ecosystems and designing pathways for connecting to start-ups, coworking spaces and accelerators. Following his recent book, INNOVATION MELBOURNE and upcoming book INNOVATION COWORKING, Taylor has played a major role in advising government on building smart city and startup strategies and is currently involved in a number of key ecosystem initiatives. This includes travels abroad to research best practices and running tech hackathons to activate innovation and collaborations.

Conrad Tracey - Inspire9
Conrad's personable, dedicated and friendly approach has seen him become a thought leader in the start­up, music and local community.

As the COO for Inspire9, Melbourne's original community-led coworking space for startups, freelancers and creative entrepreneurs, Conrad is leading Inspire9's reputation as an authority on the future of work discussion, as well as expanding from their original location in Richmond to a second iconic location- The Dream Factory in Footscray.

With a community of social enterprises, creative technologists and specialists in emerging technologies and new business making up the Inspire9 fabric, Conrad is enabling Melbourne's startup community to build businesses that people love and connect with.

Conrad is a passionate entrepreneur with a deep interest in problem solving, leadership, community and helping people prosper.
Erik Zydervelt
Founding Director and CEO of Mevo, New Zealand's first electric car share and the world's first climate positive car share service currently tracking towards 50 vehicles in Wellington by the end of the year and with the goal of 2000+ across 5 cities in the next 5 years. Erik's a creative, pragmatic, big picture focused environmental change maker. He's passionate about savvy business driving environmental regeneration. He has a background in international corporate strategy, research, and conservation. Prior to Mevo, Erik was the COO for a distributed energy start-up (1b) delivering renewables to informal settlements in Sub-Saharan Africa and South East Asia and received a BSc in Geography and Environmental Studies focussed on urbanism from the University of Victoria, Wellington.
---
Please feel free to submit your questions for the panel by tweeting us @mycololife using the hashtag #coloconvos!