About this Event
OUR CHANGING SEAS
A healthy ocean is essential in our fight against climate change. In our second webinar in the Changing Tides: Tai Tōrua series we'll explore our ocean's future by using insights from the past.
We'll hear about global climate change trends, explore the impacts on our wonderful marine species, and share an innovative approach by coastal Māori communities in the Horowhenua, to plan for climate impacts.
SEMINAR HOST: Elisabeth Easther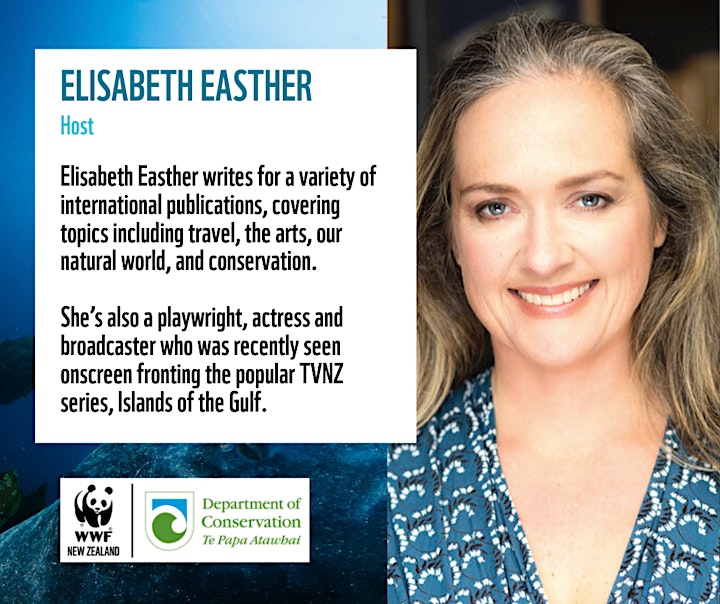 SPEAKERS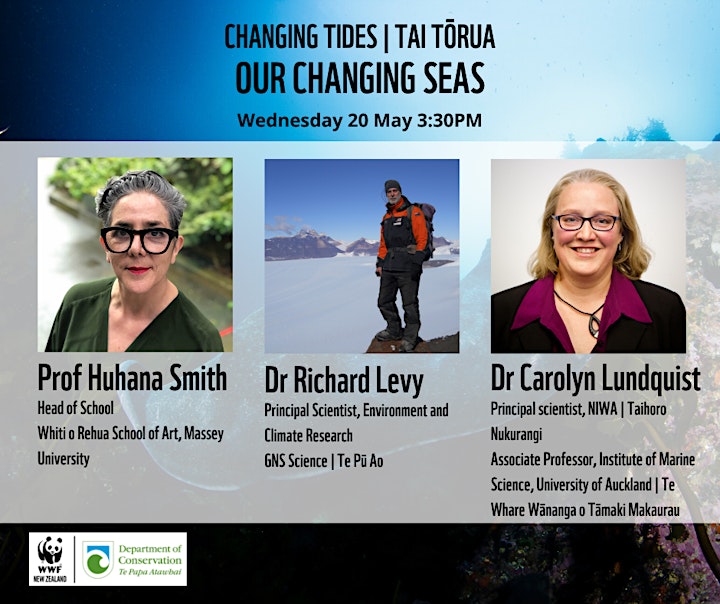 Prof Huhana Smith
Climate change implications for coastal Māori in Horowhenua, and a multidisciplinary research project to support adaptation planning.
Prof Huhana Smith is a visual artist, curator and trans-disciplinary researcher.
She is co-principal investigator for research that combines mātauranga Māori with science to actively address climate change concerns for coastal Māori lands in Horowhenua-Kapiti.
Dr Richard Levy
Our ocean's future – insights from the past
Richard Levy is a Principal Scientist at GNS Science where he leads the Environment and Climate research theme. He also leads the Antarctic Ice Dynamics Project.
Richard's research focuses on the evolution of earth's climate system in the mid to high southern latitudes over the past 40 million years.
Dr Carolyn Lundquist
Impacts and implications of climate change for marine species
Carolyn is Principal Scientist in Marine Ecology at NIWA in Hamilton and Associate Professor at the Institute of Marine Science at the University of Auckland.
Her research interests include reviewing impacts of climate change on the seafood sector and developing tools to help New Zealand's ocean ecosystems.
This webinar will be hosted on Zoom. You do not need a Zoom account to view.
SPACES ARE LIMITED. Make sure you register to secure your place.
Once registered, the link to the webinar will be sent in an email to you prior to the event.

Made possible by support from the Pew Bertarelli Ocean Legacy Project and DOC's Biodiversity 2018 Programme.