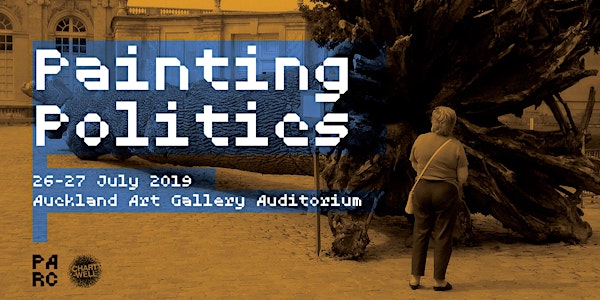 Painting Politics Symposium
Location
Auckland Art Gallery Toi o Tāmaki
Wellesley Street East
Auckland, Auckland 1010
New Zealand
A two-day symposium exploring the intersection of aesthetic experience and political thought.
About this event
Registration is now closed but important only for keynote presentations, all other sessions are very open and drop-ins welcome.
he central focus of this symposium is to explore the intersection of aesthetic experience and political thought. On the one hand art is often characterised as the domain of inwardness and subjectivity and on the other politics is viewed as the objective and rational analysis of external structures 'out there' in the world. This symposium examines how these two domains intersect to produce a mutually-constitutive critical paradigm in which politics is sensitised to inwardness and art with political outwardness: a place where outward directed perception and inner-directed introspection become continuous.
Contributions will be made by scholars and theorists in conventional academic formats as well as pairings of practitioners and theorists who will undertake focused discussions and panel sessions to address a broad set of issues and provocations such as:
What are the possibilities for political expression in painting today?
How can art, and in particular painting, provide something original to political thought and action by virtue of its sui generis character? And how can politics inform painting without trampling on its 'inner constitution', its autonomy?
How does the intersection of painting and politics help us to understand subjectivity in different ways?
https://parc.blogs.auckland.ac.nz/
Keynote speakers
David Joselit is a Distinguished Professor of Art History at The Graduate Center (CUNY), author of key texts on modern and contemporary art (After Art, Princeton University Press; Infinite Regress, MIT; Feedback, MIT press) and is a contributing author to October (also at MIT).
Helen Johnson is a Melbourne artist whose primary interest is painting's potential to open up and destabilise its imagery. Recent exhibitions include Artspace (Sydney), New Museum (New York), Institute of Contemporary Arts (London), Basel Statements (Basel) and Glasgow International.
With Alex Bacon, Kirsty Baker, James Cousins, Wystan Curnow, Leonhard Emmerling, Graham Fletcher, Julian Hooper, Suzanne Hudson, Simon Ingram, Andrea Low, Julian McKinnon, Hugo Koha Lindsay, Gregory Minissale, Sebastian Mühl, Laurence Simmons, Allan Smith, Luke Smythe, Raymond Spiteri, Tracey Tawhaio, Imogen Taylor, Ane Tonga, Caroline Vercoe, Helen Westgeest, Victoria Wynne-Jones
Organised by Simon Ingram: Elam, Gregory Minissale & Caroline Vercoe: Art History, University of Auckland
Supported by Politico-Aesthetics Research Centre (PARC) Faculty of Arts & Faculty of Creative Industries, The University of Auckland, Dame Jenny Gibbs, The Chartwell Trust