Panel: Hate speech, political discourse, and religious diversity. What lies...
Description
It's been a year since the Christchurch terrorist attacks. How have hate speech and political discourse evolved since March 15? Are we now at a time where hateful language directed towards ethnic and faith communities around the world has become normalised? Or has New Zealand made progress since then? How do we understand the landscape of social harms caused by words and their relationship to action? Are there new ways of balancing freedoms and constraints around public discourse in the present-day? And where does responsibility on these issues lie?
Join us for an insightful panel discussion on these issues with an excellent line up of distinguished speakers who are experts in their respective fields.
Registration is essential. Refreshments will be provided.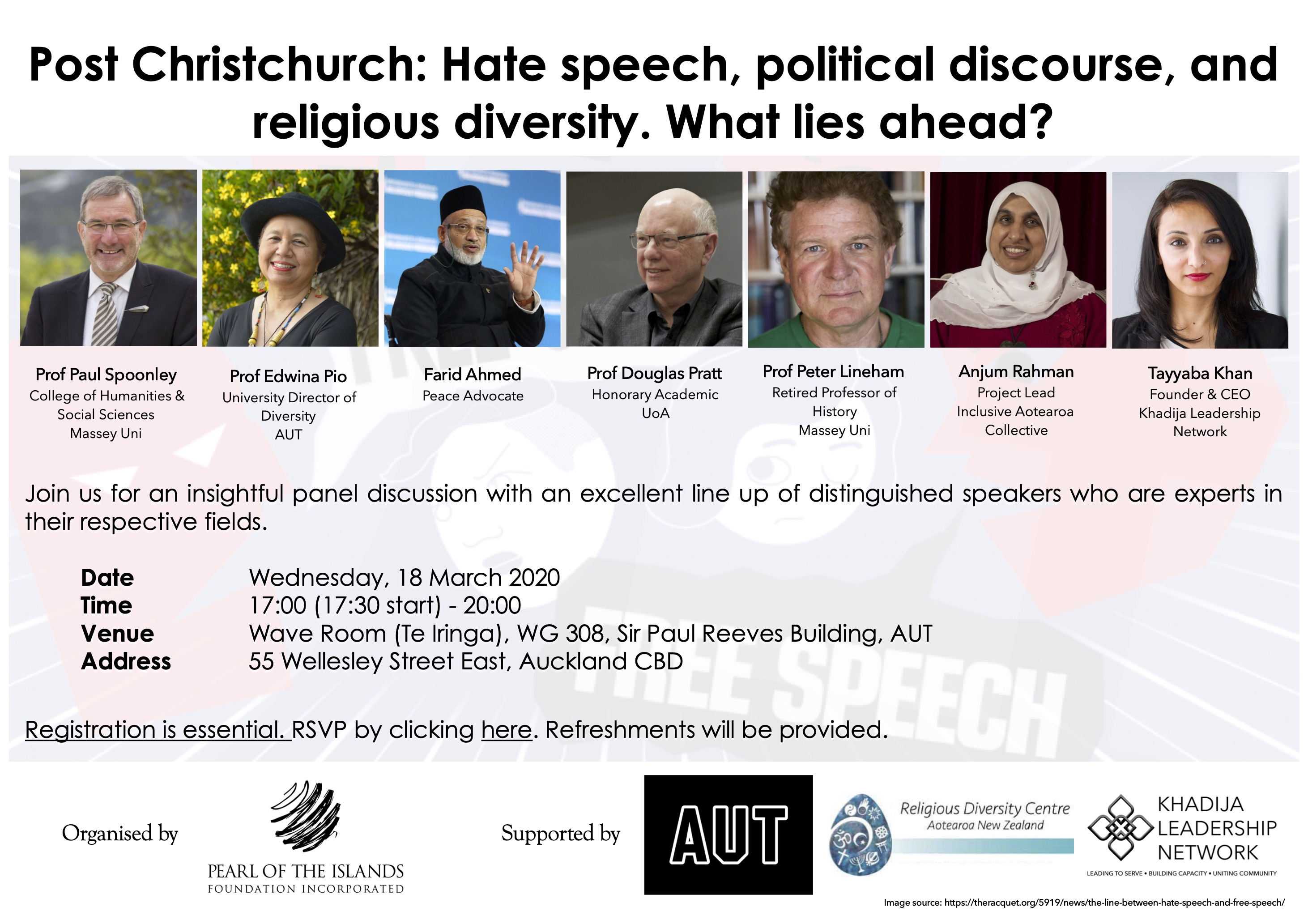 Biographies
Paul Spoonley
Distinguished Professor Paul Spoonley was, until recently, the Pro Vice-Chancellor of the College of Humanities and Social Sciences, at Massey University. He is the author or editor of 27 books, the most recent being "Rebooting the Regions" (2016). He is currently writing two books, one on social and demographic change in New Zealand while the other concerns the extreme right in this country. He is a Programme Leader of a research programme on the impacts of immigration and diversity on Aotearoa (MBIE, 2014-2020, $5.5 million). He was made a Fellow of the Royal Society of New Zealand in 2011 and was granted the title of Distinguished Professor by Massey University in 2013. He was awarded the Science and Technology Medal by the Royal Society in 2009, he was a Fulbright Senior Scholar at the University of California Berkeley in 2010, and since 2013, he has been a Visiting Researcher at the Max Planck Institute for the Study of Religious and Ethnic Diversity in Göttingen, Germany, most recently in 2019.
Edwina Pio
Fulbright alumna, Dr Edwina Pio is New Zealand's first Professor of Diversity and University Director of Diversity at AUT. Her research encompasses the intersections of work, ethnicity, indigenous studies, religion and pedagogy. A thought leader, recipient of a Duke of Edinburgh Fellowship, Judge for the New Zealand Diversity Awards, widely travelled and published, she is known for her praxis in action and rationally compassionate work on diversity and inclusion and its many facets in a volatile world. Many aspects of Edwina's life-worlds have been structured by the complexity of being a scholar of colour and a passionately engaged ethnic minority migrant woman educator. In October 2019, she received a Royal Society medal for her work on diversity.
Farid Ahmed
Farid Ahmed has lived in New Zealand for 30 years. Twenty-one years ago he became a paraplegic when a drunk driver ran him over on the street. Miraculously Farid survived but is now confined to a wheelchair. Despite that Farid is a Senior Leader at the Deans Ave Mosque in Christchurch and he works as a homeopath. Since the attacks he also speaks around the world, preaching his message of forgiveness and love.
Douglas Pratt
Professor Douglas Pratt taught Religious Studies at the University of Waikato for over 30 years, retiring in mid-2018 following the disestablishment of the Religious Studies programme. Currently, he holds appointments as Honorary Professor in the Theological and Religious Studies Programme of the University of Auckland and Adjunct Professor (Theology and Interreligious Relations) in the Faculty of Theology, University of Bern, Switzerland. He is also an Honorary Senior Research Fellow, University of Birmingham, UK; Adjunct Professor (Religion and Law) in the Faculty of Law, The University of Fiji, and Associate Researcher with the Centre for the Study of Religion and Politics, University of St Andrews, Scotland. Recently elected a Fellow of both the Royal Historical Society and of the Royal Asiatic Society, his research interests include Christian-Muslim relations, interfaith dialogue and contemporary issues in religion. He has recently published Religious Extremism: Rejecting Diversity (2018), Christian Engagement with Islam: Ecumenical Journeys since 1910 (2017) and Fear of Muslims? International perspectives on Islamophobia (2016). His 2005 text, The Challenge of Islam: encounters in interfaith dialogue, has been reissued in the Routledge Revival Library (2017). He is chief editor of a major volume of thematic essays in the Christian-Muslim Relations: A bibliographical history series (Leiden: Brill), to be published in April 2020.
Anjum Rahman
Anjum is the Project Lead for Inclusive Aotearoa Collective Tāhono, an organisation working to develop a national strategy on belonging and inclusion. She is also acting head and media spokesperson for the Islamic Women's Council of New Zealand. She is dedicated to breaking down the stereotypes about Muslims and about Muslim women in particular and improving the lives of migrant women through advocacy and practical support. Anjum was involved in setting up Shama (Hamilton Ethnic Women's Centre) 16 years ago and remains heavily involved. She is a member of the Waikato Interfaith Council and on the governance board of the local funder Trust Waikato and the community access broadcaster Free FM89.