A guided tour of New Zealand's key historical/constitutional documents: He Whakaputanga and Te Tiriti o Waitangi. A discussion to follow.
About this event
***CHANGE OF DATE DUE TO COVID RESTRICTIONS ***
PLEASE NOTE: This is event is for registered PAPSN members. You can join our network here.
We often talk about the Treaty, and the petition women's suffrage, but have we seen these documents in person? What about our Declaration of Independence | He Whakaputanga?
PAPSN has teamed up with the National Library for a guided tour of He Tohu: an exhibition of these three significant documents with fun interactive displays. With thanks to the National Library, we can discover personal connections to the documents as the tour will also include some additional elements of Pan-Asian history.
After the guided tour (1 hour), we will have a discussion (1 hour) about where we, Pan-Asians, fit with these documents.
Did we really all get the right to vote in 1893?
What does the Treaty mean for immigrants, new and old?
The follow-up discussion is optional to attend, though we would very much love for you to join us. (Coffee and tea are on us! )
Spaces are limited but this is just the third of six tours we have planned.
So if you can't make it this time, be sure to watch this space!
____
The Pan Asian Public Sector Network (PAPSN) will be taking photos at the He Tohu Tours (the Tour). These images may be used by PAPSN to share news about the Tour, and to publicise the Tour. Images may be used in press releases, printed publicity and published on PAPSN's social media. They will be stored securely, and we will delete them after they are no longer needed for publicity purposes. We may also share photos with members of PAPSN for their personal use. If you would prefer for you or your child not to be photographed, please email us (panasian.network.aoteoroa@gmail.com). If you would like to see your images, or would like us to delete them at any point, please also email the group on panasian.network.aoteoroa@gmail.com.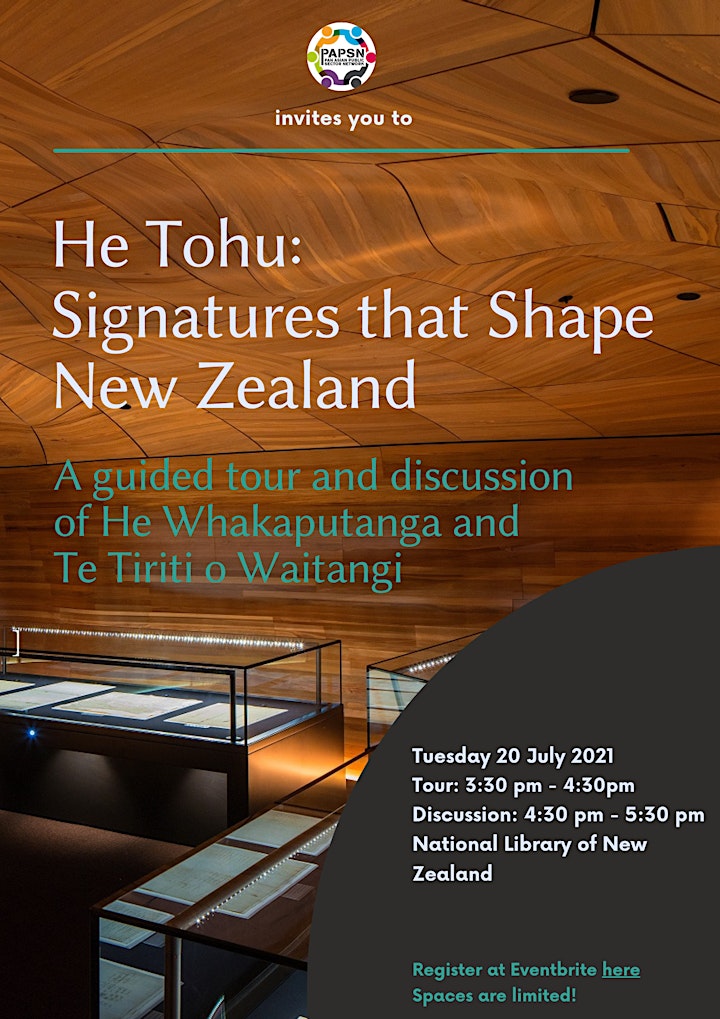 Organiser of PAPSN invites you to: He Tohu: Signatures that Shape New Zealand