Practical ideas and strategies on how to help your kids flourish in uncertain times.
About this event
The world is changing, and at a pace much faster than our ability to keep up. We are currently facing many challenges and uncertainties such as the impact of technology on the way we live as well as facing a future with changing climate. In addition to this, the current pandemic has focussed us on the need to support our children and ourselves in different ways.
It's no wonder that our kids can become anxious and we can feel overwhelmed and sometimes beyond our capacity and expertise as parents and carers. But in the face of all these challenges parents can indeed cope and even thrive. We have the skills and resources through the use of positive interventions to support our children to flourish, even when the most certain thing is uncertainty itself.
'Parenting in uncertain times' is hosted by Dr Emma Woodward from The Child Psychology Service. Emma is a Child Psychologist, mum to 4 boys and is a sought after presenter and media commentator on issues to do with child and adolescent wellbeing.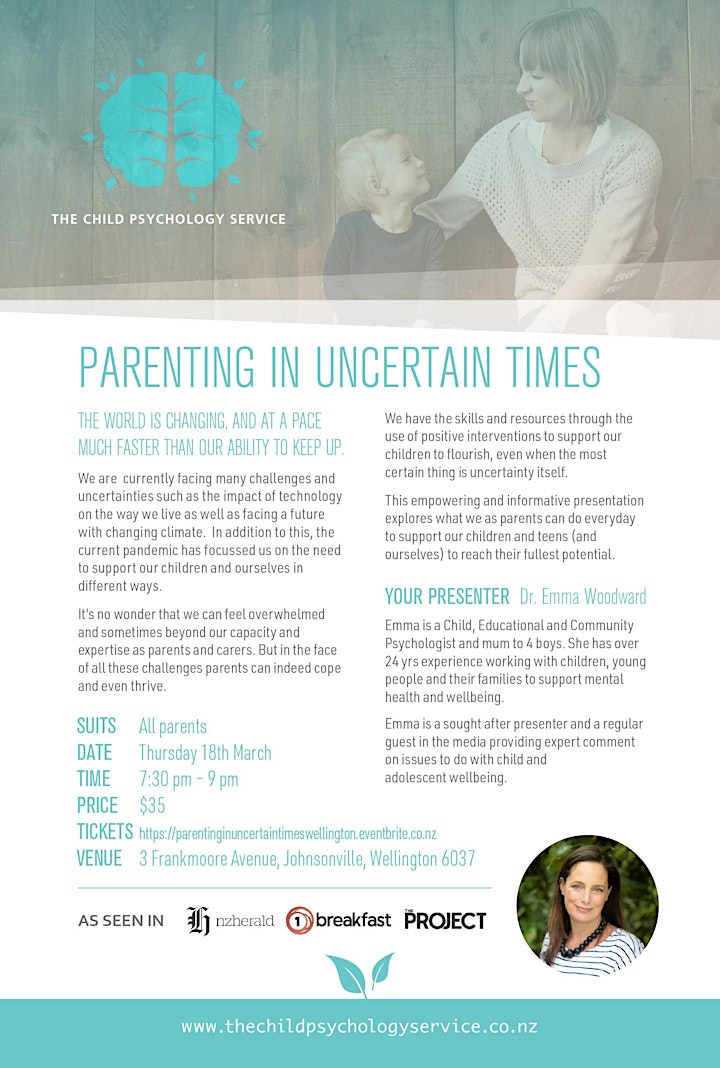 Organiser of PARENTING IN UNCERTAIN TIMES
The Child Psychology Service is a nationwide service with a local feel, providing comprehensive mental health support to enable your child to reach their full potential. 
We work with families, schools, and children of all ages and abilities to enable them to flourish in all areas of their lives. We support children and their families with emotional, behavioural and social concerns and help to overcome any barriers to their learning and development. Our aim is to apply psychology to improve the welfare, well-being, learning and quality of life of children, young people and their families. We are qualified, registered and experienced in a range of concerns across a variety of settings.
The Child Psychology Service was founded by Dr. Emma Woodward, a robustly trained and highly experienced Child and Educational Psychologist, facilitator, speaker and nascent author. Emma's underlying values regarding equality and inclusion are at the heart of all of the work she undertakes. She has over twenty year's experience working with children, young people, their families, schools and the wider community.