Pasture Summit NZ-Ireland Forum 2021 - RECORDING
About this event
"Pasture Fed Dairy & Water Quality – Is pasture still the way forward?"
If you registered to attend the forum in person or virtually on 7-8 July, you will have been given access to the recorded footage of the event.
If you missed out on attending the forum, you can purchase the forum recording from this website (select the green TICKETS icon to purchase).
You will be sent a followup email with access to over 5 hours of video with speakers including top scientists, sector experts, exporters and farmers from New Zealand and Ireland with a global food perspective provided by Nestlé. For details of the content of the recordings (session titles, speakers, chairs), please click here.
(please be aware that all virtual content will be secured behind a digital gateway – registrants will be provided with a dedicated link and password to access).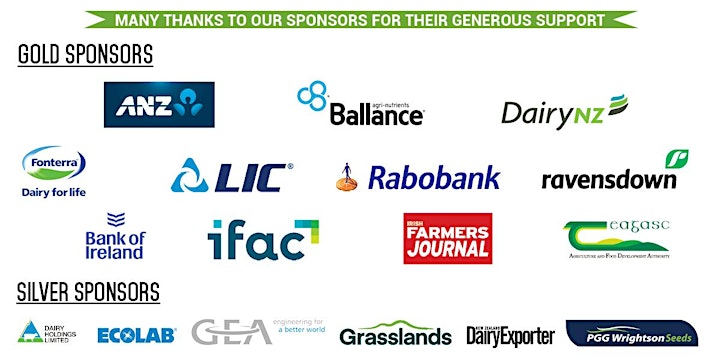 Organiser of Pasture Summit NZ-Ireland Forum 2021 - RECORDING
Pasture Summit was established in 2017 by a group of progressive and committed farm business owners and dairy sector experts from across New Zealand and Ireland. With a wealth of experience and knowledge on our organising committee, Pasture Summit events are organised and run by farmers, for farmers and supported by dairy industry research and extension leader (DairyNZ).

In November 2018, Pasture Summit conferences were held in both the North Island (Hamilton) and South Island (Ashburton). The objective was to bring together a positive and vibrant community of farmers, to secure a profitable future, for this and the next generation of dairy farmers and our dairy stakeholders.

The 2018 Pasture Summit conferences were the first events of their kind in New Zealand with an ongoing connection to an international network. These were followed up in 2019 by two field days, hosted by farmers with technical input from dairy sector specialists, sharing ideas and developments on achieving profitable food production from grass. Since then, we have enhanced our digital engagement offering and produced a series of informational videos on relevant and topical themes for the dairy sector.

This year, Pasture Summit NZ & Ireland have been working together on an exciting joint forum to be held this July on the topical and relevant theme of "Pasture Fed Dairy & Water Quality – Is pasture still the way forward?"