Description
The next event by PDMA-NZ (Product Development & Management Association NZ) & NIP (Newmarket Innovation Precinct)
Don't miss this opportunity to listen to two innovators at the upcoming event!
Storytech – Digital Disruption!
Mr James Hurman (Founder and CEO of Storytech) will talk about an innovation that's growing its market rapidly. Storytech is a brand-strategy-in-a-box digital product for start-ups and small businesses. Created by globally ranked brand strategist James Hurman, Storytech was launched in February this year after 18 months of prototyping and development.
Storytech is a classic digital disruptor – taking a pre-digital offering online and delivering it for 1/20th the price to a whole new market. James will discuss how he approached this world-first digital productisation of a common marketing service.
And wait there's more…
If you or your company is interested in buying the software package, you receive 20% off the price of Storytech. Go to www.Storyte.ch. Enter the discount code: STNZPDMA20
Imersia – Mixed Reality Transforming the Future!
Dr Roy Davies will present on 'How Augmented and Virtual Realities can make life more interesting'. Dr. Davies is a pioneer of Virtual Reality (VR) research, transitioning from Rehabilitation Robotics to Usability, specialising in applications of Mixed Reality. From setting up a VR Research Centre in Sweden in the late 90's, he returned to New Zealand to head up Nextspace, an Industry Catalyst and collaboration between the NZ Government and the company Right Hemisphere. This set the scene for stepping boldly into Startup land to found Imersia together with cofounder, Jon Lowther. Roy's passion has always been to 'make technology easier', and VR/AR are prime examples of technologies that can make people's lives more vibrant and calmer. Publications and other articles can be found by googling 'Roy Davies Mixed Reality'.
Event schedule
5.15 pm - 5.45 pm Registrations
5.50 pm - 6.00 pm Introduction to PDMA and NIP
6.00 pm - 6.30 pm Storytech (James Hurman, CEO Founder)
6.30 pm - 7.00 pm Imersia (Roy Davies, Co-Founder Imersia)
7.00 pm - 7.30 pm Networking and nibbles

Cost
PDMA-NZ members $0*
Non-members $25
Non-member students: $10

* To become a PDMA member, go to http://pdma-nz.org/membership/
Join our database free to get emails about upcoming events at: www.pdma-nz.org
Connect with us on LinkedIn: https://www.linkedin.com/groups/77069/
Location & Parking
On-site after-hours free visitor parking is available on a first-come-first-served basis from 5pm via Gate 3, Khyber Pass Rd see MAP. (Please use the intercom button at the Gate to request access for the event if the barrier arm is down.)
Use pedestrian walkways/crossing to access the main Reception Building 902 (entry level 3), directly across from the main car park. The event will be held in the Seminar room, up one floor from the main reception area, please see directional signage on the night. Access available via lift and stairs.

Additional event parking (if required) is also available from Secure Park situated off Suiter Street, see MAP. Please pre-book your parking for the event via the online booking system.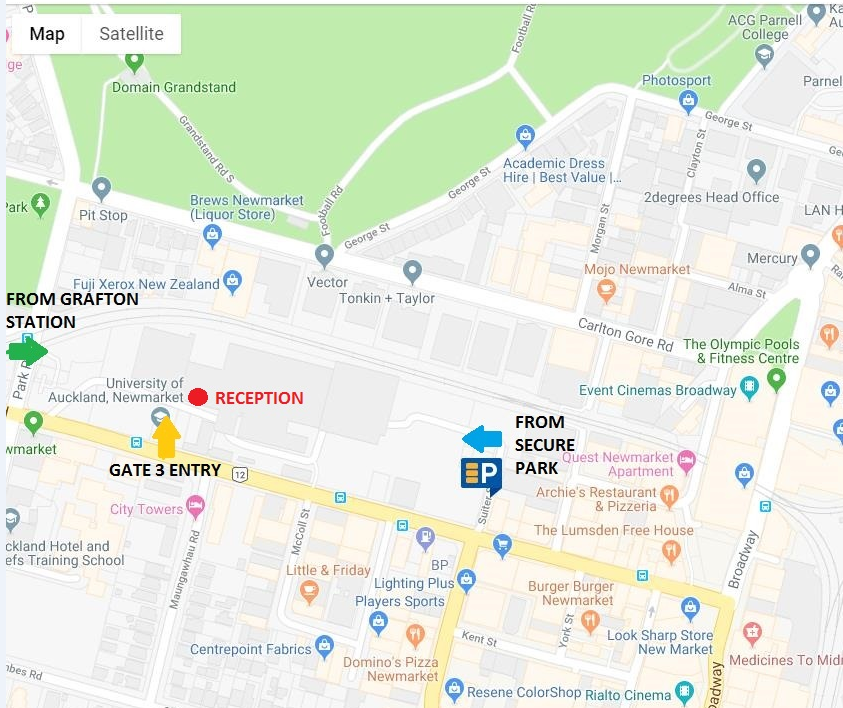 We look forward to seeing you on the 20th!

PDMA-NZ Team