Pegasus is a super-convenient day of larp with morning, afternoon, and evening games, and an introduction session for first-timer larpers.
About this event
Pegasus is running on Sat, 10th Oct
Due to the change of date to Oct 10th, some attendees are no longer able to make it. We therefore have some tickets available to games that had sold out.
We have discounted all tickets to help fill the games quickly.
Introduction to Larp tickets includes a presentation with Q&A and a guided larp in the morning. This introductory session is the perfect way to hear how larp works, and get your questions answered so you feel comfortable going into your first games. If you choose the Two Rounds or Full Day option, you can also attend one of the Afternoon larps, the Evening larp, or both, in addition to the morning Intro session.
Our non-introduction tickets allow you to attend 1, 2, or all 3 of our rounds of larp.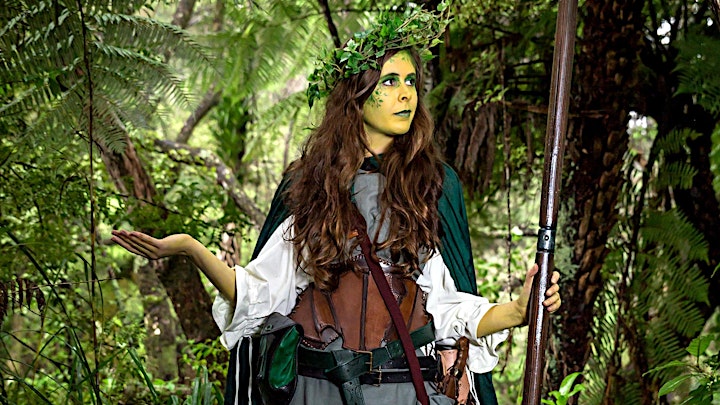 New to Larp?
Live action role playing is a fun, creative and social hobby that has a large, warm and welcoming community here in New Zealand. We love to introduce first-time larpers to our games, which come in a huge variety of styles.
Pegasus is a larp convention for about 110 participants, suitable for both new and experienced larpers. If you choose the "Introduction to Larp" ticket, then in the morning round you will attend an introductory session in which we will introduce you to how larp works. In the afternoon and evening you will get to play in your first two larps.
The morning session will start with a talk about what larp is like and the different styles of game, with plenty of opportunities for questions. Then we'll guide you through your first larp, which will be in a modern setting so you won't need any costumes for it. Convenient! For these starter games you make your characters in a workshop at the beginning of the game, so you don't need to read a character sheet before the day. You will have a choice of two starter larps:
New Voices in Art, run by Verena Pschorn and Karin Lundengård. This larp is about aspiring artists yearning for recognition and creative fulfillment, the night before their big exhibition launch. Expect lots of drama and angst, as well as humour and pathos from a wonderful technique that allows you to monologue out loud what your character is thinking - which may be quite different to what they're saying! This game is easy to learn for new larpers. Written by Tor Kjetil Edland, Arvid Falch and Erling Rognli.
A Wolf by Any Other Name, run by Samantha Boston and Sam Blood. You are students at a school of magic, and you're all in detention for bad behaviour. One of your fellow student wizards could be a werewolf. What will you do when the moon rises and they attack? Or if you are a werewolf, can you make a magic potion to suppress your transformation in time? This game takes more effort to master as it has more complex rules and setting. Published by Learn Larp, LLC.
We will need even numbers in each game, so we appreciate your flexibility.
Timetable
8:30am - Registration opens
9:00am - Morning session
- Introduction to Larp
- Super Slam Buddies!
- Of Pestilence and Petri Dishes
12:00pm - Lunch break
1:30pm - Afternoon session
- Secrets of the Deep
- A Midsummer Night's Murder
4:30pm - Dinner break
6:00pm - Evening session
- Achaean
9:00pm - Finish
Boxed Meals
When you buy your ticket, you will also have the option to buy a boxed lunch and/or dinner catered for us and freshly made on the day by Ripe Deli. A boxed meal at the game is a super convenient way to get in a lovely meal between rounds, and the dinners will be hot. We have a dining room and kitchen available, and you are also welcome to bring your own meals - or stroll up the road to Ponsonby to eat.
Services
When you arrive, please head to the administration room and collect your name badge. The admin room also has space to store your personal gear, and the room will be locked up during rounds, so you can use it as a coat check to store changes of costume, your street clothes, and personal effects. Ideally, bring a bag that can fit them all in it. We will also have costumes, larp weapons and other gear on sale in the administration room, care of Paddywhack Fantasy Armoury.
Who can attend?
Pegasus is intended for adults and teenagers. Any attendees under 16 years of age will need to be accompanied by an adult. Some games may not be suitable for young people - please note the content warnings below. The venue is accessible, with hard flat floors and not more than a single step to enter. Some costuming for games is encouraged (and some people will go all out), but there is no minimum costuming requirement. You do not need any experience with roleplaying to attend. If you are new to larp we recommend the "Introduction to Larp".
Game Descriptions
* * *
MORNING SESSION
* * *
Superb Slam Buddies!
Written and run by: Blair Purkiss and Emily Johnson
The new version of the world's greatest video game crossover is in development! Fourteen characters from across the entire video game spectrum have been invited to a server where they are eagerly waiting to see if they with have the prestigious honour to be the next new challenger to appear in SUPERB SLAM BUDDIES!
Superb Slam Buddies! is a comedy parody game for fourteen players. A spiritual successor to Truth, Justice and Spandex!, each character is (loosely) based on well known video game characters and tropes, each with their own unique abilities, powerups and quests!
Genres: Video games, Parody, Comedy
Costume: Video game characters
* * *
Of Pestilence and Petri Dishes
Written and run by: Hamish and Rachel Meads
The year is 2019 and it is that time again. Every decade or so, a gathering of diseases occurs, it's a time to catch up with old friends, brag about the latest epidemic, gripe about medical advances and put the young, and eradicated diseases in their places. As this is the first time this has occurred this century it is also a time to recognise the achievements of a disease who distinguished themselves in the last century with the most prestigious accolade the community can offer. A Virulence Award, is a tribute bestowed by the worldwide community of diseases to recognize excellence of professionals in the spreading of human misery, including bacteria, viruses, and parasites.
This year's Virulence Awards promise to be the largest gathering of diseases in recent history with many strong candidates. Controversy has surrounded the entry of Depression into the contest as it remains to be seen if he can overcome the stigma of mental illness.
Genres: Dark Comedy
Content Warnings: Dark humour about diseases, religious themes
Costume: Anything, lightly costumed is fine
* * *
AFTERNOON SESSION
* * *
Secrets of the Deep
Run by: Reuben Strom and Rowena Knill
Written by: Reuben Strom, Rowena Knill, Nikki Brown and Phillip Brown
The sunken Kingdom of Atlantis. Its name is whispered as a tale of woe and warning by the surface-folk, a lesson in humility. Yet the proud bloodlines did not perish when the city collapsed. They live still, beneath the waves, hidden from prying surface eyes. The question of how they came to survive the drowning of their great city has thus far gone unanswered. Was it divine intervention? Or merely mortal will and wit? Regardless of how it happened, the people of Atlantis survive to this day - plotting and jockeying against one another for power and prestige, carving out holdings and founding dynasties. Those of noble blood have learned to manifest potent abilities, while the commoners are forced to serve.
It is the anniversary of Atlantis' fall into the depths, and as tradition dictates, the King has opened the doors to his royal halls for all the nobility to gather and feast. Those of the noble houses are happy to attend, using the festival as an excuse to meet with friends and avenge themselves upon enemies. There is resentment brewing amongst some of the commoners though, and the Royal Oracles foretell of change borne upon the tides. Will the proud rise to greater power? Or will they and all of Atlantis fall deeper still, swallowed up by a blacker fate than the ocean floor?
Genres: Fantasy
Content Warnings: Drugs, pregnancy, sexual themes, murder.
Costume: The game is set in the sunken city of Atlantis, so costumes should be inspired by ancient Greek style, with an aquatic twist. (Think hoplite soldiers & robed citizens). Characters are aligned in Houses which have a have a specific "House Colour" which is worn for formal occasions.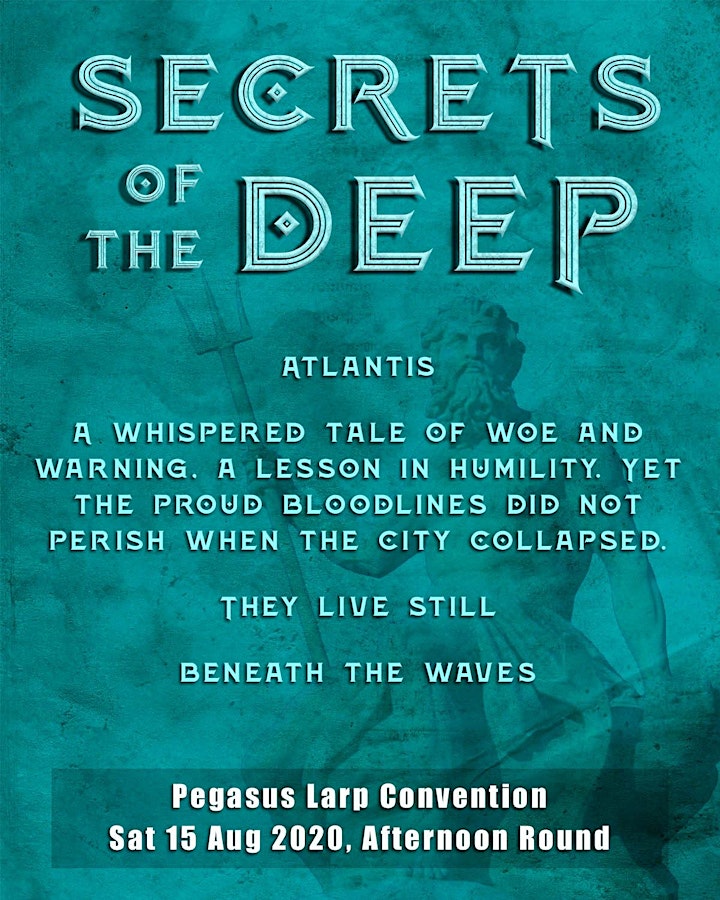 A Midsummer Night's Murder
Written and run by: Sam Boston
Once upon a time Fae were prominent in the realm of mortals. Fae-folk roamed the lands of men openly, living side-by-side with their mortal friends. They kept the forests tall, the seas clean and clear and the mountains strong.
But mortals grew hungry for power, and sought to drive the Fae out of these lands and back to their own Fae realm. Now, only a small number of Fae remain, living in secret amongst but a handful of human allies.
Every century a new Fae King or Queen is crowned, and is bestowed the honour of reigning over all Fae inhabiting the mortal realm. Prince Vukan, a Sunshine Fae, was set to be crowned the next King - but he has gone missing. An emergency gathering between the Fae and their human allies has been called to see if his disappearance can be solved.
A Midsummer Night's Murder is a free form larp with a murder mystery twist, perfect for first-time larpers.
Genres: Fantasy, Murder Mystery, FAIRIES
Content Warnings: Contains some dark themes, including grisly murder.
Costume: There are plenty of costuming options here - go all-out if you wish, or wear the clothes you'd throw on every day.
* * *
EVENING SESSION
* * *
Achaean
Run by: Nick Cole
Written by: Nasia Alevizos, Nick Cole and Alasdair Sinclair
The Trojan prince Paris has spirited away the most beautiful woman in the world, Helen of Sparta from her husband Menelaus. With the support of his brother Agamemnon he has summoned all of the kings and heroes of Greece to gather at Aulis. From there the greatest fleet the world has ever seen will set forth for Troy to avenge this insult and return Helen to her husband's side.
High atop Mount Olympus, the Gods watch intently. Even though Zeus has forbidden any direct interference, they conspire to advance the cause of their favoured scions and worshippers in the coming war. In the shadows, dark forces take advantage of their distraction to set their own plots in motion.
Genres: Greek Myth, Drama
Content Warnings: R18. Achaean is based on Greek mythology and features many disturbing themes including slavery and sexual assault. These themes are confined to character backstories and will not feature in gameplay.
Costume: Ancient Greek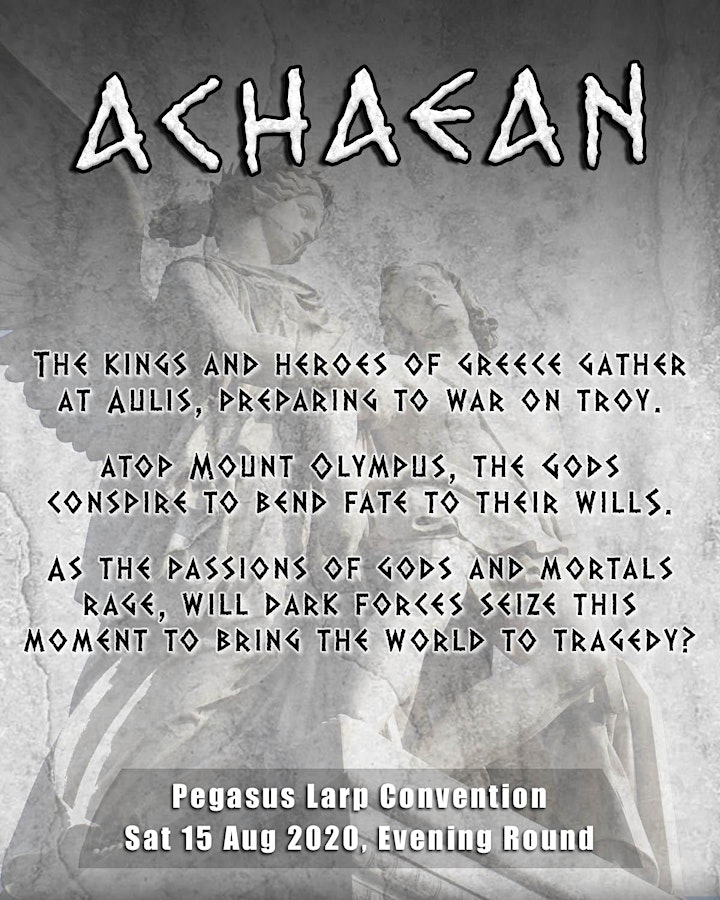 Organiser of Pegasus - One Day Larp Convention - 2020