Event Information
Refund Policy
Contact the organiser to request a refund.
Eventbrite's fee is nonrefundable.
This series of eight group discussions in our new Philosophy series examines life's Big Questions.
About this Event
NEW PHILOSOPHY SERIES INTRODUCED IN 2021 TERM 1: EarthDiverse is pleased to introduce its newest series of Philosophy courses with our "Big Questions" series. These are discussion groups designed around a particular topic set for the evening. Each session has a moderator, who will introduce the topic and lead each evening's discussion.
This series of eight group discussions in our new Philosophy series examines life's big questions. Topics include: What is the meaning of life? How to lead a good life? What is the best moral and political system? What is Language? Is our universe real? Does God exist? Is there truth, and if so, what is it? Each session is introduced with a brief introduction from two Guest Presenters on the evening's topic (with different backgrounds and perspectives), followed by an evening of moderated group discussion in which you participate.
TERM 1: THE BIG QUESTIONS:
What is the meaning of life? What is the best political system? What is language and how do we understand each other? Does God exist?
Most people ponder the BIG questions from time to time. Sometimes our answers change over time, often on their own or as the effect of seminal experiences or encounters.
But these days there are not very many places where you can freely discuss these questions. Many academic institutions have become highly specialised and seem hesitant to engage in cross-disciplinary discussion and debate with such universal questions. Religious and political institutions often answer such questions from a very distinct or doctrinaire ideological angle or position.
In 2021 Term 1, EarthDiverse has organised a 'Philosophical Café' of sorts—a chance to talk about these queries from a wide variety of perspectives. Our round table discussions aim at being a forum for the respectful exchange of inquiries and ideas concerning life's Big Questions. The idea is to attract and engage participants from a diverse spectrum of religious and ideological backgrounds. Anyone who has asked themselves what life, reality, language and community are all about—or should be all about—is welcome to attend and participate in our community.
Following two 5 mins presentations from two guest presenters from different cultural, ethnic, religious, scientific or academic backgrounds, we shall engage in a round table exchange of ideas with a view to teasing out the diversity and commonalities in our various worldviews.
Join us in a philosophical and spiritual journey to tap into the great pool of wisdom that exists within our local community, both here in Hamilton (through in-person attendance), or on-line via Zoom, through which you can participate fully in our lounge discussions.
COURSE OUTLINE:
Week 1: On the Meaning of Life
Week 2: Is Our Universe Real?
Week 3: Living the Good Life
Week 4: Political Systems
Week 5: What Does it Mean to be Human?
Week 6: Is there Truth, and if so, What is It?
Week 7: What is Language? How do we understand the world and each other?
Week 8: Does God exist?
Please see our website at <earthdiverse.org.nz> for a list of our weekly Guest Presenters.
Our "Big Questions" series will continue in Term 2 (with a different set of deep philosophical musings).
PREREQUISITES: There are no prerequisites for this course.
DISTANCE-LEARNING OPTIONS: All of our courses offer distance learning options for those unable to attend classes in-person. Live-streamed classes are available via free Zoom software, or those unable to attend the date and time of the actual class sessions can watch the live-recorded video sessions on their computers, laptops, tablets or mobile devices and study at their own pace. These recorded sessions will be available soon after each class finishes so that you may watch the recorded video via any web-browser at your leisure. Your instructor will provide details on how to access your classes before your course begins.
Cost per person per Term (8 classes):
Waged: $85.00
Unwaged (unemployed, students, seniors): $75.00
For more detailed information on this and our other courses, visit our web site at earthdiverse.org.nz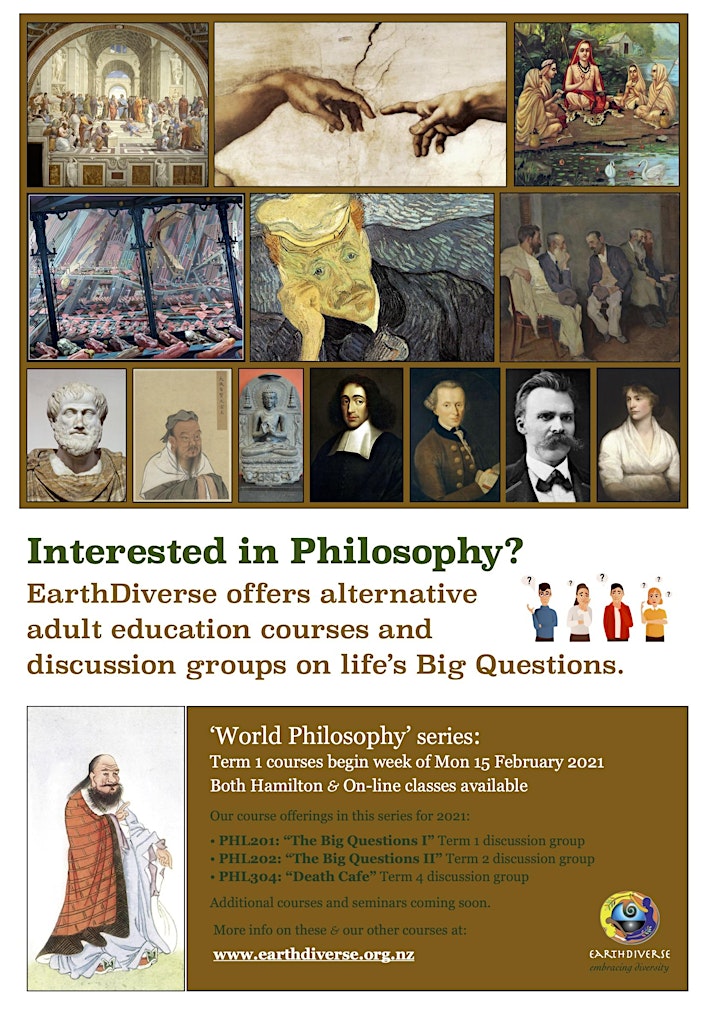 Date and Time
Location
Refund Policy
Contact the organiser to request a refund.
Eventbrite's fee is nonrefundable.