Sales Have Ended
Ticket sales have ended
Sorry that you have missed this PK Event. Please go to www.promisekeepers.org.nz to see when the next events scheduled.
Sales Have Ended
Ticket sales have ended
Sorry that you have missed this PK Event. Please go to www.promisekeepers.org.nz to see when the next events scheduled.
We are asking the Lord to revive our desire, our hope and our purpose. Join your brothers at PK and get fired up again!
About this event
Personal revival begins with us. We read in Psalm 85:6 'Will you not revive us again, that your people may rejoice in you?' How can we be God's vessels stirred up spiritually?
What does it mean to be revived in our personal spiritual life, ministry, business, marriage and finances? To be revived is to be transformed, to have renewed strength and to be reawakened. As Jesus said to His followers, 'Keep your lamps burning' (Luke 12:35).
We need to get 'fired up again' for the Lord. Today we are asking the Lord to 'revive our desire, our hope, our purpose and to look to the Holy Spirit to anoint us with fresh zeal'. - Len Buttner
EMBRACE PK invites all men to come to VISION 2020. No matter where your journey has taken you; good or bad. You are welcome!
ENCOURAGE Participating in this event with hundreds of other men will boost your passion for life!
EMPOWER PK is changing lives for the better. At VISION 2020 you will get some of the tools you need to move forward in your life with confidence.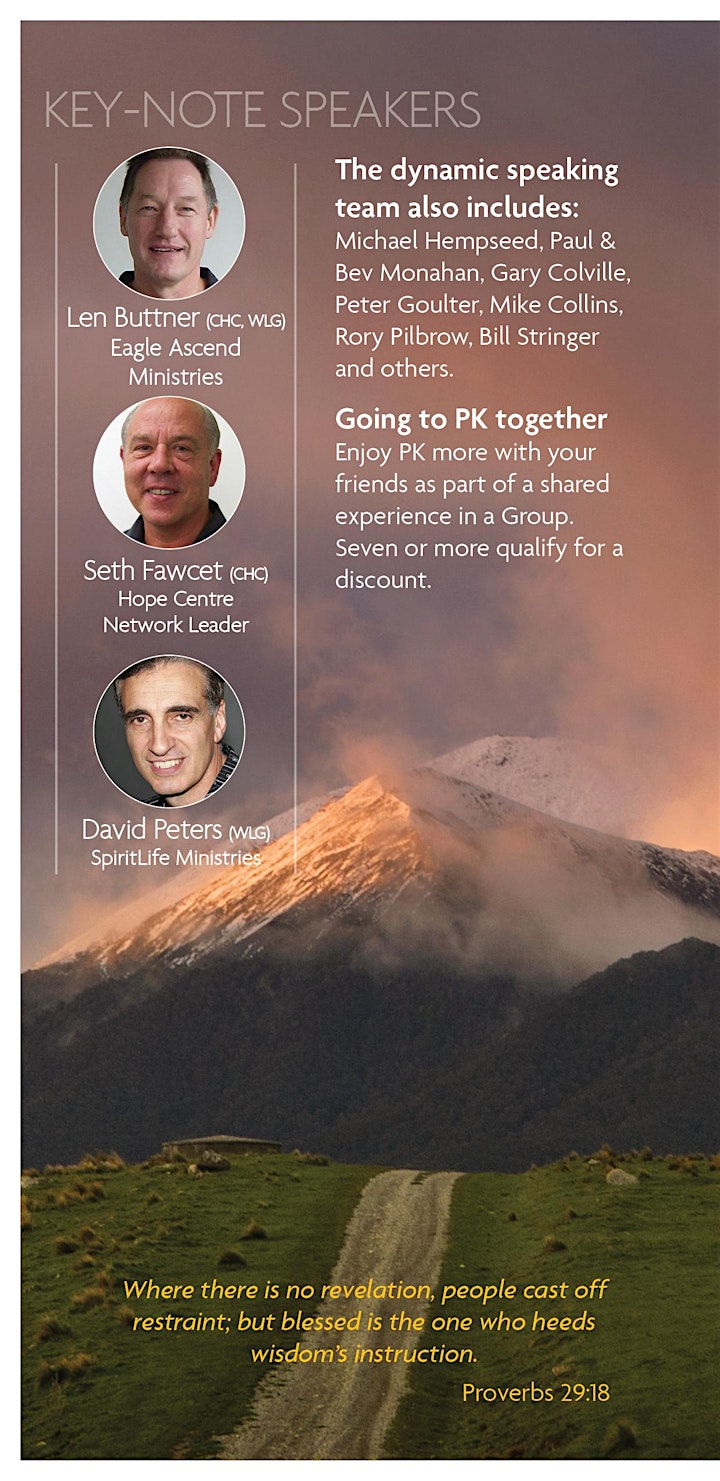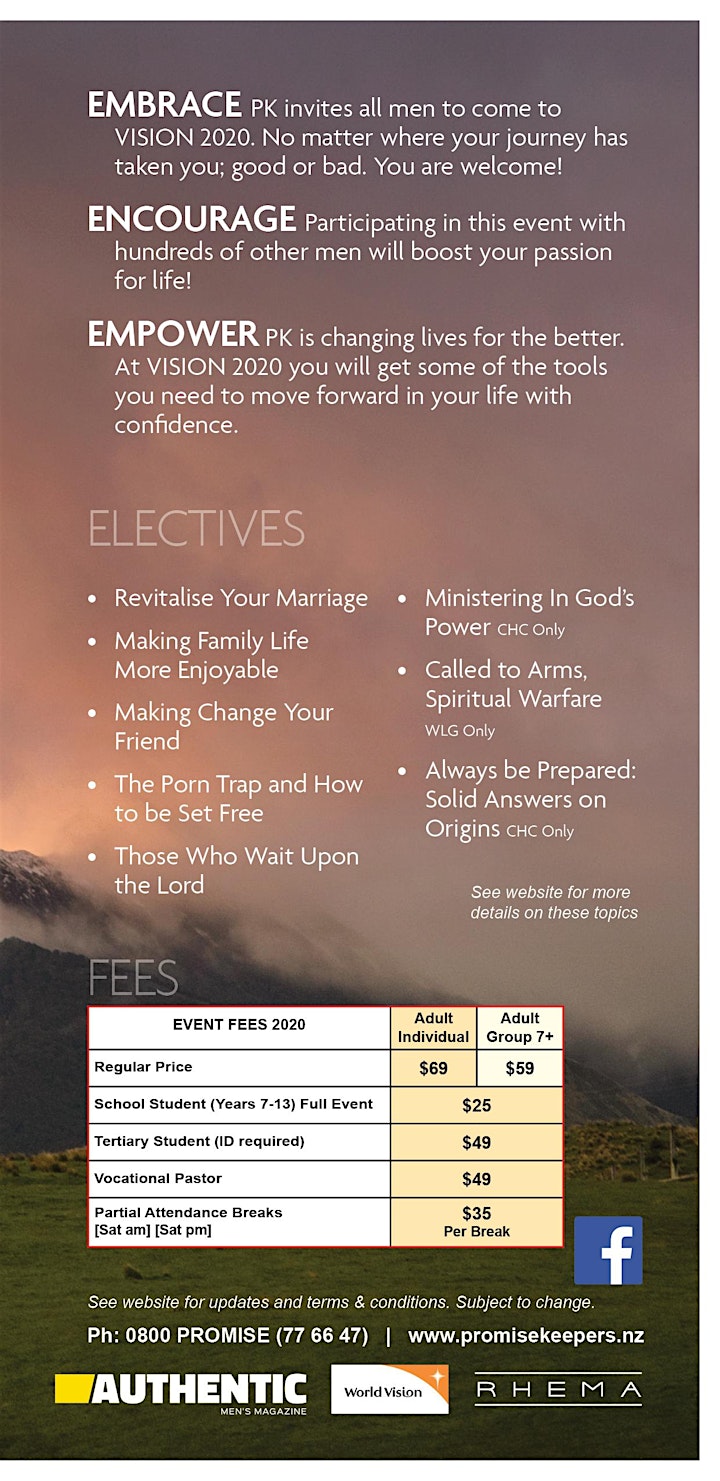 CHC Event info 2020
1. TICKETS: To get the best price possible it is advisable to pre-register online. Entry is by wristband only, which you will receive at the Event. One wristband is for one person and may not be swapped or shared with another person during Event.
2. FOOD AND DRINK: Kidds Cakes & Bakery is a 8min walk from the venue. There are other cafes around but they will require driving. Tea and coffee are available for sale at the venue. However, you are most welcome to bring your own food and drink.
3. PARKING: Parking is available on site and on the surrounding streets.
4. HAVE A GROUP? There are special discounts and offers available for groups of seven or more men.
5. FINANCIAL ASSISTANCE: Promise Keepers sets the fees to recover the actual costs of putting on the Events. We want to ensure that all men are able to attend these Events. Please contact us if you cannot afford the full fee: ph 0800 PROMISE (77 66 47).
6. EVENT HANDBOOK: The Event Handbook will be available for you at the venue.
7. BIBLE: Please bring a Bible (if you have one).
8. ACCOMODATION: Each person is responsible for their own accommodation arrangements. Groups may want to contact local churches to seek use of church hall facilities, billets or stay in local accommodation.
9. REFUNDS: Tickets can be gifted or transferred to a new holder for the current Event. In the event of sickness or family emergency, tickets can be transferred to another Event this year or to next year's Event. All transfers must be confirmed through the Promise Keepers office. Refunds will be given upon application up to seven days after the Event. A $25 non-refundable administration fee applies.
10. IMPORTANT: INTERCESSION & PRAYER TEAM
We are believing for each man at the Event to have an encounter with God that will change and transform his life. We encourage you to join with us in prayer before or during the Event. If you, and your friends or family would like to join us please phone: 0800 PROMISE (77 66 47) or email us at registrations@promisekeepers.org.nz
11. OTHER TERMS & CONDITIONS: More Event Terms & Conditions are listed [here]