Join our world class PMP preparation workshop with free mentorship until your exam day!! This is an ATP licensed training approved by PMI-US
About this event
WHY PMP?
PMP credential is the most trusted certification and is accepted as a highly significant and respected on project management throughout the world. It is based on PMI Framework for Waterfall,agile and hybrid lifecycle. A PMP® credential holder means that you have well-recognised evidence of Skills, Knowledge and experience of project management tools and techniques for successful completion of the projects across the sectors. It significantly increases the chances of your employment and future growth in your career around the globe. It adds value to your profile, and you have more chances to get a pay rise as compared to your colleagues. As per PMI's Earning Power Salary Survey (Project Management Institute, 2018), a PMP® certification holder earns a higher salary (20% higher on average) than those without this certification. In addition to this, PMI® promotes and requires continuous professional development, through PDUs, to keep your knowledge and project management practices up to date. In other words, you need to earn 60 PDUs every three years to maintain your credential.
Training Features:
Highly experienced, skilled and qualified instructor-led and live online training
High-quality course content by PMI that is fully aligned with New PMP 2021 ECO
One Year PMI Learning portal access with specific materail for PMP preparation
A 35 Hours Exam Prep training (Audit free directly from PMI USA ) for PMP exam
PMI Real mock exam licensed from PMI USA to every student
Convenient Classes ( Options for both Weekends and Weekdays)
Tips and tricks to pass the examination in your first attempt
Free and High Quality Mock Questions and Exercise as a part of training
Free post training individual coaching Session and mentorship with Instructor
Exam Application assistance and Audit Support
Till now 98% Exam passing rate of our students
What else you need?
Join now : Whatsapp for more information : 00923332755529
Training Dates and time : August Camp
Fri&Sat classess(Weekend)
6&7 August
13&14 August
20&21 August
27&28 Agust
Time:
EST: 11AM-2PM
KSA: 6PM-10PM
PK: 8PM-12PM
UAE: 7PM-11PM
*******************GOOD LUCK ,SEE YOU IN CLASS*************************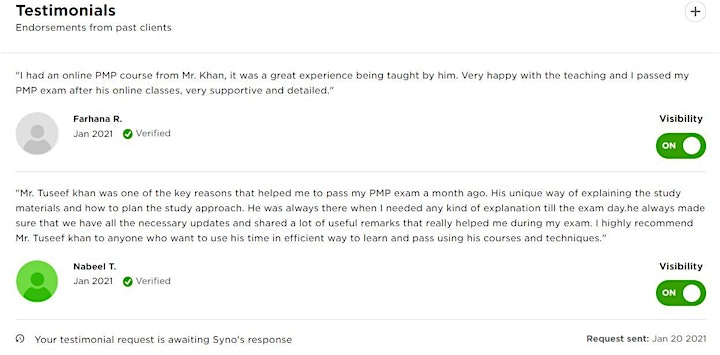 Organizer of PMP® Project Management Professional (Authorized Training by ATP)
Tuseef Khan -PMP®,DASM®,DASSM® MEM(Energy),6sigma,PMI Certified Trainer
Founder Pmskill Academy PMI Authorized Training Partner PMP® Instructor
Project management consultant and certified project management trainings
More than 12 years of project management experience and more than 700 students all over the world with( 98% PMP success rate for PMP students)