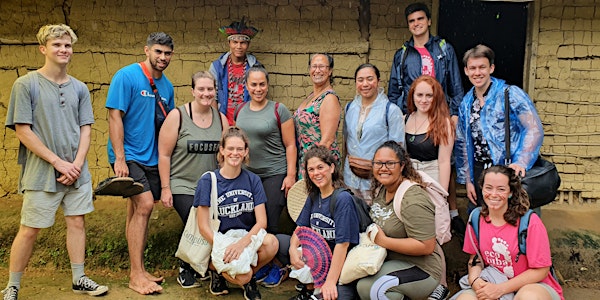 PMSLA 2023 - Indigenous Rights & Histories in Brazil Info Session
PMSLA 2023 - Indigenous Rights & Histories in Brazil Info Session
About this event
Join us for The PMSLA 2023 - Indigenous Rights & Histories in Brazil Info Session on 4 August at 11 am NZT!
Campus B's Indigenous History & Rights in Brazil programme is a culturally immersive programme that will provide students from the University of Auckland and the University of Waikato with the opportunity to experience the diverse cultures and customs of the indigenous peoples of Brazil and work collaboratively in an international setting towards a possible solution to a real problem faced by a local indigenous organisation. The 4-week programme, taking place in Brazil from Jan-Feb 2023, aims to encourage the personal and professional development of students while presenting abroad panorama of indigenous rights and the political and economic situation of Brazil.
Come along and hear from Campus b's Programme Coordinators and Chelsea Majoor, a UoA alum and participant in the 2020 PMSLA Programme, to learn more about this opportunity, made available with the generous support of the Prime Minister's Scholarship for Latin America.
Applications for this PMSLA Group Programme are currently open, with a deadline of 1 Sept 2022. Find out more here.