Description
Celebrating 30 years of providing a range of community based mental health services WALSH trust are pleased to host a symposium - Post Institutional Mental Health Services. "Are we there yet?" Using the lens of key performance indicators we will consider:
What have we achieved? (How much did we do? / how do we know?)

Is anyone better off? (How do we know?)

How much more do we need to do? (What could/should that look like?)
Programme includes Key note speakers:
Peter McGeorge (Consultant psychiatrist; St Vincent's Hospital, Sydney, Australia)
Marion Blake (CEO Platform Tust)
CoLiberate's Jody Burrell and Sarah Tuck
Two panel discussions with mental health advocates.
Morning tea and lunch is provided and there is off street parking available at the venue.
Cash registrations available at WALSH Trust - 8 Hickory Ave, Henderson, Auckland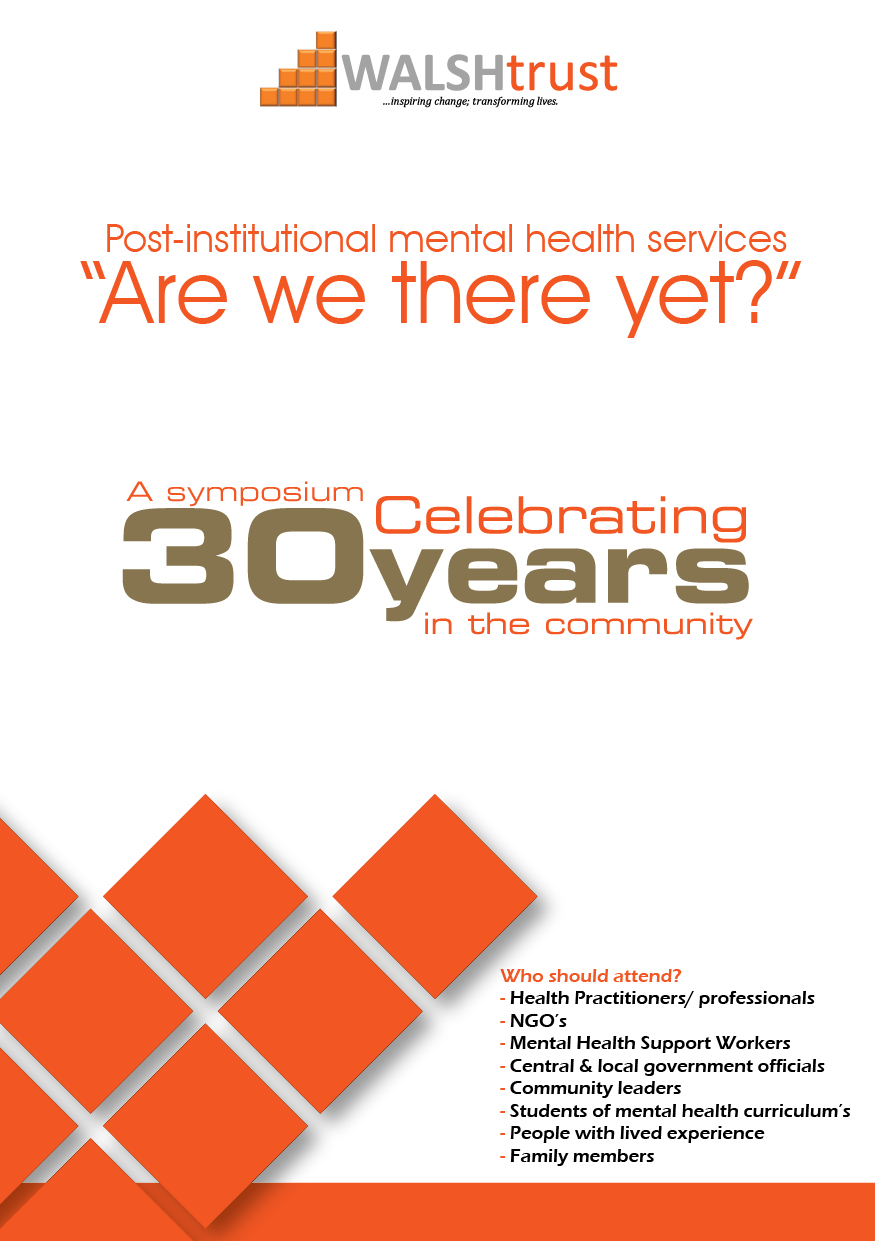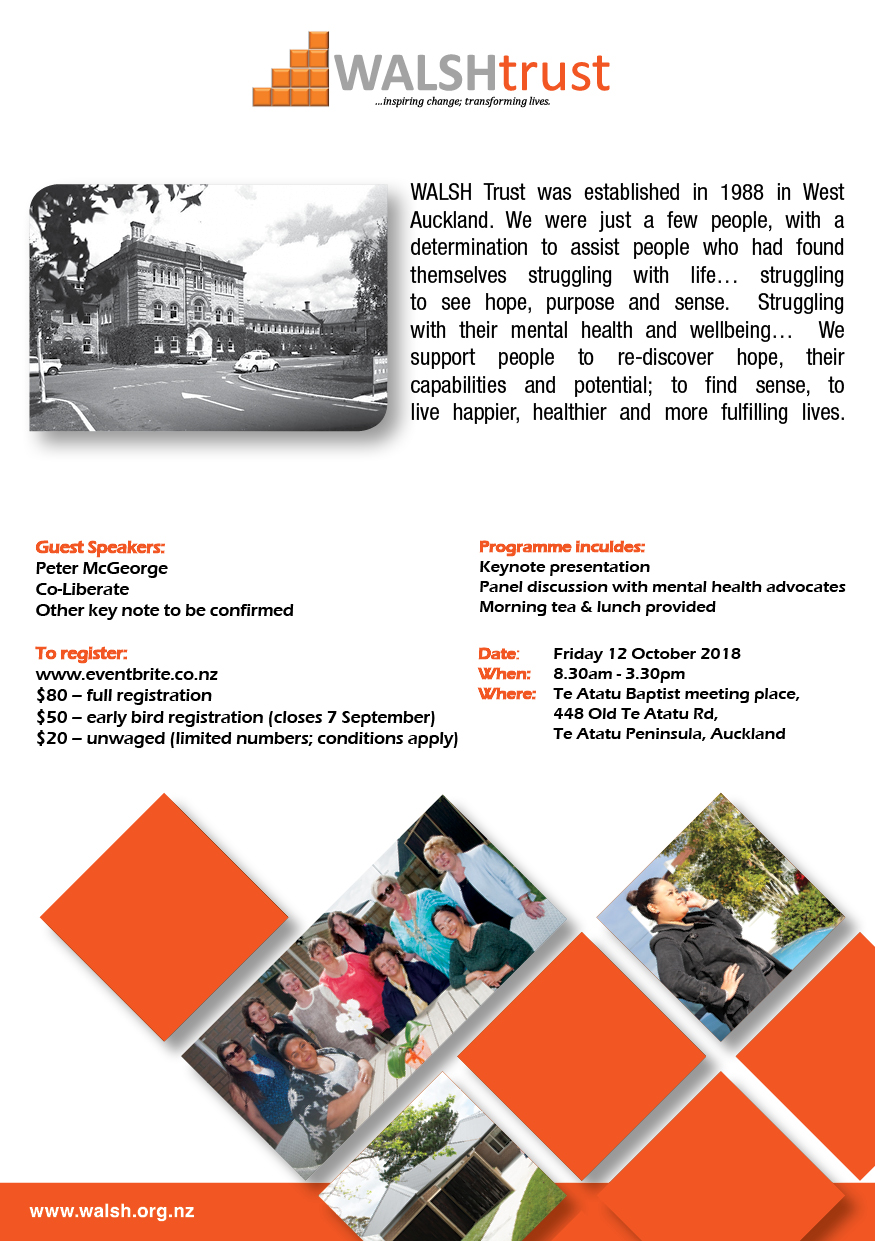 Symposium opening by the Honorable Phil Twyford MP for Te Atatu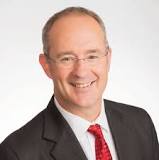 KEYNOTE SPEAKERS


Peter McGeorge (Consultant Psychiatrist, St Vincent's Hospital. Sth Australia)

Associate Professor Peter McGeorge (Universities of New South Wales and Notre Dame) is an Adolescent and General Psychiatrist who has extensive experience in the development and delivery of services as the Director of three major mental health services in Auckland, Wellington and Sydney.
Peter has been a profound influencer of service development in Auckland for many years and was in fact the last Medical Superintendent at Carrington Hospital, at Point Chevalier prior to its closure. Since then Peter has been involved in national policy development, reviews of mental health services, and the establishment of systems of integrated community and hospital-based mental health care. Peter is a previous Chair of the NZ Mental Health Foundation and the NZ Mental Health Commission, and has worked extensively as a consultant to various health boards, government departments and non-government organisations – in New Zealand and Australia.
Peter is a Life Member of the World Federation for Mental Health, and in 2004 he was made a Companion of the Queens Service Order for contributions to public service in New Zealand.
Jody Burrell and Sarah Tuck - CoLiberate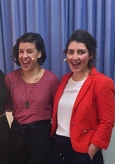 Jody Burrell and Sarah Tuck are mental health advocates and two of the three Co-founders / Co-Directors of the game-changing mental health and wellness organisation, CoLiberate.
They graduated Victoria University in 2012, with a BA in Theatre and Film, co-founded Pat-A-Cake Productions, a theatre company that hit the ground running with 11 theatre productions in 3 yearsand are now recognised influencers in Wellington, leading mental health innovation in NZ.
Jody has worked in mental health support at Pathways and is leading Delivery and Development at CoLiberate. In October 2017, Jody acquired the license to deliver New Zealand's Mental Health First Aid Certificate and has since trained 250 Mental Health First Aiders.
Sarah, an award-winning performer and part-time comedian is leading the digital marketing and growth strategy at CoLiberate. In June 2018, she was 1 of 11 (out of a pool of 4600) to be invited to the Collective Global Accelerator in London.
Both have presented at TedxWellington with their Tedx talk 'A 'Gym' Culture for Mental Health', were nominated towards the NZ Young Innovator of the year award for their work with CoLiberate and recognised by WREDA as one of the top 5 influencers working in health-science.
Marion Blake (CEO Platform Trust)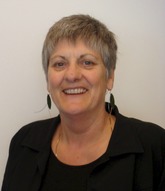 Marion is the CEO of Platform Trust and lives on the south coast of Wellington. Over the last eighteen years Marion has help move Platform from a small group of about ten NGOs to become the voice of the community mental health and addiction sector in New Zealand. Platform believes that we need community organisations to be strong, confident and sustainable in order to support people, families and communities who are impacted by mental illness and addictions. These are messages that are now being heard by the Government and its many agencies, the media and politicians with Platform providing a point of contact for nationwide feedback.
Marion is a connector and takes an active role in working across agencies to get the most we can from everyone. This often means bridging the gap of understanding and translating between the cultures of the community sector, government departments and particularly within the health system. This has been critical for the development of initiatives such as Equally Well, On Track – Co creating the mental health and addiction system New Zealanders want and need, and of course bringing Support Workers into the Pay Equity Settlement.
Marion was made a member of the New Zealand of Merit in 2017 for services to people with mental health and addiction issues.
PANELISTS
David Lui
David is Samoan and works as a Pacific health consultant. He is married with five children and lives in Auckland. He is a graduate of Canterbury University.
David's career in mental health spans more than 15 years. Prior to switching his career to mental health in 1995, he worked in marketing and became well travelled throughout the pacific and other parts of the world. He has been involved in the establishment and development of Pacific mental health services in New Zealand since 1995 and has written and presented many papers on Pacific mental health and a strong advocate for Pacific people.
David is also a trustee for WALSH trust.
Judi Clements LLB;MA
Judi has worked in mental health and related areas of social policy and practice for over 4 decades. In the UK she was initially involved in social housing and local government policy then from 1991 to 2001 was Chief Executive of MIND, UK's leading mental health ngo. In 2005 Judi relocated to Aotearoa/New Zealand to be Chief Executive of the Mental Health Foundation, a role which she held for 11 years. Currently Judi does some consultancy and mentoring in mental health and wellbeing as well as nurturing her own wellbeing in West Auckland.
Debbie Spackman
Debbie is pastor of Te Atatu Baptist and has had experience of caring for family suffering with experience of mental ill health. Debbie has also supported many people in their journey with experience of mental ill health in her 18 years pastoral ministry.
Charlie Moore
Charlie has spent many years working in both Auckland and Wellington in a variety of public sector and community roles. This has included a number of roles with the Dept of Labour, (including 3 years as General Manager of the Community Employment Group (CEG)), with the Dept of Internal Affairs, the Office for the Community and Voluntary Sector and most recently with the Families Commission. A constant theme has been a recognition of the critical importance of community development and working to improve the connection between community and government systems.
Gary Brown
Gary has lived experience of mental ill health and is a strong advocate for Maori mental health.
Will Ward
Will is the National Manager of Leadership and System Change at Te Pou, a national centre of evidence based workforce development and over the past 20 years has held a variety of executive leadership positions within the addictions, mental health and disability sectors. He is currently the Chairperson of MPHS community trust, a dynamic community development organisation based in Waitakere and previously served as a Board member of an environmental restorative organisation.
A social entreprise advocate, Will is a strong supporter of the role that 'community connection' has in the development of individual and collective identity, resilience and recovery.
Programme
8.30 – 9.00 Registration
9.00 – 9.30 Whakatau: Piripi Daniels
9.30 – 10.00 Opening by the Honourable Phil Twyford
10.00 – 10.30 Morning tea
10.30 – 11.10 Peter McGeorge (Consultant psychiatrist; St Vincent's Hospital, Sydney, Australia)
11.10 – 12.00 Panel discussion facilitated by: Cissy Rock
Panellists: Peter McGeorge/David Lui/Judi Clements/Charlie Moore
12.00 – 12.45 Lunch
12.45 – 1.25 Marion Blake (CEO Platform Trust)
1.25 – 2.15 Panel discussion facilitated by: Cissy Rock
Panellists: Marion Blake/Debbie Spackman/Will Ward/Gary Brown
2.15 – 2.55 CoLiberate's Jody Burrell and Sarah Tuck
2.55 – 3.20 Summary comments: Rob Warriner (CEO WALSH Trust) /Suzanne Sinclair (Board Chair WALSH Trust)
3.20 – 3.30 Poroporaki: Piripi Daniels