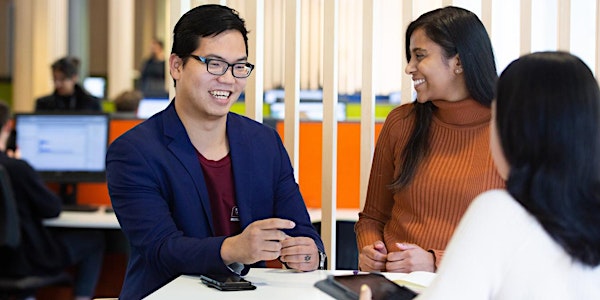 Postgraduate Week: Advance your study in Business, Professional Programmes
Join us for an online information session for our Professional programmes at the Business School
About this event
Thinking about further study, launching your business career, moving up in your role or taking your job in a new direction? Grow your world with business. Study a postgraduate degree at NZ's #1 Business School.
Join us online for Postgraduate Week from Monday–Friday 14–18 September and discover the range of postgraduate opportunities on offer for new graduates as well as experienced working professionals.
Below is the zoom link to access the event.
https://auckland.zoom.us/j/91715951540
Find out about our exciting new postgraduate specialisations from 2021: Business Analytics, Information Governance, Business Development, Business Management, and Supply Chain Management, as well as our suite of short postgraduate certificate programmes designed for busy working professionals.
Explore our popular Business Masters programmes designed for non-business graduates looking to pivot their careers, as well as our Postgraduate Diploma in Business - Māori Development, suited to leaders who are engaged in Māori business development.
Meet our staff, advisers and lecturers over Zoom and ask questions online to discuss the best study option to suit your needs and career aspirations.
Event details:
Date: Wednesday 16 September 2020
Time: 6–7pm
Venue: ZOOM
A link will be sent to the email address used at registration before the event.
Advance your study in Business: Professional programmes overview
Professor Leo Paas, Head of Department (Marketing)
Breakaway sessions:
Professor Leo Paas, Head of Department(Marketing)
Subhamoy Ganguly, Senior Lecturer
Professor Tana Pistorius, Head of Department (Commercial Law)and Associate Professor Gehan Gunasekara
Ngaroimata Reid
Margot Bowker, Professional Teaching Fellow
Peter Smith, Senior Lecturer
Business Masters
Andrew Eberhard, Director of Business Masters
• Master of Professional Accounting
• Master of Human Resource Management
• Master of International Business
Visit here for our other Postgraduate Week events including Postgraduate Research Programmes In Business Information Session.
For event enquiries contact Kate Davis: k.davis@auckland.ac.nz