POSTPONED Care of the Imminently Dying (Clinical Skills Series 1.5hrs)
Clinical Skills Series in Palliative Care: Care of the Imminently Dying
About this event
This clinical skills series (Total of 10 different workshops) aims to provide education that will refresh or upskill all health care professional and support workers supporting persons with palliative care needs. The education sessions provide learning which maintains and enhances participants specialist palliative care knowledge, skills and practice.
This seminar is focused on best practice principles for holistic care of the dying person and supporting their family/whānau .
There will be discussion around the challenges in 'diagnosing dying' and the importance of working as part of a multidisciplinary team.
NB: We are taking registrations for upcoming education sessions however whether we can hold the event will be dependent on Covid-19 levels at the time. We will keep you informed as we are informed by the Ministry of Health. Kia Kaha, stay safe.
Target audience: RN's/ARC/EN's/HCA's/Support Workers
Facilitator: Chris Dunn, Nurse Educator Nelson Tasman Hospice
Date: Wednesday 22 September 2021
Time: 1600 - 1715
Duration: 1.15 hrs. (PD 1.5 hrs.)
Cost: No charge
Venue: Nelson Tasman Hospice, 331 Suffolk Road, Stoke, Nelson Limited attendees:
Registration is essential
For further information contact the Nelson Tasman Hospice Education Team:
E: Education Administrator: education@nelsonhospice.org.nz
Phone: (03) 546 3950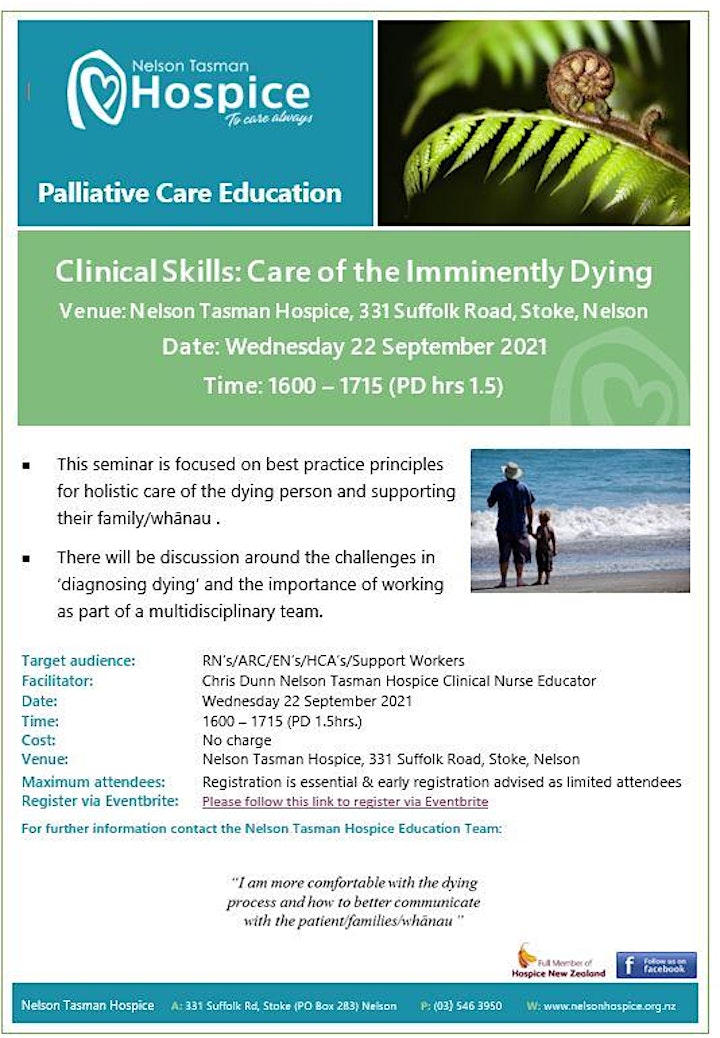 Organiser of POSTPONED Care of the Imminently Dying (Clinical Skills Series 1.5hrs)