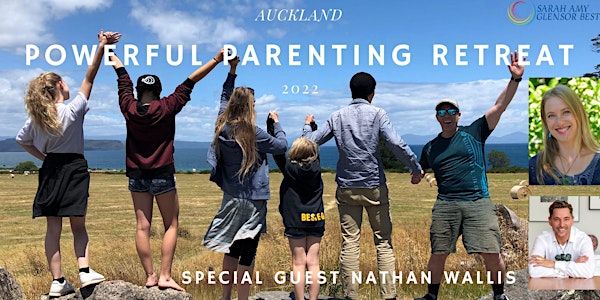 Powerful Parenting Retreat (Auckland) - with special guest Nathan Wallis
What does it take to Powerfully Parent? Do you want to feel confident in your parenting choices and actions? The Powerful Parenting Retreat.
About this event
A weekend exploration into new, powerful ways of being as parents. Take some time out from day to day difficulties and wild weeks. Discover delights and shortcuts, valuable insights and a range of powerful parenting strategies.
Join Parenting Thought Leader and International Author, Coach, Facilitator & Speaker SARAH AMY GLENSOR BEST along with ***SPECIAL GUEST SPEAKER - NATHAN WALLIS*** for a wondrous weekend delving into what it takes to parent powerfully.
You know there's more. You're aware that every experience children have shapes their future selves; how they'll think, feel & behave throughout the rest of their lives.
You're tired of not being the sort of parent you long to be. Why is it so hard? What do you not know that could make a huge difference to your enjoyment of parenting and how your children successfully grow into adulthood?
On the Powerful Parenting Retreat you'll learn many neuroscientific & sociological understandings about what children really need from intentional and engaged parents. You'll look at the concept of "unnecessary traumas" - how they can be avoided for your children AND how many of your own childhood traumas (both large and small) are part of what is making it so difficult to parent joyfully and effectively as adults; to be the parent you long to be now.
Sharing, playing, listening, laughing, reflecting - journey into a new paradigm for your parenting: where parenting is exciting and enjoyable; children are competent and deeply themselves; where you understand what children really need and you feel nourished and free.
There is a mountain of magic waiting. I've been there. Let's explore treasure troves of new ideas & old instincts.
Confirm your place now by booking here or emailing sarah@sarahagbest.global
Limited spaces available.
Your retreat will leave you confident of:
⁃ What to avoid saying to children AND the powerful replacements of these
⁃ How to be a Powerful Parent, including more patient and tuned in; assertive and authentic - the parent you really want to be
⁃ The real differences between needs and wants and how to manage these
⁃ Why being assertive - clear, firm & kind, the dance of love and limits - is critical and how to do this
⁃ When to back off, when to be there, when to "be with"
⁃ What to do when children have huge emotions (and how to not damage them or us in the process)
⁃ Hints for creating fun families and moving from fraught to fantastic
⁃ Why we need to stop creating these unnecessary traumas in our children's lives (and how to do so in your family)
- How to talk with children about what they're interested in (even if that's scary!)
⁃ More, depending on the unique needs of the group!
Get REAL about parenting: Responsibility, Energy, Awareness, Love
Many popular parenting practices are based on outdated beliefs and are often persisting mainly to meet the needs of adults, rather than the children. We will unpack these using the latest neuroscience, and your authentic, deep intuition to figure out what your children really need.
You will leave knowing strategies you can put into practice immediately in your home.
You will also create your Powerful Parenting Pathway together with other like-minded parents and me, Sarah, your Powerful Parenting Partner.
Join me for this weekend of magic.
Bonus extras:
- 30% off ($699) Early bird special price when booking by 31st January 2022 ($999 from 1st February - 20th February)
- $50 worth of pre-retreat Playshop videos to initiate your powerful parenting journey (work through in your own time)
- One month free in the new Powerful Parenting Playground, including weekly online discussions and monthly trainings - worth up to $99
- Free copy of "Changing the world is child's play" plus discounted hard copies you can purchase for family/friends ($15 down from $25)
- Retreat resources and more to come, including an exciting new Powerful Parenting Adventure offering you fresh, new and inspiring challenges to tackle one at a time and build your parenting muscles!
Who is this for?
Parents who want more. Parents of children of all ages - in particular two years to early teens bring regular joys and challenges. Grandparents most welcome!.
NB: Our neurobiology and stress response systems work similarly throughout our lives, it's only the scenarios that change over time. All human beings have the same basic needs - the greatest being the need to be seen, the need to connect and the need to be authentic. No matter what ages your children are, this retreat series is for you.
Friday & Saturday night accommodation and weekend meals included:
Friday supper, Saturday breakfast, lunch, dinner, morning & afternoon teas.
Sunday breakfast, lunch, morning & afternoon teas.
Limited spaces available - get in quickly for the Early Bird price, 30% off at $699 (until 31st January 2022, from 1st February full price applies, $999).
Confirm your place now by booking your ticket or emailing sarah@sarahagbest.global
The mountain of magic awaits. Do you dare to get REAL about what your children really need?
www.sarahagbest.global
PS No need to miss out. If cost or timing are an issue for you get in touch and let's talk. I'm sure we can decide on something that works! Arohanui, S xox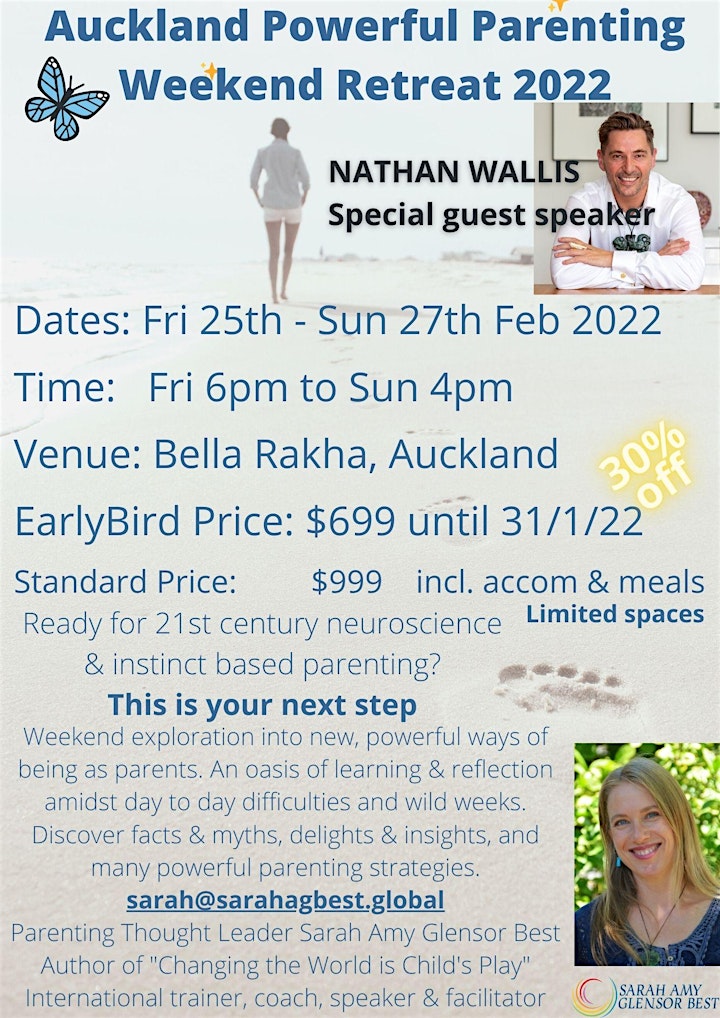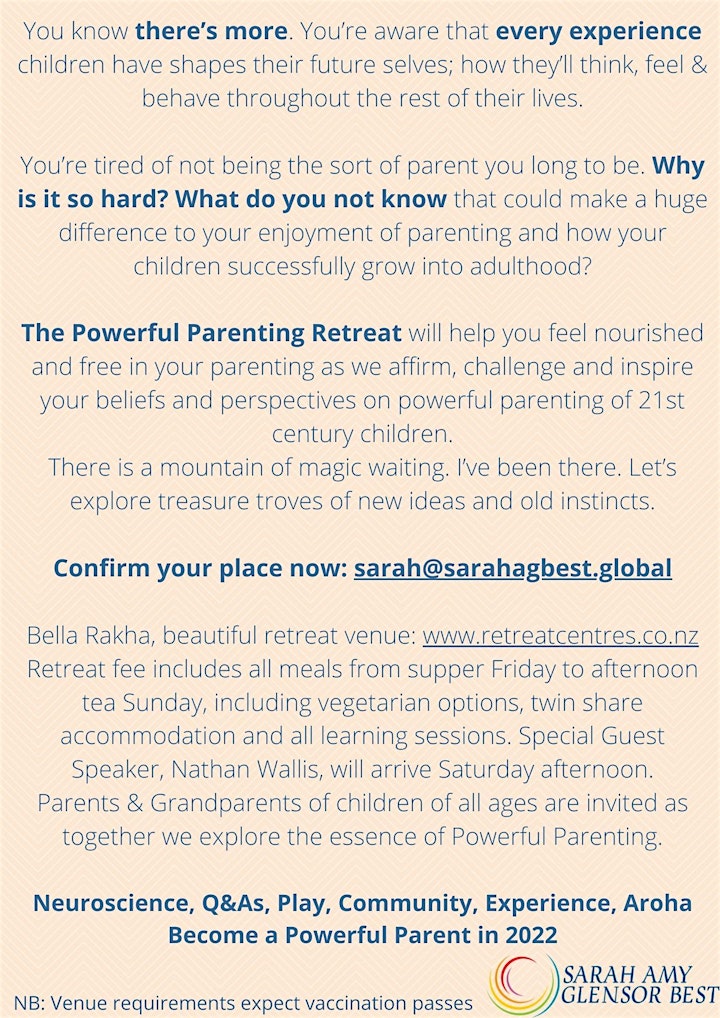 Organizer of Powerful Parenting Retreat (Auckland) - with special guest Nathan Wallis