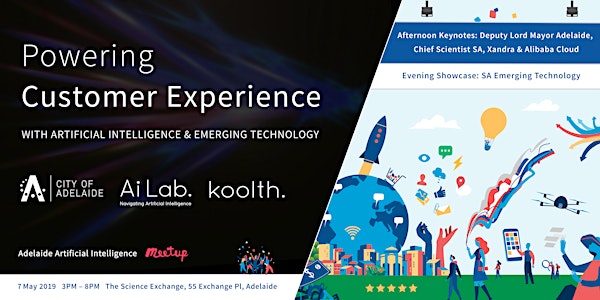 Powering Customer Experience with Artificial Intelligence & Emerging Tech
Location
The Science Exchange
55 Exchange Place
Adelaide, SA 5000
Australia
Description
Artificial Intelligence (AI) and other Emerging Technologies (ET) are powering a change in how Customer Experience (CX) is both designed and delivered.
From chatbots and voice-powered digital assistants to customised products and near real-time deliveries, companies are looking to leverage the latest advances in data processing, online services and powerful mobile hardware to give incredible customer service.
Split over two sessions (afternoon and evening), this special event on Tuesday 7th May 2019 provides an opportunity to hear from world-leaders who supply and employ new technologies to enhance the customer experience.
AiLab and koolth are proud to partner with the City of Adelaide to present this exciting event. Thanks so much to the City Adelaide for sponsoring and supporting this event. This event is also supported by the Adelaide Artificial Intelligence meetup, Ten Gigabit Adelaide and TPG.
____
Opening & Keynotes (Auditorium: 3pm – 5.30pm)
Registrations Open: 2.45pm
We're honoured to announce Deputy Lord Mayor for the City of Adelaide, Houssam Abiad will deliver the opening, followed by keynote presentations from the Chief Scientist for South Australia, Professor Caroline McMillen, Zach Johnson from multi-award winning, Xandra and James Wang from globally-renowned Alibaba Cloud.
Speaker line-up:
Technology Showcase (Thinking Space & Future Space Gallery: 5.30pm – 8pm)
Event Closes: 8pm
Hosted across two adjacent spaces, the Technology Showcase provides a unique opportunity to interact with some of South Australia's AI and emerging technology customer experience innovations. Throughout the showcase, there will be ample opportunity to network and engage with presenters, other attendees and sponsors. Drinks and nibbles will be provided.
Social Media Twitter: @_AiLab | @CityofAdelaide
Facebook: City of Adelaide
Social Media Hashtags: #CXAIET #AdelaideAI #AAIMeetup
____

Venue & Registration
The event will be held at The Science Exchange, 55 Exchange Place, Adelaide, South Australia 5000 in the Auditorium for the afternoon session. Limited spaces available, so bookings essential. Registrations will open at 2:45pm with the event concluding at 8:00pm. You will be required to register your name upon arrival, so please bring your ticket and report to the reception desk by the main door on arrival.
____
Event Speakers
OPENING: HOUSSAM ABIAD

Deputy Lord Mayor for the City of Adelaide
Twitter: @HoussamAbiad | LinkedIn: Houssam Abiad | Website: City of Adelaide

Houssam is a South Australian entrepreneur, a Central Ward Councillor for the past 8 years and currently the Deputy Lord Mayor of the City of Adelaide. He owns residential and commercial properties in the city and has previously owned marketing, telecommunications and hospitality businesses in the city. Though born in Adelaide, he spent most of his life in Lebanon, returning to Australia at age 19 with his family after living through a civil war. He is most appreciative of the opportunities Adelaide has given him and loves this city with all his heart.

Houssam enjoys giving back to the community and is currently the Chair of the Council for Australia-Arab Relations and the Australia Day Council of SA. Currently he represents the City of Adelaide on the Capital City Committee and has also been appointed to the Board of the Adelaide Central Market Authority. Houssam was elected to the City of Adelaide in 2010 and strives to offer the Adelaide business community and residents fresh, innovative and "big picture" solutions. He thrives on the notion of ensuring Adelaide remains – and grows – as a viable option for residents, businesses and visitors alike. Houssam believes community success delivers business success.
____
KEYNOTE SPEAKER: PROFESSOR CAROLINE MCMILLEN

Chief Scientist for South Australia
Twitter: @sachiefsci | LinkedIn: Prof Caroline McMillen | Website: Wikipedia

Professor Caroline McMillen commenced in the role as Chief Scientist for South Australia in October 2018 after serving as Vice-Chancellor of the University of Newcastle for 7 years from 2011. She is a Fellow of the Australian Academy of Health and Medical Sciences, a Fellow of the Royal Society of New South Wales and a Bragg Member of the Royal Institution, Australia. She holds a BA (Honours) and Doctor of Philosophy from the University of Oxford, and completed her medical training graduating with an MB BChir from the University of Cambridge. She has served in academic leadership positions at Monash University, the University of Adelaide and at the University of South Australia where she held the role of Deputy Vice-Chancellor Research and Innovation prior to her move to Newcastle.

Professor McMillen's research focusses on the role of the environment in early development in determining the metabolic and cardiovascular health of the offspring in later life. Her research group was funded for two decades by both the ARC and the NHMRC, she was a member of the PMSEIC Working Group on Aboriginal and Torres Strait Islander health focusing on maternal, fetal and post-natal health and she has been a chair and member of international and national research policy, review and assessment panels. She has also served on a range of industry boards including the National Automotive Industry Innovation Council, Cooperative Research Centre for Advanced Automotive Technology, Cooperative Research Centre for Rail Innovation, the South Australian Premier's Climate Change Council, the NSW Innovation and Productivity Council as well as a range of state industry and government leadership groups.

Professor McMillen has been invited to speak in international and national fora on the critical role of STEMM in driving innovation and on the role of universities as national and regional catalysts of economic and social transition. Throughout her career she has been committed to building collaborations between universities, government, industry and communities which deliver a positive impact on the economic, social and cultural health of Australia. She was honoured at the end of her term as Vice-Chancellor to be presented with the Key to the City of Newcastle by the Lord Mayor of Newcastle.
____
KEYNOTE SPEAKER: ZACH JOHNSON

CEO of Xandra and Entrepreneur in Residence SunCentral, Maroochydore, Queensland
Twitter: @xandrainc | LinkedIn: Zach Johnson | Websites: Xandra | Maroochydore City

Zach Johnson is the founder and CEO of Xandra, an award-winning conversation design studio working voice platforms including Amazon, Echo, Google Home and other emerging AI interfaces. Headquartered in Brooklyn with a team in San Francisco, Xandra has worked with some of the world's largest entertainment brands including AT&T, Nickelodeon, Amazon, Sesame Workshop, and HBO. His entrepreneurial passion also finds him currently as the Entrepreneur in Residence for SunCentral Maroochydore and less recently as the CEO of Spark Bureau, a low cost start up shared office space for entrepreneurs, start-ups and established businesses in Maroochydore.

____
KEYNOTE SPEAKER: JAMES WANG

Regional Business Manager at Alibaba Cloud (Victoria)
Twitter: @alibaba_cloud | LinkedIn: James Wang | Website: Alibaba Cloud

James' role at Alibaba Cloud Australia, encompasses taking customers on the 'Cloud Journey'; extending beyond transition of their workload to cloud to also include utilising AI and ML via Alibaba Cloud's Big Data platform and solutions. Whether an organisation is looking to cover AI based Commerce, Financial services, Marketing or Supply Chain, Alibaba Cloud provides an exciting path forward. As the ANZ Southern Region client engagement leader, James is responsible for making sure that customer investments in Digital Experience, Supply Chain and Commerce are fully utilised and can take advantage of the opportunities available via Alibaba Cloud's AI and Big Data capabilities. Prior to joining Alibaba Cloud, James was with Oracle's Marketing Cloud, helping retailers to transform the way they attract, convert and retain customers through insight, testing, optimsation and automation. James also co-founded a startup company – iProperty Express before joining Oracle, helping real estate agencies to streamline their rental property inspection process.
____
EVENT HOST: DR. JOHN FLACKETT
Co-founder of AiLab and koolth
Twitter: @drpuffa | @_AiLab | LinkedIn: Dr. John Flackett | Website: AiLab


AI is Dr. John Flackett's passion, and has been an integral part of his career via research, education and business. With 20+ years of AI experience, John's worked in a wide range of industries and was previously a senior academic for 10 years, lecturing in masters and undergraduate Artificial Intelligence at a UK university. An expert in his field, John has achieved a PhD in Artificial Intelligence (ML and NLP) in 2005. An international speaker for many years, John runs workshops and presents across the world speaking about AI and emerging technology. John is co-founder of two businesses, AiLab and koolth. He is also co-founder and organiser of the popular Adelaide AI meetup series in Australia.
____
Sponsor Details
City of Adelaide
Twitter: @CityofAdelaide | Website: City of Adelaide

The City of Adelaide is the local government authority for Adelaide - one of the world's most liveable cities. Their aim is to create a vibrant city through the rollout of new projects, programs and infrastructure with a vision of making Adelaide a welcoming and dynamic city full of rich and diverse experiences through the four themes: Smart, Green, Liveable and Creative.
AiLab & koolth

Twitter: @_AiLab | @koolth | Website: AiLab | koolth
AiLab (Artificial Intelligence Laboratory) assists community, industry, academia & government across the globe with navigating and learning about the exciting field of Artificial Intelligence via world-wide workshops, research, resources and events.

koolth are web specialists and smart creatives. We empower clients with next generation online tools, custom web design & development, specialist web integrations, AI and Smart City solutions.

____
Event Supporters
Adelaide Artificial Intelligence (AAI) meetup
Twitter: @_AiLab | Website: AAI meetup

Adelaide Artificial Intelligence is a series of free events for anyone who has an interest in AI and wants to learn more about the exciting field. The growing Adelaide AI community includes developers, startups, industry leaders, academia and government, so whether you're a professional, a developer, an enthusiast, or just plain interested, please come along and spread the word!

Ten Gigabit Adelaide and TPG
Websites: Ten Gigabit Adelaide | TPG