Description
PRODUCT INTELLIGENCE FOR GREEN BUILDING OUTCOMES
EnviroSpec is partnering with the New Zealand Green Building Council for this Seminar Series and will integrate with the nationwide training, updates and launch event of Homestar V4.
Join us for this morning session to gain a complete update on Green Building Frameworks and Product Updates. This is a 1.5 – 2 hour training session and update on product environmental certification requirements and their related compliance pathways into Green Building Rating programmes. It will include a mix of presentations from Product Suppliers and EnviroSpec and will be structured to identify:
What are the overall life-cycle environmental impacts that must be considered when choosing this type of product.
What is the best available on the market today for each product category.
What are the specific environmental certification requirements for each product category when working on a Homestar or Green Star NZ project.
The EnviroSpec Seminar is designed to run in conjunction with the New Zealand Green Building Council's Define, Design, Incentivise events which are followed by the launch event of the new Homestar version 4 tool.
Attendance is FREE for both events and you are invited to participate in both, making this a complete package of industry updates and training to ensure you stay abreast of the latest news in this space. Both events are taking place in the same venues to ensure ease of access and to facilitate your attendance throughout the day. You will need to register for these events separately. Use the registration button at the top right of this screen to register for the morning EnviroSpec Seminar Series on Product and Materials Intelligence, then follow this link if you wish to register for attendance to the NZGBC afternoon/evening sessions https://www.nzgbc.org.nz/Article?Action=View&Article_id=67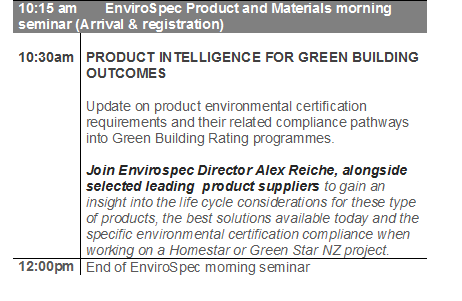 ---
- Lunch break -
Please note lunch is not provided. Delegates have the opportunity to break from the venue for lunch at a local cafe or restaurant.
---
NZGBC AFTERNOON - Define, Design and Incentivise + Homestar V4 launch sessions.
Join The Green Building Council for a half day thought leadership workshop to discuss how sustainable rating tools are increasing the quality of New Zealand buildings. Gain insight into the incentives that councils are using to encourage the building of better buildings.