Public Lecture: The Ronnie Gardiner Method (RGM) sets the brain in motion!
About this Event
RGM is a novel rhythm- and music-based rehabilitation method that has been used within Swedish health care and rehabilitation since 1993, with international dissemination since 2009. The Ronnie Gardiner Method (RGM) is a structured, multimodal and multi-sensory exercise method which combines movement and cognitive challenge in a playful way in order to improve cognitive functions like concentration, coordination, and memory. It also enhances postural control, energy, motivation and lifts the mood.
The RGM is built on the scientific principles of motor control, motor learning, postural control, and neuroplasticity, including new ideas of enriched environment. The method is used to assist many conditions such as Parkinson's disease, MS, stroke, acquired brain injury, children with reading and learning difficulties and also as an activity to enhance healthy aging. Practitioners are now being trained in New Zealand.
Ronnie Gardiner
Ronnie Gardiner is a professional jazz drummer who lives in Stockholm, Sweden. He has played worldwide with musicians like Dizzy Gillespie, Gerry Mulligan and Dexter Gordon and has more than 85 recordings to his name. Even now, at the age of 87, he still performs with the best Swedish jazz musicians.
In the late 1990's he decided to use his talents as professional drummer for health care and over a period of 10 years he created what is now called the Ronnie Gardiner Method (RGM). Since 2000 the method has been used for different population groups both in health care and in education. Ronnie has been further improving RGM ever since and still teaches RGM in a growing number of countries. In 2001, he was the first American to be honored with the Swedish Saint Erik's medal, and in May 2015 he received the Swedish Mensa award for the development of his method and contribution to healthcare.
Mariken Jaspers
Mariken Jaspers has over 30 years of experience working as a neuro-physiotherapist. She specialises in Parkinson's disease (PD) and was co-writer of the first guideline for the treatment of PD by physiotherapists in the Netherlands. She was also one of the first physiotherapists involved in ParkinsonNet, a concept which is now being copied in many other countries worldwide.
Mariken was trained by Ronnie Gardiner in London and became a master RGM-practitioner in 2013. For 7 years she has used RGM as a welcome and useful addition to the regular treatment of people with brain injury, PD, MS and early stages of dementia, in groups as well as in individual settings. Together with André de Jong she founded RGM the Netherlands to train physio, speech, music and occupational therapists as well as (special needs) teachers and to promote the RGM and its possibilities in both health care and education in the Netherlands and other European countries.
Thanks also to the other sponsors:
The HOPE Foundation for Research on Ageing
Giving Time
Elizabeth Knox Home and Hospital
New Zealand Society of Diversional and Recreational Therapy (NZSDRT) Inc
And supported by Age Concern NZ
Please register here at Eventbrite.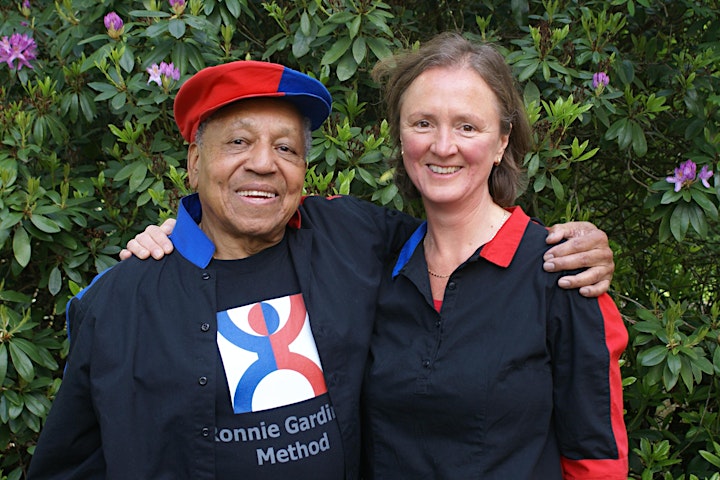 Image above: Ronnie Gardiner and Mariken Jaspers