Public talk: Empowerment and healing on the cancer journey
About this Event
You are invited to join us for "The body-mind-spirit connection – empowerment and healing on the cancer journey" by Dr Rob Rutledge and Rev. David Maginley.
Drawing from experience of working on cancer wards, recent brain science, and their personal journeys, Rob and David will discuss living with cancer and the healing empowerment of the body, mind and spirit connection.
Dr. Rob Rutledge
Dr. Rob Rutledge is a Radiation Oncologist in Halifax, Canada who specialises  in breast, prostate and paediatric cancers. Rob is an Associate Professor in the Faculty of Medicine at Dalhousie University, and founder of The Healing and Cancer Foundation (HCF).
Rev. David Maginley
Rev. David Maginley is a spiritual counsellor at the QEII Health Sciences Centre in Halifax, Nova Scotia, and award-winning author of 'Beyond Surviving: Cancer and Your Spiritual Journey'.
Venue - please note change of venue to lecture theatre 505-007
Please register for this event by Friday 8 November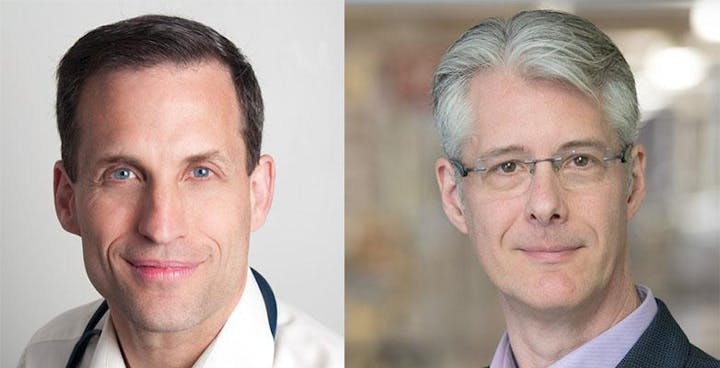 Image: Dr. Rob Rutledge (left) Rev. David Maginley (right)