Quality Learning Spaces - Western Springs College Ngā Puna O Waiōrea
Explore award winning new quality learning environments at Western Springs College
About this Event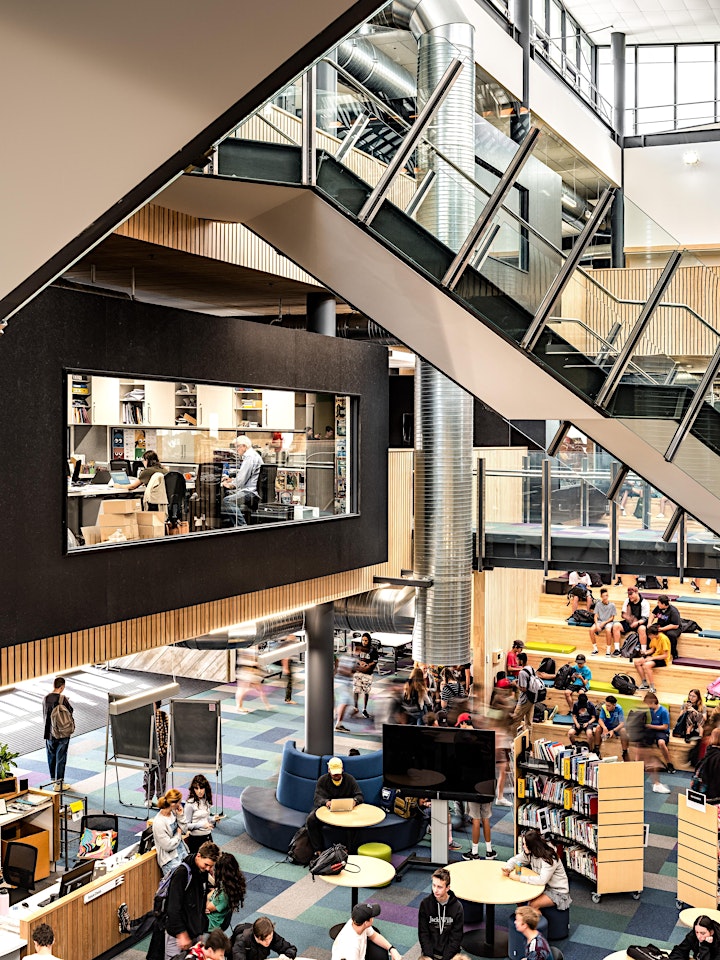 Rebuilding Quality Learning Spaces for a just and sustainable society
Join us for our first event of 2021, a tour of the largest secondary education rebuild in Aotearoa, Western Springs College Ngā Puna o Waiōrea.
'Springs' is a school well known for their bicultural Waka Hourua approach: a double hulled canoe of English medium and Māori immersion education with co-principals.
Hear from a Principal and architects about the opportunities and challenges of the educational and design journey towards the vision of an educational environment where students share in the building of a just and sustainable society.
Ivan Davis, Western Springs College's Principal, and Hamish Boyd, Principal Architect, together with Meiling Honson, from JASMAX, will present this complex and significant project, explaining the guiding pedagogy and the guiding design principles involved in its delivery.
Western Springs College Ngā Puna O Waiōrea is a co-educational, co-governance secondary school alongside a Te Reo Maori immersion kura and TAPAC.
Originally built in 1963 on a landfill site over a historic lava flow, the brief for the 10,390m² redevelopment project was to design for 1,700 students and to future proof for 2,500.
By 2013, 80% of the campus' buildings had been marked for demolition, largely due to subsidence issues.  The need to substantially rebuild allowed the school to redefine their approach to teaching and learning. Allowing them to shift from a traditional pedagogy to a fully collaborative Innovative Learning Environment.
The new space comprises four buildings: a 6,900m² three-storey 'Ken Havill Main Block' teaching and learning building, a new multi-purpose gymnasium, a two-storey teaching and learning building for Waiōrea 'Waiōteao' and the Whare Tapere 'Te Rehu', a multi-purpose performance space.
The overall masterplan connects the green spaces in the heart of the campus to the adjacent Meola and Motions Creek reserve reaching back to Owairaka and enhances the community connection into the campus.
 This is the first secondary school building of this scale in New Zealand which fully embraces an Innovative Learning Environment and was at full operational capacity on opening day.
Images @ Photographer Dennis Radermacher of Lightforge, on behalf of JASMAX
The event starts at 5:00pm with networking and refreshments, followed at 5:40pm with presentations from speakers and a tour of the facilities
COST:
- All non-LENZ members - $20.
- Learning Environments New Zealand members - free.
Members please e-mail nzadmin@a4le.org.nz for the promotional code to access your ticket discount.
* If you are interested in becoming a Member and enjoying our events and excellent networking opportunities without charge please send a message to nzadmin@a4le.org.nz
Registered Architects can apply for 15 CPD points for attending this event - (75% design, 25% core professional development)
At our face-to-face events, LENZ will be following NZ Government guidelines. Sign in and tracking will be instigated at all events, together with the availability of hand sanitising products. LENZ ask you to not attend the event, if you are feeling unwell, reflecting the "Stay home if you're sick" best practice policy.
The event is kindly sponsored by:  FURNWARE