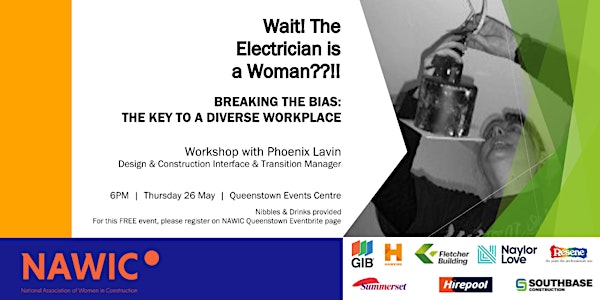 Queenstown NAWIC - Breaking the bias: The key to a diverse workplace
Location
Queenstown Events Centre
Joe Oconnell Drive
Queenstown, Otago 9371
New Zealand
This year's theme for International Women's Day was "Break the Bias". What's that? Who's Bias? What are you talking about?
About this event
To find out more, grab some of your male colleagues (if you can handle the truth) and prepare yourself for a fun an interactive presentation which explores unconscious bias and the impact it has on your wallet, your health and your future.
To kick start the evening off there will be a drink, a bite to eat and the opportunity to say hi to fellow members.
A little about your host for the evening:
Nix Lavin has over 30 years in the Construction and Facilities Management Industry. Joining her Dad at work (aged 4) meant early exposure to the industry and she has been championing for more diversity within the section with the firm belief that "If they can see it, they can be it". Nix has a huge appreciation of language and how it shapes our views and the impact it has on progression.
This event is open to all, members, non members, anyone not only working within and around the construction industry but also anyone who experiences bias whether it be within the workplace or out and those who wish to educate themselves further on this important issue.
We encourage you to come as you are, workwear welcomed. With our Queenstown events we are trying to become more environmentally conscious so BYO glass if you would like to join us in trying to achieve that.
Registration required.
If you have any questions please don't hesitate to contact Willow at chairqtlakes@nawic.org.nz
We hope to see you there!