Burlesque! Drag! Variety! Queer! Va-Va-Voom Productions is bringing high camp cabaret to Auckland Pride this year with Queerlesque!
About this event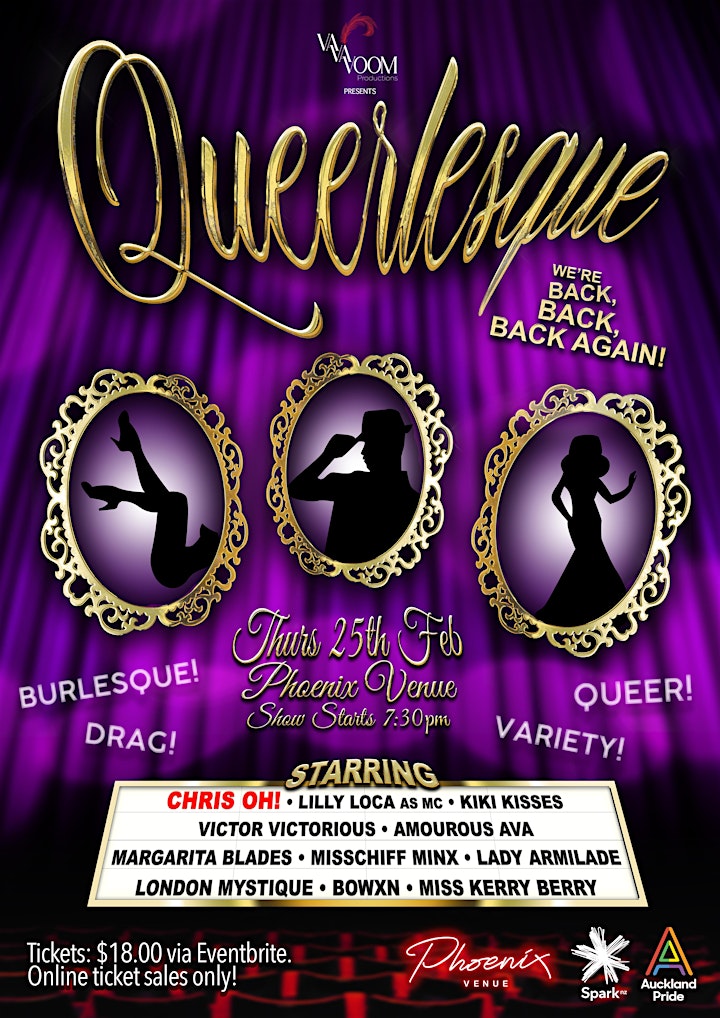 Burlesque! Drag! Variety! Queer!
Everyone loves a comeback! Queerlesque, an institution on K'RD from 2010 - 2014, produced by club kid and queer icon Phlossy Roxx, was the stepping stone for many queer burlesque, drag and variety artists of today. With Phlossy's blessing, draglesque star and Va-Va-Voom director Lilly Loca is bringing this incredible celebration of queer talent back to K'RD. Expect to see a diverse variety of queer artists from around New Zealand, ranging from professional showoffs to baby queens, sashaying and shantaying the boards of Phoenix Cabaret this Auckland Pride season.
Our talent for our first comeback show is:
Headliner Chris Oh! - Burlesque Hall of Fame Winner & Internationally Acclaimed Burlesque Artist!
Kiki Kisses - Bodacious Burlesque Beauty!
Victor Victorious - A One-Man Variety Riot!
Amourous Ava - The Fastest Ass in the West!
Miss Elvis - Queen of the King!
Margarita Blades - Eccentric and Creative Drag Artist!
London Mystique - Cheeky and Charming Burlesque Baby!
BOWXN - Queen/King/Alien Non-Binary Finary Drag!
Miss Kerry Berry - High Energy, All Glamour, Retro Inspired Queen!
Lady ArmiLade - Baby Queen who has come to light up the scene!
MC'd by Lilly Loca - Burlesque Queen and Verse Drag Star!
Tickets are $18.00 via Eventbrite. Online ticket sales only!
We also have a small allocation of complimentary tickets for unwaged folx or those under hardship - please contact Va-Va-Voom directly for these at vavavoomp@gmail.com.
Poster design by Coby Zutt.
This event was made possible through the Pride & Spark Empowerment Initiative.