Ratri before Navratri is back with more energy, thrill, and entertainment. Fri 27th and Sat 28th Aug Auckland at Mahatma Gandhi Centre.
About this event
The most anticipated garba event is back!
That's right! Ratri Before Navratri (#RBN2021) is coming back to Auckland…
Ratri before Navratri is back with more energy, thrill, and entertainment.
It's going to be Bigger , Better and More powerful than ever before…
When and Where? After 5 successful years RBN is back! Fri 27th and Sat 28th Aug 2021 Auckland at Auckland Indian Association (The Mahatma Gandhi Centre).
Cost: $10 per person per night (Children under age 10 free entry). "Free parking-first come first serve basis ! "
We have sourced the best sound equipment's and technicians…
The ambiance will be mesmerising through extravagant lighting and visual effects…
To satisfy the taste buds, exotic Indian street food is prepared exclusively for you by our highly experienced catering team!
You want Professional Photo booths? Like always we have sorted that for you… Elegant photos will be promptly available so that you can uphold memories with your loved ones in your colourful Attire.
Gather your loved ones and head down to Mahatma Gandhi center on the 27th and 28th of Aug from 7pm onwards… Simple. All for only $10 a person per night with free parking , Children under 10 enter for free.
Oh, and remember to dress up in your most elegant traditional attire because there are going to be PRIZES, loads of them !
So, what are you waiting for ???
Get in touch with your family & friends and grab your tickets fast!
For any details don't hesitate to call us… We have a local NZ based friendly support team to address any questions that you have…
• Kiran Vaghela 022 015 8346
• Kaushal Parmar 021 373 536
These energetic event managers are also happy to discuss sponsorship and group bookings.
See you on the dance floor 
#rbn2021 #ratribeforenavratri #auckland #festivalofdance #garba #rass #dandiya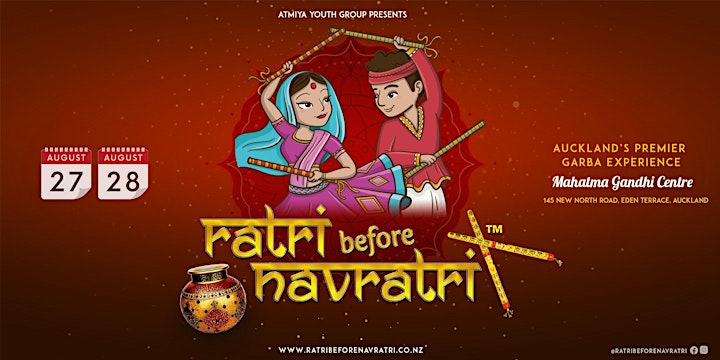 Organiser of Ratri Before Navratri - Auckland 2021
Atmiya Youth Group is the energetic youth wing of Yogi Divine Society (NZ) Inc, established in 2010 with a strong membership of more than 300 youths involved in organising social events for the spiritual & moral upliftment of New Zealand youths. All revenue generated from these events is donated to charity to Yogi Divine Society (NZ) Inc.