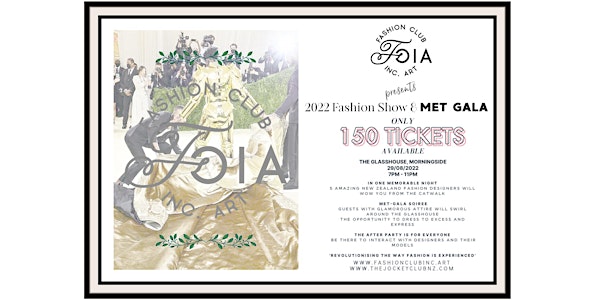 REGISTER ONLINE Fashion Club Inc.ART (FCIA) www.fashionclubinc.art
Location
Glasshouse Morningside
18 McDonald Street
Auckland, NZ 1025
New Zealand
A bespoke Fashion Show combined with Met Gala, where the runway and audience blend together. Only 200 tickets first registered will receive.
About this event
Presenting a nouveaux, vibrant and exciting bespoke alternative event for a group of designers wishing to satisfy loyal fashion followers. To be held on the evening of the 29th of August 2022 at the enchanting and magical Glasshouse in Morningside.
'Fashion Club Inc.ART' (FCIA) is a Fashion & Events promoter and Invitation only Private Club. The Inc. standing for inclusive. The purpose is to allow individuals through networking events to dress to excess and express their own personality, passion and desire for clothing.
Cecilia Kang and Allan Myers founded the Club and associated business to create a place for people of all ages, ethnicities and socio-economic backgrounds to come together and share their excitement and love of fashion. Yes, fashion can unite and inspire people.
The show is coupled with a Met Gala where guests are expected to dress in sophisticated glamour to match the venue and event. This creates a situation where the audience merges with the runway in a confluence of elegance, colour and style. The event will be more interactive than usual with 5 New Zealand designers Cecilia Kang Couture, Jaiss, Jacqueline Anne, Ovya, Samantha Zhang and their models in their outfits joining the rest of the guests after the show for networking and informal promotion. To date Fashion Club Inc.ART events create huge media interest.
TICKET PRICES & DETAILS TO BE ANNOUNCED SOON
-To register your interest complete the contact form:
www.fashionclubinc.art
-Contact and other details below.
Contact: Allan Myers. 021 489 336
fashionclubinc.art@gmail.com