In response to COVID-19 restrictions, we will run this Research Symposium as an online event.
About this event
When and where:
You can also register for TechTALK #19 with the same theme at: https://techtalknz19.eventbrite.co.nz
About the event:
We are proud to announce the 1st Research Symposium conducted jointly by TechTALK and Otago Polytechnic Auckland International Campus (OPAIC) as below:
Otago Polytechnic (OP) and OPAIC are committed to continuing to minimise our environmental impact and to encourage others to embrace sustainable practices. OP and OPAIC have strategic objectives for sustainability, including developing sustainable practitioners and modelling evidence-based sustainable practice in our operations. This research symposium aims to introduce some of the research projects at OPAIC and other institutions and provide a forum for researchers to discuss and exchange their latest achievements on sustainability.
Theme: NZ Sustainable Development
Speakers: We have five amazing researchers who present and share their recent findings: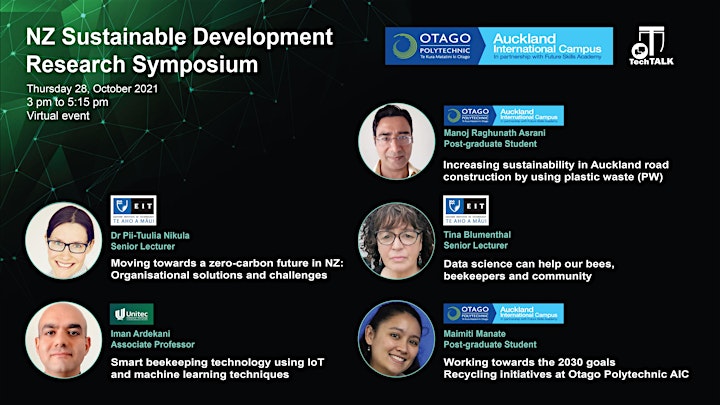 Agenda:
We will have 5 amazing research presentations
Q&A sessions after each presentation
Open discussion at the end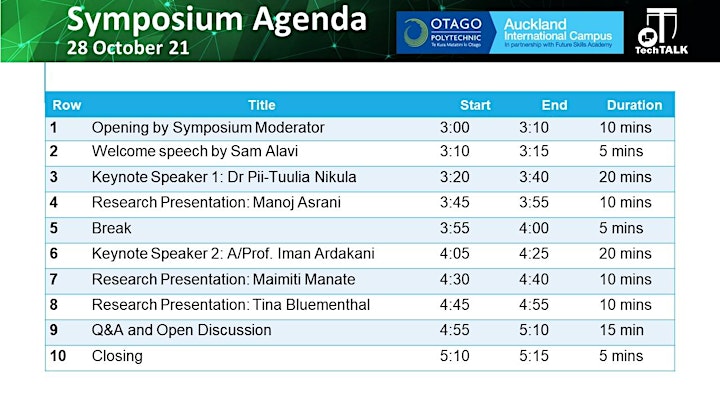 Organisers:
About TechTALK:
TechTALK is a professional education-oriented organisation delivering physical, cyber-physical and digital services. We are an initiative that has successfully conducted a communication atmosphere between technological leaders, industry experts, communities, innovators, educators and learners. Our vision is "empowering people to develop a sustainable technology ecosystem".
Follow TechTALK on: