Resilience in a Pandemic NZNC Special Edition: Panel & Podcast

Wednesday, 15 April 2020 from 11:50 to 13:10 (NZST)
Event Details
CIGRE is for power system expertise.
Join us live for a CIGRE New Zealand Webinar series. CIGRE's unique knowledge programme comes to life through its worldwide array of face to face and online events. International human interaction facilitates free exchange of knowledge within the CIGRE community.

---
Resilience in a Pandemic
NZNC Special Edition: Panel & Podcast
COVID-19 Power Systems Resilience Response CIGRE NZ Conversations


This NZNC Special (Emergency) Edition webcast involving several of our CIGRE NZNC power system peers in a 'conversation on resilience responses' within this type of situation. It will include CIGRE 'disaster response and recovery' papers and similar Electricity Subsector Coordinating Council (ESCC) North America initiatives published since COVID-19 appeared.
---
Panel Discussion (CIGRE NZ Conversations) followed by a Live Chat with audience
.
 Doug Ray (NZNC Chair)
with
Nirmal Nair, André Cuppen ,Thahirah Jalal,
University of Auckland, Unison, ETEL
.
Collective Members of CIGRE NZNC
------------------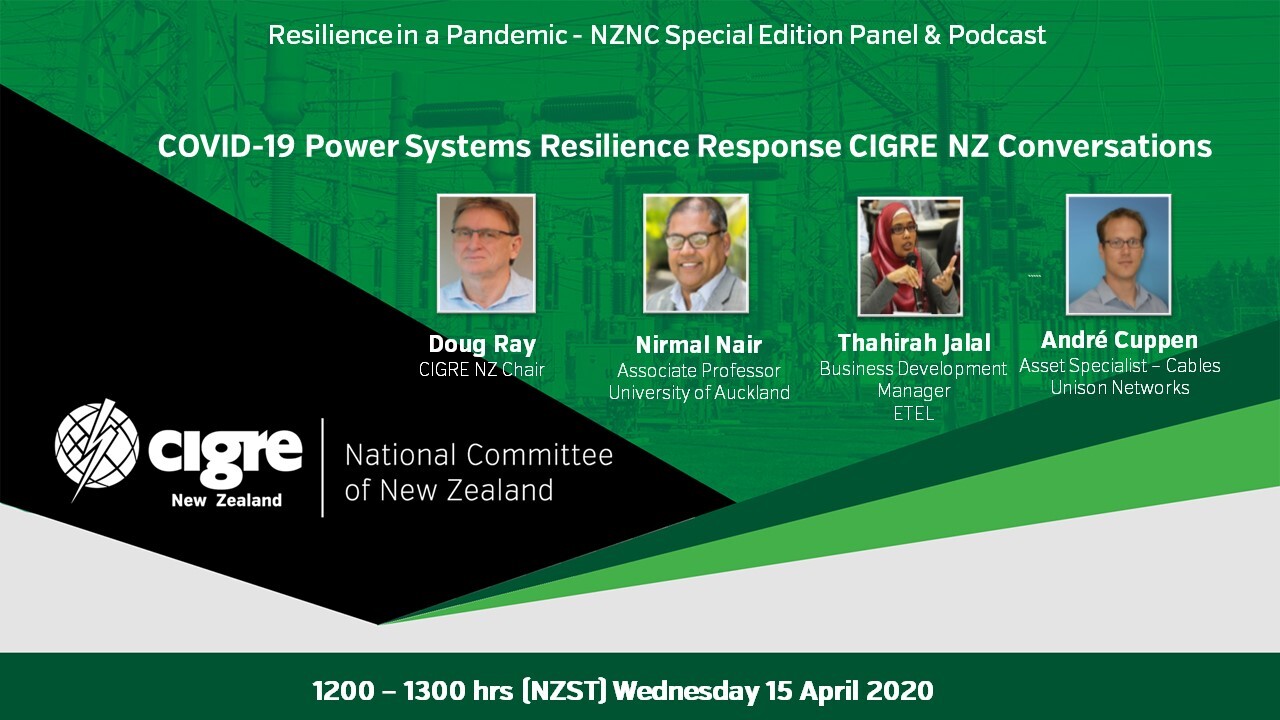 Q&A Joinees
Waqar Qureshi, Russell Wheatland
Horizon Networks, AusNet Services
CIGRE New Zealand Member, CIGRE Australia Member
Organiser
------
Event Contact:
Leonie Bule and Abhinav Chopra
CIGRE New Zealand National Committee (CIGRE NZNC)
on
and
-----
Please note
Due to various constraints and obligations,
there will be NO RECORDINGS available as a viewing option.
We therefore recommend that you attend the live webinar.

------
Video Conferencing Software:

Please download Zoom Video Conferencing Software on your device (Apple, Windows, Android)

Registered participants will get a custom zoom meeting ID as a response to their order confirmation, as soon as they register.

----