Location
Appleby House & Rabbit Island Huts
305 Redwood Road
Rabbit Island, Tasman 7081
New Zealand
Refund policy
Contact the organiser to request a refund.
Eventbrite's fee is nonrefundable.
Join me on this luxury retreat to reset and renew. Workshops, yoga, meditation and plenty of free time with ample nourishing kai awaits
About this event
It's been a tough few years, change and uncertainty is the new normal and many of us are feeling the impacts. Everything has seemed that bit harder of late and we've spreading ourselves too thin for too long. All the more reason to take some time to pause, reset and find some renewal this Spring to sustain yourself.
Retreat to the beautiful Rabbit Island just 20 minutes from Nelson. The Waimea Plains of Rabbit Island are perfectly situated for peace and quiet. Vast views of the Richmond Ranges and the Waimea Estuary stretch all around you. With accommodation options ranging from ensuite luxury rooms to rural huts with ensuites and outdoor baths and even glamping options there's something to suit everyone.
I'll be weaving my coaching and workshops throughout the weekend to help you reset and renew, to find balance in life, back yourself and go from burnout to brilliance.
Book this empowering weekend away if:
• You struggle to celebrate your success or acknowledge your strengths.
• You feel other people overrate you and you worry you're not as good as people think you are.
• You feel like busyness is a badge of honour and life is one big emergency.
• You're striving but never quite arriving, feeling overwhelmed by everything on the to-do list.
• You're getting tired of the juggle, trying to do everything as close to perfect as you can but always feeling like you're falling short.
• You need a break to recharge the batteries and invest in yourself.
During this retreat you will learn that you don't have to be perfect to be amazing and you'll master the art of believing in yourself. Together we'll uncover your strengths, align your life to your values, and help build your resilience so you can be a more confident and balanced individual.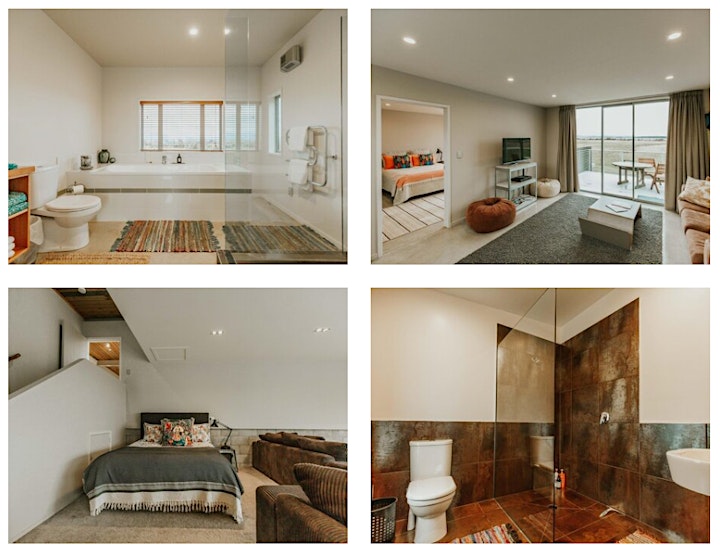 Escape to the tranquility of the country, and finally take some well-earned time for yourself. Spend the weekend tapping into my knowledge and secrets for success to believe in yourself and achieve your goals.
This beautiful property is set on 25 acres of Waimea Plains land, and boasts 360 degree views of the Mt Arthur ranges, Richmond Hills, and the Waimea Estuary. The House is just minutes from the walking, biking, and swimming of Rabbit Island, the eateries and galleries of Mapua, and the conveniences of Richmond. Watch the sun rise in the East and set in the West, from the comfort of this peaceful, tranquil, natural environment.
From the laid back pace, to the peaceful spaces, to the gorgeous views. With luxurious shared and private spaces, Rabbit Island Huts attracts guests from near and far, who are looking for that extra special getaway. There are three huts with ensuites and three huts that share two external luxury bathrooms. All huts feature queen beds, a fridge and tea-and-coffee making facilities.
Join me for a deep dive into everything that makes you you, reenergise and build confidence in who you are and what you have to offer. Gain the confidence to succeed, as you are, in an engaging, inspiring, and supportive environment.
Daily yoga and meditation practices, nutritious food, and the company of like-minded individuals will help you relax, restore and grow.
Are you last on your own list, too busy pleasing others? Do you feel the need to be more, better, or different simply to be good enough? Is your fear of failing holding you back, making you play it safe? Are you worried what others might think or tired of listening to that negative self-talk?
Stop, take a breath and reset.
You'll come away feeling rested and refreshed, but what's more, you'll have a practical plan to take away with you that will put you at the centre of your universe, overcome the overwhelming, be at your best, and thrive in every aspect of life.
This retreat is your chance to learn everything you need to know about how to gain the confidence to succeed without changing who you are, but rather by believing in yourself as you are, in an engaging, inspiring and supportive environment.
Host - Jess Stuart - Acclaimed Author & Coach
I'm a retreat fanatic and getting away from daily life has always given me perspective. It's where I've had my biggest breakthroughs – that's why after many requests I'm finally running one of my own!
So often we need this time away to get perspective and space to think about the big stuff to learn how to apply these lessons to our lives. Sometimes it's only when we stop and take time away that things become clear.
I help busy, high-achieving women find more time for them, reprioritise what matters, build resilience, beat the feeling of being overwhelmed, keep calm in the chaos, realise their potential, and believe they really can achieve their goals.
I believe that tapping into your potential doesn't mean doing more or changing yourself. It's uncovering what's already there and being enough as you are.
"Described as inspiring, articulate and relatable by audiences. Jess has a passion for sharing her knowledge and motivating others with her words."
After this weekend, you will:
• Understand your limiting beliefs and build confidence to succeed
• Learn how to navigate fear and get out of your comfort zone to grow
• Understand, spot and avoid burnout
• Learn how to build resilience and master your mind-set
• Tame your busy mind to think more clearly and be more calm and effective
• Master the art of slowing down to speed up to overcome feeling overwhelmed
• Discover the tools to give you the confidence to succeed as you are
• Develop your own self-care plan
Your package includes so much value, including:
• 2 nights' accommodation in your own private space
• Facilitated exercises and 3 of my most popular workshops across the weekend
• Tools and techniques in being your best without burning out in the process
• Daily meditation and yoga classes
• Healthy delicious plant based meals
• Walking and free time to explore the beautiful surroundings
• Goody bag to take away with books and online resources to keep you going beyond the retreat
• Use of the onsite sauna
• Access to my online elearning suite beyond the retreat to sustain you across the year
• Massage and additional activities available to pre-book (additional costs apply)
• Time to relax and soak up your environment in a way that suits you
• Airport transfers
Accommodation Options
Rabbit Island hut standard $1,450 - double bed, fridge, tea and coffee, beautiful views, recently redecorated, 3 huts share 2 external luxury bathrooms and outdoor bath.
Glamping Tent $1,450 - heated tent with own lounge and queen bed, shared external bathroom 
VIP Rooms are now SOLD OUT
FULL REFUNDS available should Covid-19 restrictions lead to the cancellation of this retreat by the organiser.