Revit Architecture Fundamentals - Auckland

Monday, 28 November 2016 from 9:00 am to 4:30 pm (NZDT)
Event Details
4 Day Course: 9am - 4.30pm
Normal Price: $1,695+GST
Make contact directly with CADPRO to Book and Pay 10 Days in advance of the training date to receive the Early Bird Discount of 7.5% off or if you are a CADPRO Technical Support Customer you can receive 15% off the course Registration fee. Both these discounts are not available online. Contact training@cadpro.co.nz 
Course available at Auckland & Christchurch locations, includes free parking, morning tea and lunch.
The Autodesk Revit Architecture training course teaches you the Autodesk Revit functionality as you would work with it throughout the design process.  You begin by learning about the user interface and basic drawing, editing, and viewing tools. Then you learn design development tools including how to model walls, doors, windows, floors, ceilings, stairs and more. Finally, you learn the processes that take the model to the construction documentation phase.

Since building projects are extremely complex, the Autodesk Revit software is also complex. The objective of the Autodesk Revit Architecture Fundamentals training course is to enable students to create full 3D architectural project models and set them up in working drawings. This training course focuses on basic tools that the majority of users need.

Topics Covered:
Understanding the purpose of Building Information Management (BIM) and how it is applied in the Autodesk Revit software.

Navigating the Autodesk Revit workspace and interface.

Working with the basic drawing and editing tools.

Creating Levels and Grids as datum elements for the model.

Creating a 3D building model with walls, curtain walls, windows, and doors.

Adding floors, ceilings, and roofs to the building model.

Creating component-based and custom stairs.

Adding component features, such as furniture and equipment.

Setting up sheets for plotting with text, dimensions, details, tags, and schedules.

Creating details.
Prerequisites:
This training guide introduces the fundamental skills in learning the Autodesk Revit Architecture software. It is highly recommended that students have experience and knowledge in Revit Architecture and its terminology.
Documents:

Table of Contents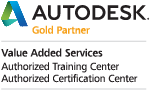 When & Where

Auldhouse Training Facility
338 Ponsonby Road
Auckland, Auckland 1026
New Zealand

Monday, 28 November 2016 from 9:00 am to 4:30 pm (NZDT)
Add to my calendar
Organiser
CADPRO - Autodesk Training Centre
CADPRO Systems Ltd enable you to learn from knowledgeable instructors in quiet classroom settings using sample projects and exercises that emphasise real-world, practical applications. Our instructors are qualified by Autodesk and can offer recommended content from Autodesk Official Training Guides (courseware books).
Only Authorised Training Centres offer CAD training that is measured, evaluated and approved by Autodesk.
CADPRO Systems' Authorised Training Centres are based in Auckland and Christchurch. We have free parking and provide morning tea, lunch and afternoon tea each day when you attend one of our courses.
Learn from qualified instructors at superior facilities

Receive Autodesk-recommended content from Official Training Guides

Develop your skills with sample projects and exercises that emphasise real-world applications

Choose a class at the most appropriate skill level to meet your needs

Meet at a time convenient for you, or sign up for custom, on-site training

Earn a certificate of completion that's recognised in your profession

Increase your competitiveness

Validate your product knowledge by obtaining Autodesk Certification when you take a Autodesk Certification exam
Revit Architecture Fundamentals - Auckland